What is Android? Features, history and basic acquaintance with its programming language
Android is an open source Linux-based operating system for mobile devices such as smartphones and tablets. Android was developed by the Open Handset Alliance with the help of Google and other companies.
The Android offers an integrated approach to developing applications for mobile devices, meaning developers only need to develop for Android, and their applications must be able to run on a variety of devices running Android.
The first beta version of the Android Software Development Kit (SDK) was released by Google in 2007, and the first commercial version, Android 1.0, was released in September 2008.
On June 27, 2012, at the Google I / O conference, Google released its next Android version, 4.1 Jelly Bean. Jelly Bean is an incremental update that aims to improve the user interface, both in terms of performance and performance.
Android source code is available under free and open source software licenses. Google releases most of the code under the Apache version 2.0 license, and the rest, the Linux kernel changes, under the general GNU version 2 license.
Why Android?
Android features
Android is a powerful operating system that competes with the Apple 4GS and supports great features. A few of its features are listed below –
| | |
| --- | --- |
| Number | Features and descriptions |
| 1 | Beautiful user interfaceAndroid home screen offers a beautiful and intuitive user interface. |
| ۲ | ConnectionGSM / EDGE, IDEN, CDMA, EV-DO, UMTS, Wi-Fi, LTE, NFC Bluetooth and WiMAX. |
| 3 | saveSQLite, a lightweight relational database, is used for data storage purposes. |
| 4 | Media supportH.263, H.264, MPEG-4 SP, AMR, AMR-WB, AAC, HE-AAC, AAC 5.1, MP3, MIDI, Ogg Vorbis, WAV, JPEG, PNG, GIF, and BMP. |
| 5 | messagingSMS and MMS |
| 6 | Web browserBased on the open source WebKit engine, along with the V8 JavaScript Chrome engine that supports HTML5 and CSS3. |
| 7 | Multi-touchAndroid has native multi-touch support that was initially available on phones like the HTC Hero. |
| 8 | MultitaskThe user can jump from one task to another and different programs can be run at the same time. |
| 9 | Customizable widgetsWidgets are customizable, so users can expand them to display more content or shrink them to save space. |
| 10 | multilanguageSupports one-way and two-way text. |
| ۱۱ | GCMGoogle Cloud Messaging (GCM) is a service that allows developers to send short message data to users of Android devices without the need for a dedicated synchronization solution. |
| ۱۲ | Wi-Fi DirectTechnology that allows applications to be paired directly through a high-bandwidth peer-to-peer connection. |
| 13 | Android BeamNFC-based technology that lets you share data with just the touch of two NFC-enabled phones. |
Android apps
Android applications are usually developed in Java using the Android software development kit.
Once developed, Android apps can be easily packaged or sold through stores such as Google Play, SlideME, Opera Mobile Store, Mobango, F-droid and Amazon Appstore.
Android supports hundreds of millions of mobile devices in more than 190 countries around the world. It is the largest mobile platform platform and is growing rapidly. Every day, more than 1 million new Android devices are activated worldwide.
Category Android apps
There are many Android apps on the market. The top categories are shown in the image below.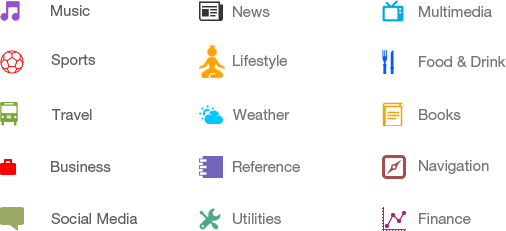 History of Android
Android code names are currently rated from A to N, such as Aestro, Blender, Cupcake, Donut, Eclair, Froyo, Gingerbread, Honeycomb, Ice Cream Sandwitch, Jelly Bean, KitKat, Lollipop and Marshmallow.
What is the API level?
The API level is an integer that separately specifies the API revision framework provided by a version of the Android platform.