What is a webinar? [How to host a professional webinar]
Webinar can be said to be one of the most serious and effective ways to help sell a site and is one of the most important things in digital marketing .
presentation that is held online at any time. Simply put, a webinar is an online event that connects people around the world.
The most important feature of the webinar is the interactive relationship or ability to discuss, send and receive information instantly and simultaneously.
In the following, we will talk about webinar features, benefits, usability, and we hope to help you better understand the word webinar.
Main webinar features
digital marketing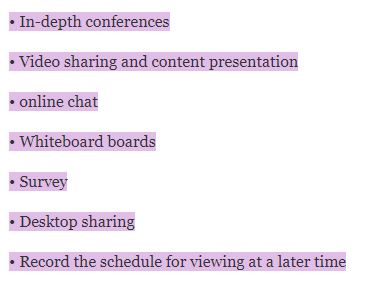 What are the Benefits of Using a Webinar?
digital marketing
The webinar is convenient and convenient for both providers and viewers. That's why it's getting more and more popular every year.
Webinars make it possible to hold presentations and meetings anytime and anywhere. Anyone can attend these presentations and meetings online without leaving work, or at home, on a business trip or even on vacation.
There is no trouble renting a place, taking a short break between classes and transfers. Webinar is done with just a few simple clicks.
How is the webinar using?
digital marketing
Webinars are using in all fields, including academic, business and even business related training.
Webinar for studying online
As a teacher, you can have more students, and students do not need to spend time and money traveling.
You can also reduce the cost of renting a place, food, and other expenses, reducing the cost of meetings and having more students.
Most online businesses use webinars to train and update their interns. In today's evolving world, only those who update themselves with the advancement of science succeed.
Webinar for marketing
Webinar brings the most profit for marketing.
Initially, an online meeting to showcase your product draws a lot of attention to the product. Evidence suggests that one video content at least twice as much content as the other.
Second, these webinars are very useful for building a long-term relationship between you and your customers. When you explain how your product works, you answer the questions and follow up with the results of the reviews, meaning you care about your product, work and customer.
What is needed to use the webinar?
digital marketing
For participants, access to the Internet and a headphone is crucial.
For the provider, it is essential for the Internet to have trouble-free connection, a webcam, a headphone and a webinar system.
You don't need to have special programs and equipment to run the webinar. Only a computer connected to the Internet, a sound board, a speaker or a microphone are required.
Today, modern computers have all this equipment. Most importantly, you do not need to have specific knowledge. If you can browse sites and watch YouTube videos, then you can host a webinar.
How does the webinar work? 
Let's think you are now considering the topic of the webinar and the time it takes to present it. What is the next step?
Planning a webinar 
You should first set up the webinar. It's a simple task: first create an account on the webinar platform , then specify the date and time of the webinar.
The next step is the most important step – picking the plan. Here is where you align your goals with what the audience wants.
You can also provide other equipment to enhance the information and understanding of your listeners. Be sure to check your webcam, microphone, headset and internet connection before starting your program.
Host a webinar
Now that you have sent invitations to participants and check everything is ready and you are ready to start the program, you have the chance to influence listeners and reach your goals.
The connection to a webinar is this: You are sitting at your computer or tablet talking to your listeners, but that's not all.
You need interactivity tools like desktop sharing to display graphs, tables, key points, and photos. This information becomes visual and easier to understand.
Participants see and hear and talk to each other through chat or forum.
Be sure to answer all questions and comments. When necessary, allow each participant to speak. However, it is not possible for you as the organizer to see all the participants.
If annoying people in the middle of the program are having trouble for you, don't worry. Block them and ask the program manager to help you. Make sure the quality of content produced for your listeners is high.
At the end of the webinar, participants can ask questions or answer each other's questions. Usually, the same program is recorded and sent to everyone, assuming that someone may have been added late or left out of the program altogether.
Sending a questionnaire to all participants to improve future plans is a great idea.
Now that you know all about webinar, are you ready to create your own webinar ?!