SSD or NVMe over SATA, Which platform is better?
Commercially available SSDs are available today in a variety of types, and the choice between them is highly dependent on the user and the consumer purpose platform.
M.2 drives are not necessarily faster than other drives. On the one hand, they often use the NVMe protocol because of the thinner form factor, which inherently has a faster connection. Finally, when purchasing an M.2 drive, the consumer must also pay attention to its connection protocol. As you can see in the picture, SATA-based M.2s generally have 2 and 2-pin tabs on both sides of the main tab, but PCIe-based memory has a 4-pin tab next to a large tab.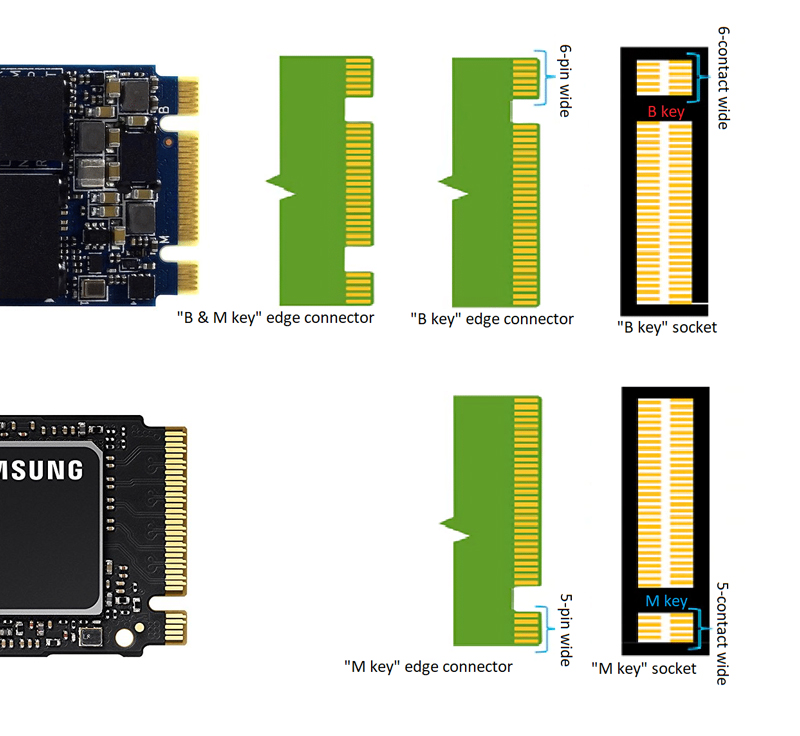 NVMe Speed ​​benchmark against SATA 3
Earlier in Zoomit, we introduced NVMe and its variants , and ran several benchmarks to investigate the performance differences. The results you see in the table below clearly indicate the difference between the two NVMe types in the different classes, the SATA and NVMe differences, and the difference between the hard drives and the SSDs.

* All benchmarks listed in this table are executed by CrystalDiskMark software with Zoomit.
As you can see, the NVMe SSDs were much faster in the zoom tests than the SATA ones. Of course there may be products of all three types of memory that perform better or lower than the stated level, but the values ​​listed in the tables above are considered average.
| Storage Memory / Read Speed ​​(Write Information) | Kind of | Order in MB / s | 4KB Random Single IOPS |
| --- | --- | --- | --- |
| Samsung 970 Pro | NVMe SSD | ۲۷۹۵ (۲۰۸۷) | ۱۴۰۱۴ (۴۱۰۷۸) |
| Samsung 860 Pro | SATA SSD | ۵۱۱ (۴۸۷) | ۹۶۰۶ (۲۶۰۵۲) |
| Lexar NS200 | SATA SSD | ۵۲۳ (۴۷۸) | ۸۵۷۷ (۲۴۸۲۰) |
| ٰWestern Digital WD10EZEX | HDD 7200 RPM | ۱۴۳/۵ (۱۴۲.۵) | ۵۹ (۳۱۴) |