Nearby Share feature introduced for Android; File transfer faster and more secure than ever
After a long wait, we finally saw the introduction of the NearBy share feature for Android an hour ago. This feature is currently available for a number of Google and Samsung Pixel phones and will soon be available to all Android phones above 6.0.
After a long wait, an hour ago Google finally introduced the Nearby Share feature, which is a competitor to AirDrop, for the Android operating system, and now some users of Pixel and Samsung phones can use this feature to quickly send their files to nearby devices. To use.
This feature is available on Android 6.0 and above for Android users to send files, images, videos, links, etc. to their nearby devices at high speed and with security. 
Using this feature is very simple and in fact a list of devices around you that support Nearby Share is displayed that by selecting one of these devices, you can transfer your data to the device you want.
 Of course, on the recipient side, a notification is displayed that the other party can accept and receive your file. Now the Nearby Share feature will automatically select the best option from the available protocols such as Bluetooth, Bluetooth Low Energy, Peer to Peer Wi-Fi, etc., and even if you are not connected to the Internet.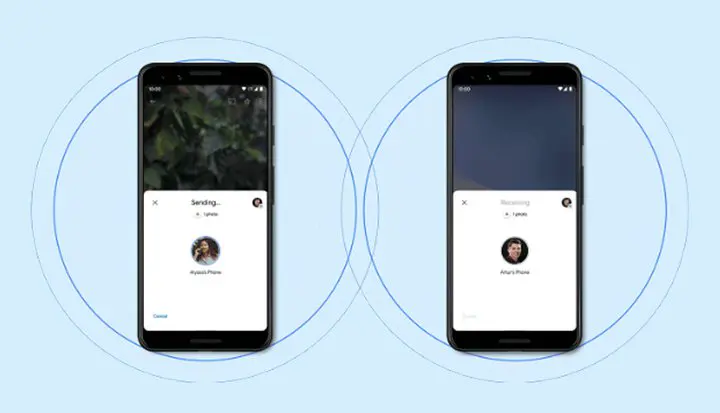 In designing this feature, special attention has been paid to privacy so that you can send or receive files anonymously. You can also specify that you hide from certain contacts.
This feature will also be available for Chromebooks in the coming months, so you will soon be able to share your files between Android and Chromebook easily and quickly. So it will be very easy to communicate between Android and Chromebook.
As we said, a number of Google Pixel and Samsung phones are the first Android phones to receive Nearby Share feature from today. But this trend will continue until the coming weeks, and soon all Android phones above 6.0 will benefit from this feature.