Forget Windows; Microsoft Sees the Modern Operating System Beyond the Current Definitions
Microsoft has just spoken about its vision for a modern operating system that delivers definitions beyond today's expectations,
a system that does not seem to be Windows.
You've probably already heard the rumors of the new Microsoft operating system,
which, beyond its name, is about to change the current standards of the operating system world.
While Microsoft's scarcity, Microsoft has not substantiated the existence of such a system,
but recently, Nick Parker, vice president of consumer affairs and sales of Microsoft devices,
attended the ongoing Computex event, highlighted the Microsoft vision for a modern operating system for the public.
 Although Parker did not mention the name of the operating system,
he explicitly stated that Microsoft intends to prepare itself for this new generation of devices with such a product.
According to Redmond's software giant,
this generation of devices definitely needs a "modern operating system"; a system that brings with it new features such as integrated updates.
Over the past years, we've clearly seen improvements in the process of receiving updates on Windows 10,
but what Microsoft defines as "integrated updates" is far from what we already see on Windows.
Gadgets integrate updates that are subtle in the background of the operating system.
In the opinion of the father of the Windows world, such an update requires that it does not create any kind of interruption in the user's workflow and provide an instant and reliable experience.
If we look more closely at the above, we will see that Microsoft's new definition of the modern operating system is not pretty much what we are seeing in the Chrome OS.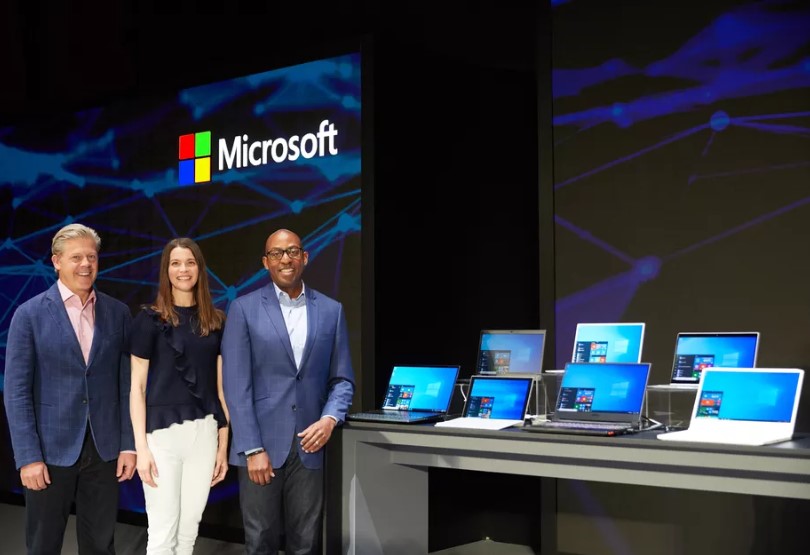 Microsoft also believes that such an operating system is by default safe and free of any vulnerabilities, in that the operating system is completely in a separate environment and processing information is separate from the applications.
 The above definition refers to the cloud-based system rather than the current similarity.
In addition to the aforementioned issues, drivers want to use such a modern operating system with 5G connections and include more input paths such as optical pen, audio, touch, and even look.
Perhaps the most important part of these remarks is to point out Microsoft as Windows. In all the explanations we've read above, the tech world's giant never used the Windows name to describe this modern operating system.
Parker says:
Such capabilities incorporate our vision of a modern operating system,
a modern operating system that delivers fundamental elements for the evolution and development of the personal computer world,
enabling partners to deliver more human-centric experiences in the future.
Of course,
such references can be attributed to the current Windows, but Microsoft, along with the definitions,
speaks of a cloud-based experience that improves the user experience on their devices using cloud computing power.
With deep-rooted assumptions in Nick Parker's words,
the future Microsoft operating system can be said to be focused on the main pillars of integrated updates,
security enhancements, 5G support, cloud-based processing, new factor formulas and smartwatches.
Microsoft has also published its vision on modern operating systems in blogging. In part of this, Microsoft says:
A modern operating system delivers a lasting performance when it comes to the device, without the need to worry about charging the device.
To accomplish this, cloud-capable cloud computing capabilities are available to improve the user experience.
During this year's May Bold Conference, which was held in early May, everyone was expecting Microsoft to talk about Windows Light and DualScan devices.
Unfortunately, this did not happen and all the information about the future of Windows was much less than expectations. Even the upcoming update of Windows 10, known as the 19H2 password, was not at the heart of the conversation.
This is where the drivers have begun testing a new version of Windows 10 that will not be released by 2020;
hence, although we still do not have information about the October 2019 update,
it does not expect large features to fit into this release.
Turning Microsoft into a chrome engine in the Microsoft Evo browser is also an important point that should not be overlooked.
If the modern Microsoft operating system, which is currently know as the iconic Windows Lite, focuses on cloud-based features; therefore, it should expect the browser to have a much greater role in such a system.
Chromium migration will definitely have a dramatic effect on this modern operating system.
Of course, at the moment,
we should not expect more information from this operating system, because at least for the near future,
Microsoft plans to talk about the upcoming updates of Windows 10, and nothing else.
Microsoft was rumor to be discussing plans for dual-screen devices and Windows Lite at the company's Build conference earlier this month.
Those plans never materialized, and it did feel like there was a lack of future Windows information at the developer event. Even the next major Windows 10 update, codenamed 19H2, is shrouded in secrecy.
Although it's expecting to arrive in October, Microsoft has already publicly started testing a version of Windows 10 it won't deliver until 2020. We still don't know what's coming in the October 2019 update, and it could be a very minor update this time around.
Microsoft's Windows Lite plans may have been delayed somewhat by the company's surprise decision to switch to Chromium for the Edge browser.
If Windows Lite is more cloud-powered and relies on the browser for a lot more experiences, then a shift to Chromium will have impacted this more modern operating system.
For now, Microsoft is only willing to drop hints about what we can expect from the immediate future of Windows.