Learn how to share and convert PowerPoint to video as easily as possible
In the following PowerPoint tutorial series
, we will easily teach you how to share and convert PowerPoint to various types of videos. PowerPoint offers several options to completely increase or change the presentation.
Instead of showing the slides as normal, you can submit it as a video or even online so that others can view it remotely. No matter how you want to present it, you can enhance your slideshow by customizing it. All of these options can help you to have a stylish and professional look.
Provide a video view
The ability to create a video allows you to save your presentation as a video. This allows viewers to watch the presentation whenever they want. Timing may need to be adjusted to ensure that viewers have enough time to view each slide.
Create video
1. Click File to access the Backstage view.
2. Click the Export option, then go to Create video. Video presentation options appear on the right.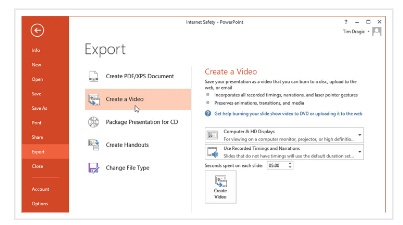 3- To select the size and quality of the video, click the down slider flash (computer and computer and displays display (HD).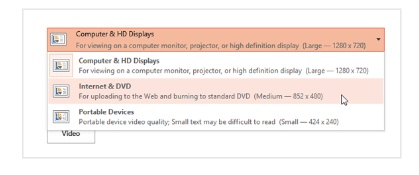 4- Click on the down slider arrow to schedule and record the narration.
Select the time and recording of the narration. If you do not want to use audio recording, you can set the seconds for each slide in the drop-down box by default.

If you have already recorded times, you can use them in your videos.
5. Click on create video. The Save As dialog box will appear.
6. Select the location where you want the presentation to be saved, then enter a name for it.
7. Click Save As PowerPoint creates your video, a status bar appears at the bottom of the PowerPoint window. When the tape is complete, your video is ready to view, upload or upload.
In addition to sending emails, you can upload your video to video sharing sites such as YouTube. YouTube allows you to create an account and upload videos. Once your video is uploaded, you can send this link to anyone you want.
View online offerings
Providing a surprisingly easy online view. All of you and your viewers need an internet connection – they don't even need PowerPoint. When your viewers are connected to the Internet, you can make the presentation as usual. Please note that you may not edit your presentation or mark it with a stylus when submitting online. You also can't talk to your audience online. Plan to communicate with your viewers through a conference call or pre-record your story.
Online presentation
1. Select the Slide Show bar, then select Show from the Start Slid Show group.
2. Click on the current command online.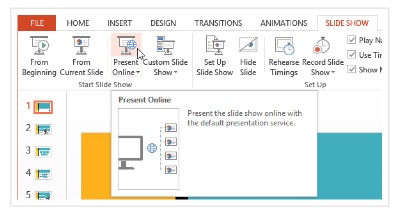 3. A dialog box will appear. Click Connect. The status message appears as a Present Point that prepares your online submission.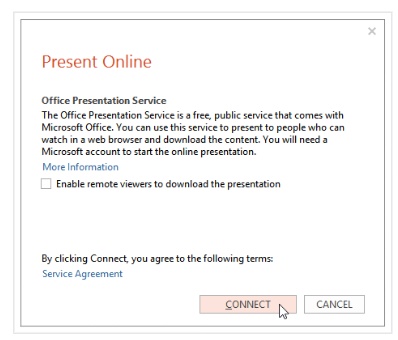 4- The link will be displayed. If not already selected, select the link.
5. Click on the copy link to make a copy of your link to send an email to viewers.
6. Click Start Presentation.
7. Display slides normally, using the mouse or keyboard to move the slides forward.
8. When done, click End Online Presentation.

9. A dialog box will appear confirming that you want to end the show. Click end online presentation.
Efficient display of your slides
Sometimes you may want to hide a slide show. For example, if you present a PowerPoint presentation to more than one group of people, hiding or even reconstructing some of the slides can help to present your slides to any group you present. You can also create a short version of your slideshow for a short time. Enhancing slides allows you to have a series of hidden slides with the original version.
Create an efficient display
1. Select the Slide Show tab, then go to the estart slid location.
2. Click on the custom slide show command, then select the custom slide show.

3. A dialog box will appear. Click on new.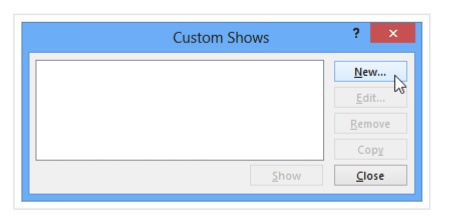 4. The Define Custom Show dialog box will appear. Specify the storage location of the presentation and type a name for it.
5- Slides in presentation: Check the box next to the slides you want to enter in your view.
6. Click on add. Use the up and down arrows if necessary to arrange the added slides.
7. Click OK.
8. Select Close to exit or Show to view.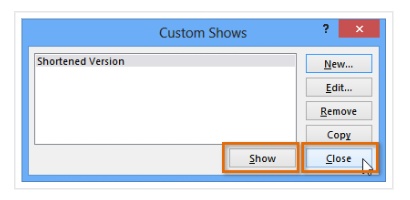 9- For your efficient display at any time, click on the Custom Slide Show command, then select the desired display from the drop-down menu.

Hide slides
Sometimes you may just need to hide a few slides without changing all the slides. You can hide it by selecting the slide and clicking the hide button on the Show Slide tab. To hide, just click the Hide Slide command.

  
Practice!
1. Open PowerPoint. If you want, you can use our training presentation .
2- Use the Rehears Timing feature to record slides and schedule your presentation animation. If you have a microphone connected to your computer, use the Record Slide Show feature.
3. Create an efficient slideshow of your presentation.
4- Create a video of your presentation.