Learn how to recover unsaved Word documents and files in Windows 10
If the Word file or document is not saved for any reason, there are two ways to recover it, and in this article we will present both methods.
Microsoft applications are recognize  in every field, including the best and most efficient applications on the market. However, Redmond software may also be stopped for various reasons, resulting in the loss of unsaved user information. The loss of user information may even be due to hardware reasons and the computer may have a problem for any reason.
One of the problems that Microsoft Word users may face is data loss due to not saving documents and files in a timely manner, which can result in software or hardware problems or even power outages. However, there are two ways to recover lost data in Microsoft Word.
This is possible thanks to the built-in feature of Microsoft Word. This feature is actually a kind of backup file that stores the latest input information in Word software and, as a result, makes it possible to recover unsaved data in Windows 10  .
There are currently two ways to recover document and file information in Microsoft Word, which we will discuss below:
1. Use the built-in feature of Word software to recover unsaved information
To retrieve information, follow these steps:
Find the Microsoft Word app from the Start menu or Apps list.
Click on the app to see a list of the most recent documents you have been working on. Select a document whose information is missing.
If you have never saved a document, log in to Microsoft Word.
A column on the left side of the program call "Document Recovery" is display.
Now just select the document you were working on.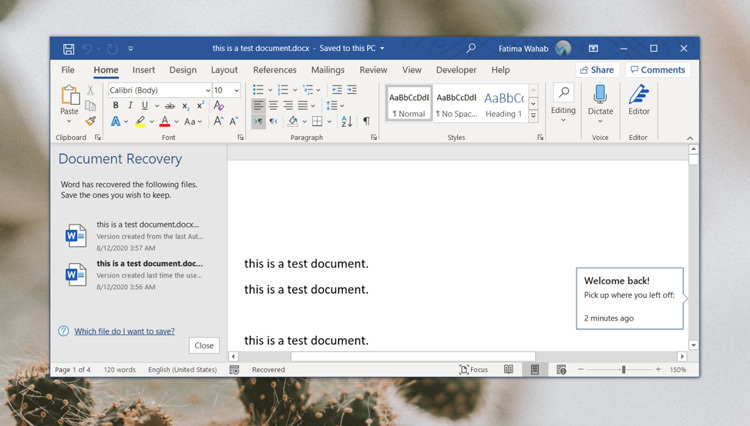 ۲. Recover lost data manually
If the automatic recovery panel for unsaved data does not open for you for any reason, follow these steps:
Run Microsoft Word software.
Select Options from the File bar.
Select the Save option.
Under Save Documents, look for the address of where the autorecover or auto-recovery files are store.
Copy the URL of the displayed ‌ income.
Now open File Explorer and enter the copied address.
In the storage location you will find files that actually contain unsave information and are design to automatically recover unsave documents in Word.
The information you need is store in an ASD file. Double-click on it to access unsaved document information.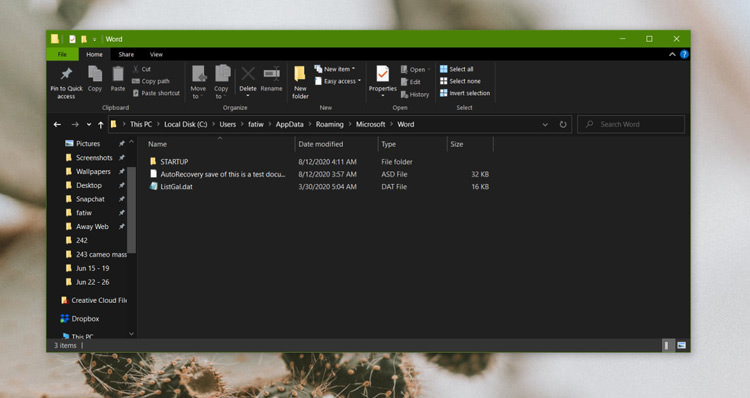 By default, Word software backs up document information every 10 minutes, but this time can be shortened. To do this, you can go to Options via the File bar and select the Save option to shorten the automatic saving of the document for backup.