How to Make an External Graphics Cards for Your Laptop – Part 1
External graphics cards are one of the best solutions for converting old laptops into powerful gaming systems that the user can build for a cheaper version.
Recent currency fluctuations have make some electronics products a luxury item and cannot be purchase by a wide range of society. Gaming laptops now have a price tag of between two and three million tomans that many can't afford.
On the other hand, there is a wide range of users who have bought gaming or high-end laptops in the past, but over time due to their hardware being outdate, or unable to experience the low-end gaming experience.
External graphics cards are one of the best ways to boost such laptops so that their holders can taste the games again.
These products are mostly designed for portable laptops with powerful processors but without separate graphics cards and are marketed by companies such as Razer , but as the companies name suggests, you have to pay a high price for them.
Meanwhile, there is a community of users who prefer to build external graphics cards using ExpressCard or mPCIe connections to play on both monitors and simultaneously using both hardware.
Also,
Thunderbolt ports on most graphics card boxes make it easier to connect to more modern laptops.
Most external graphics use one of the aforementioned methods to connect to a laptop, and ultimately deliver a device the size and size of a gaming computer at a price as large as an Xbox One S console; It also has.
However, the expense will be less than what you would need to buy a new gaming computer or laptop, and the user can still carry his laptop anywhere with the graphics removed.
First, we are going to mention a few Thunderbolt ports, which are among the more modern and expensive options available.
Thunderbolt 3 Graphics Cards dock
Thunderbolt is Intel's technology built to receive and send data at incredible speeds of up to 2 Gbps, requiring only one USB-C port.
This technology is well suit for activities requiring high data transfer speeds such as gaming, and provides high-speed connectivity between laptops and external graphics cards, which greatly impact their performance.
In the past, there have been attempts to offer graphics card docks that, in addition to the high cost, use proprietary connectivity technologies and are therefore not widely accepted.
But Thunderbolt 2 has emerged as a standard among manufacturers, and several companies now offer technology-backed docks that use dedicated power supply, side ports, and dedicated graphics card slot.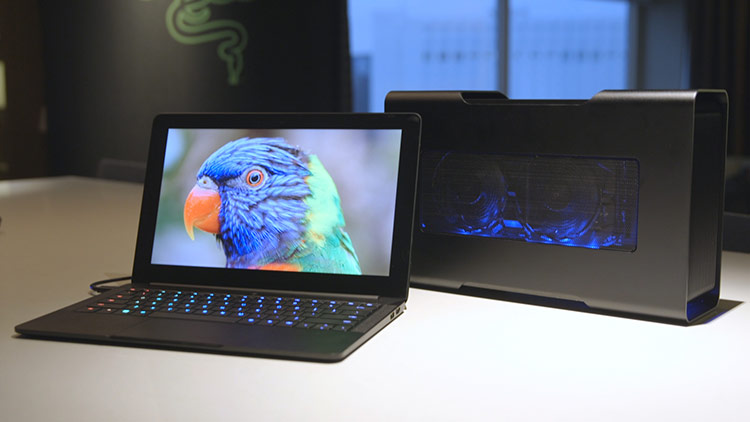 But the ducks mention are not only positive and there are some disadvantages. The most important problem with such products is their high price and there is a significant price difference between ready-made samples and user-made products.
You'll also need relatively new laptops to take advantage of the Thunderbolt 2 USB-C port. Of course, thanks to Intel's technologies, the compatibility of such devices is as easy as most manufacturers have enabled in their products by default.
If price is not an important issue for you, Graphics Cards
you can think of options such as the HP Spectrum x360 or the latest Dell XPS 13 model that will benefit from such a connection.
But before you buy, take a look at the eGPU.io community to make sure your laptop is compatible with an external graphics card.
Said devices are very light weight and provide high image quality and are suitable for everyday use, movement and gaming with separate graphics cards.
After you specify the laptop you want, go to the graphics card dock. There is no doubt that we are not able to examine all the examples available in the market because each company has its own dock. For this reason, we are pleased to introduce just a few of the major products introduced in recent months.
Core and Core X burner
The original version of the Core Razor was the first product to use the Thunderbolt 3 interface and was design for owners of Blade Razor laptops, but it could also be compatible with other brands' products, provide they use the Thunderbolt.. It was also price at $ 4. But shortly thereafter, the product was split into Core V2 and Core X.
The Core V2, like the original version, carries a $ 4 price tag; however, it still differs greatly from other brands. It also uses a USB 3.0 port to connect other gaming devices, and the network port comes with a 2-watt power supply.
The aluminum body and lighting support of the Chroma RGB Riser make the exterior of the device extremely user-friendly.
On the other hand, the Core X is priced at $ 2, which uses a 2-watt power supply. The network and USB ports are not visible in this instance. Also the customizations made in the V2 build are not seen in this product and are more similar to other products on the market. This dock supports larger graphics cards up to 2-slot ceiling.
PowerColor Gaming Station Graphics Cards
PowerCaler has also released the Thunderbolt 2-powered Devil Box 2, which was a near-fancy $ 2 early product launch. Although the dock is still visible on the manufacturer's website, it will be difficult to find in the market. The company's other product, Gaming Station, is now available for $ 5.
The newer product uses a 2-watt power supply, network port, and 2 USB 3.0 ports. PowerCaler provides a list of graphics cards supported by this dock at the center of its webpage. Buyers should see this list before taking any action.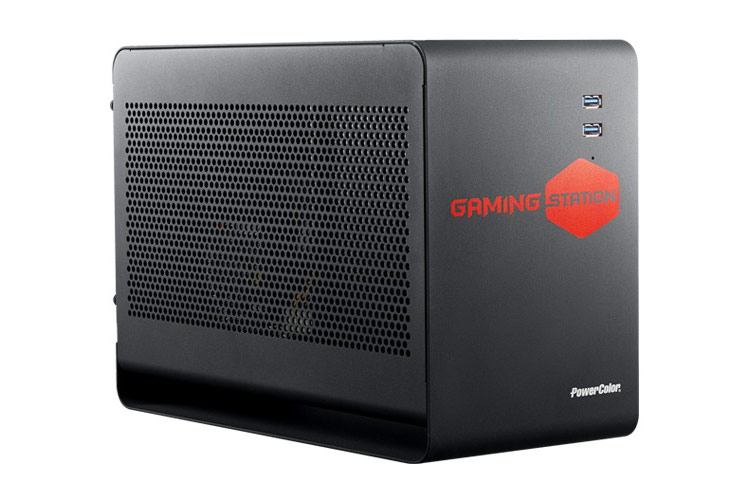 Akitio Node
Akitio focuses on graphics card docks and offers three different models, namely Node, Node Light and Node Pro. The main difference between the company's products and other makers is that Intel, except for the original Node version, has not listed the other docks in the list of external graphics cards, so the other two products are only considered PCIe boxes; See Intel's Thunderbolt Blog.
The original version of Dock Node uses a 4-watt power supply and is price at $ 5 on Amazon. The product doesn't offer any extra ports for connecting to other devices, but its cheaper version, the Node Lite, has such a capability that it sells for $ 2 on Amazon.
This product is certified as a PCIe box that uses DisplayPort and a Thunderbolt 2 port. The point to consider is that they lack an internal power supply and the user has to buy it separately. Both docks support standard, small and large graphics cards.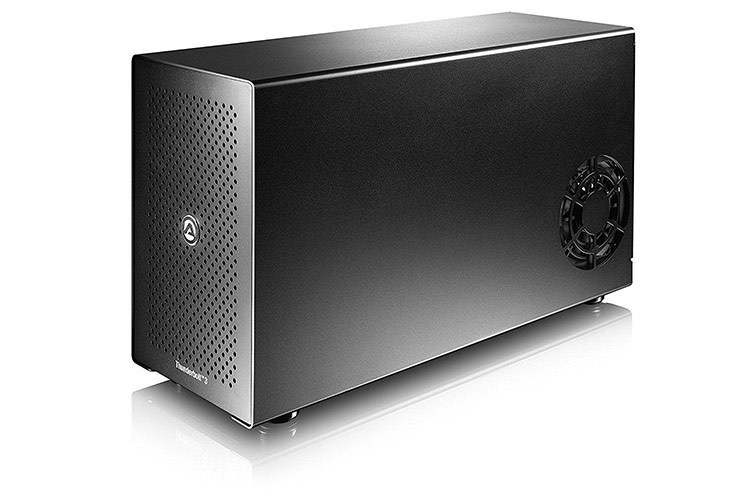 The latest active product, the Node Pro, is available for $ 5 at Amazon. It has a DisplayPort input dock and a second Thunderbolt port. The 4-watt power supply and the handle on the body make it easier to carry than its other siblings.
Other brands Graphics Cards
As mention above, only a small range of graphics card boxes are include. Other manufacturers include Gigabyte , which sells the gaming box for the Aorus GTX 1080 for $ 2, which includes the Nvidia GTX 1080 by default;
and the GTX 1070 comes with a price tag of $ 2. Zootak, as another gaming brand, offers two Amp Box and Amp Box Mini PCIe products.
Alienware laptops holders can also use the Alienware Graphics Amplifier external dock, but this product uses a dedicated interface and is designed exclusively for laptops. It's also surprisingly priced at only $ 5. Other companies, such as Asus, HP, Lenovo also offer Thunderbolt ۳ support docks.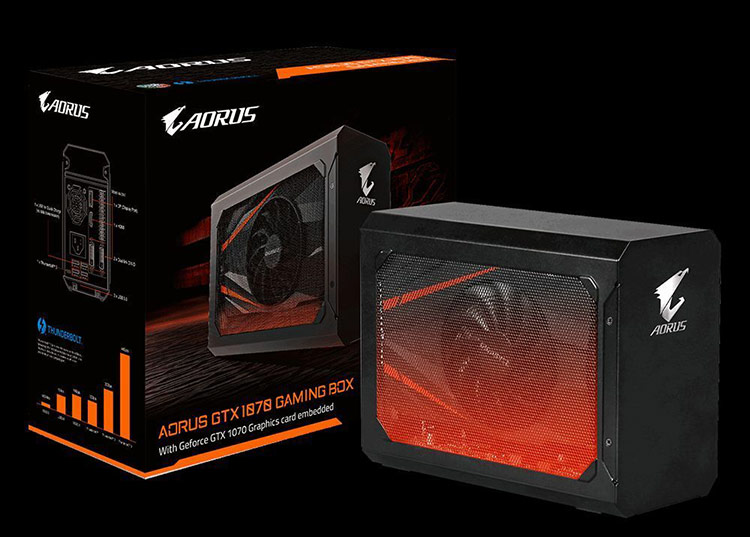 Introduction to External Graphics
As you read in the previous sections, most ready docks are very expensive. This is why users prefer to go hand-in-hand and build their own external graphics card box.
Before learning this process, we must first describe some of the most commonly used terms in the field, such as the initial alphabet for building an eGPU.
If you are a professional user or skilled gamer, many of these things are likely to be duplicates for you, and it is best to skip this.
The Thunderbolt connection separately supplies the power required for the graphics card and no longer needs power
PCIe x16 : PCI Express ( PCIe for short) are the slots or slots on the motherboard that fit standard graphics cards.
The x16 part of the technology name refers to the 5 dedicated data transmission routes called Lane. When connecting an external graphics card to the laptop, these 2 paths lead to 1 or 2 paths, or in other words, compression to transfer data to the laptop.
Reducing the number of data transfers may not seem like much of a pleasure, and it does indicate a sharp drop in graphics performance, but in reality there is not a significant drop.
PCIe slots come in three generations of 1.0, 2.0 and 3.0, with most of the newer graphics cards using PCIe 3.0. But thankfully, it's possible to use these graphics cards on the previous version, 2.0. PCIe 4.0 has been introduced in the last few months and PCIe 5.0 is expected to be introduced in year 4 as well.
PCIe Power Connection: This can refer to the type of power connectors in computers that typically use 1 or 2 pins.
ATX 24-pin connector : This type of connector is also use to transmit current and is widely use in computer power supplies. It is also consider as one of the power supply options in PCIe adapters.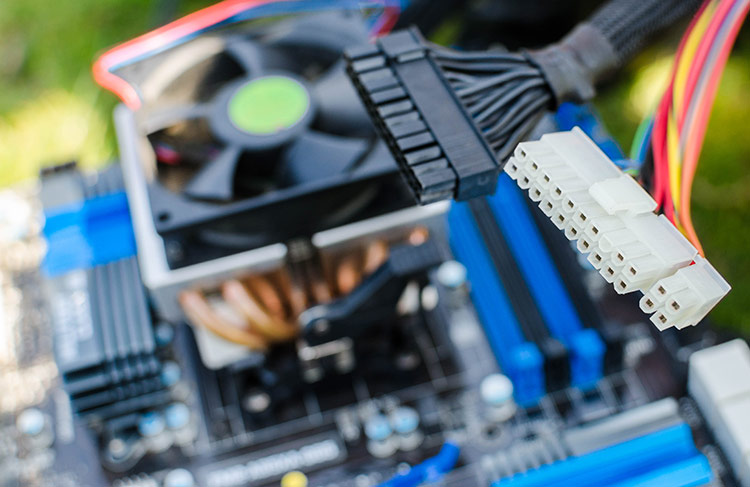 PCIe Adapter: This is a small board with a PCIe slot that has several HDMI ports and other communication ports. Its main task is to communicate between the graphics card and the laptop.
Express Card Slot: This place is embed on your laptop and is where operators place their communication equipment.
mPCIe: One of the ways communication enthusiasts use external graphics cards instead of ExpressCard. This port provides better communication, but it can be a hassle to use because it is often embedded in laptops.
Thunderbolt : Intel's high-speed data transfer technology, which can also be an option for connecting external graphics cards.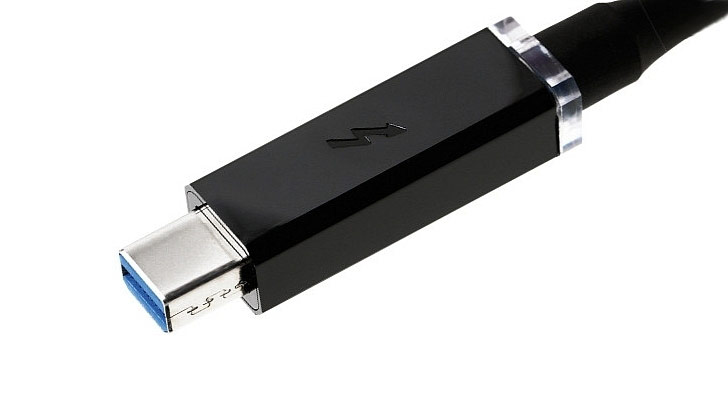 Bios: It can be say to be a program that runs first when you turn on your computer
and before you start the operating system. It is usually accessible by pressing the F2 key when turning on the laptop.
This key may vary in different manufacturers' products. BIOS controls many things on your computer, one of which is the boot order.
External graphics card basics
To use a standard external graphics card, we need four main components,
including a laptop, desktop graphics card, side display,
PCIe adapter or other types of interfaces, and a dedicated power supply.
Of course, the Thunderbolt 6 connection separately supplies the power required for the graphics card and no longer needs power. Also, if you want to play heavy games, you might want to buy a cooling pad for your laptop beforehand.
Ideally, your laptop is powered by an Intel quad-core or dual-core Hyper Threading processor.
An SSD memory can also improve your gaming experience. The PCIe adapter is a specialized piece and can be found in online stores.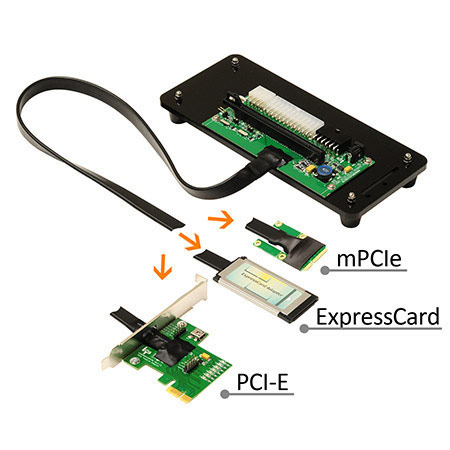 BPlus PE4C v3.0 can now be name as the best PCIe board that has dual functionality with mPCIe or ExpressCard.
This product offers a PCIe 3.0 x16 slot with a solid base for holding your card. The PCIe board comes with an ExpressCard kit including a power connector and HDMI interface cable, which allows for the exchange between a laptop and a graphics card. Other users interested in the m.2 slot can use PE4C v4.1.
Research your hardware
It is not enough just to buy the parts and learn the necessary training to connect the external graphics card to the laptop.
The user must first research his or her current device and hardware. Your laptop may not support such a feature, and buying new pieces will only cause financial loss.
Also knowing the right software conditions can greatly impact the performance of the graphics card. As a first step, it is best to hear other users' comments about the product you are looking for.
Many users have commented on various laptops and variants of graphics cards for external use. If you're not new to the laptop, there is a good chance that other users have written comments about using the graphics card for that model.
However,
if you haven't found anything about your laptop, you might want to go back to previous generations or use reviews from similar models from the same manufacturer.
Several reputable websites can come with the help of users to build a homegrown external graphics card. One of them is eGPU.io , which works exclusively on such graphics cards and how they are configured.
The website even provided a special shopping guide for the right laptops and provided a list of them.
Other help sources include TechInferno and the NotebookReview external graphics card. There is also a large and active user community on Reddy's social network .
One of the most important problems for users along this path is an error call error 12. This error occurs when Windows detects that the user's system does not have the resources needed to support the external graphics card.
This problem is usually easily resolved by Setup 1.35 software, which is provided free of charge by one of the eGPU webmasters. YouTube is another rich resource for troubleshooting, viewing benchmarks of graphics cards and other user configurations.
Graphics card selection
Once you are sure of the requirements for utilizing your external graphics card and laptop features, it is time to buy the right graphics card.
We recommend avoiding expensive graphics cards like the GTX 1080 Ti for more than $ 2. It is best to choose your model from the range of $ 1- $ 5. Even within the $ 2 range, there are some great options that can meet your needs for several years.
Available options include the Radeon RX 580 for $ 2 or the GeFroce GTX 1060 for $ 2, both of which are suitable for playing at 1080p resolution.
Cheaper options, such as the Radeon RX 560 for $ 2 and the GeForce GTX 1050 Ti for $ 2, can run games with down-to-medium settings at 1080p.
Choosing cheaper graphics cards may make it wiser to suffer less hardware failure.
According to an eGPU webmaster,
purchasing a more powerful graphics card can give the system more performance,
but this is limit by the inadequate speed of PCIe x1 or PCIe x2 technologies,
and not all of which can be used optimally.
Of course, if you are planning to buy a desktop computer in the near future,
you might want to go for the more expensive ones so that you can use it on your next computer and do not need hardware upgrades.
However,
it is always possible that the graphics card will not work on your system. If you have done your research on your laptop, the likelihood of this happening is very low,
but small technical problems can always be a deterrent.
For this reason, choosing cheaper graphics cards may make it a bit wiser to suffer less damage if the hardware is not compatible. Brand selection is another important process that you have to face.
Most users now prefer the Nvidia brand graphics card to AMD.
Also keep in mind that weaker models have lower power consumption than other models
and power their motherboard, while the graphics card for external use needs to be powered separately.
This is why users have trouble using models like the GeForce GTX 1050.
Usually overclocked versions of such models are also available in the market that support separate power connections and eliminate power supply problems.