How to Install Fonts in iPhone and iPad ? – Learning Step by Step / Mac and its shortcut keys for different boot situations – Comprehensive Guide
Did you know that the iPhone and iPad also have the ability to install and display different fonts? True, these fonts can not be used on the operating system itself,
but you can use them in other non-system IOS applications, such as Microsoft Office, iWork, and Adobe CC.
. Just download and install the font you want, then select them in the appropriate apps.
Here's how to do this.
How to install iPhone and iPad fonts?
First install the iFont application. This app makes installing fonts easy.
Next, download the font you want. You can access free Google fonts using the "Download" tab at the bottom of iFont.
If you do not like the Google fonts, you can find and download any other font from any website.
After downloading the fonts, if the message is displayed, select "Open in iFont", otherwise choose "Copy to iFont" from the "More" menu to open your font from the sharing menu.
iFont will allow you to access the downloaded file. If you do not want to display images and software licenses, disable the "Associated files" option.
Your selected font will appear in the OTF or TTF format at the top of the page. Choose "Import to iFont" option.
From the bottom of the page, select the "Files" tab. You will see all the fonts you've added to the program here. Choose the "Install" option for one of the fonts.
The iPhone will alert you that an app intends to open "Settings" and display a specific setting. This is normal, let's say "Allow".
On the "Install Profile" page, click "Install" and enter your password. You will see an alert telling you that there is no electrical signature on it.
Re-install "Install" and then select "Done".
Now your font is installed and you can use it anywhere. Check out the list of fonts in each of your apps to see your installation font.
If you do not find your font, it may be because this particular application does not have the ability to use custom fonts.
To delete a font in the future, go to the General section of the Settings menu and then log in to Profiles.
Here's the font you want to delete, and then click the "Remove Profile" button.
Mac and its shortcut keys for different boot situations – Comprehensive Guide
If you intend to run your Mac in recovery mode, or if you want to boot a USB memory stick, or if you are looking for your hardware testing with Apple's troubleshooting tools, you should know the Mac startup shortcut keys.
These keys can interfere with how the boot process works on your Mac or even how the Mac works after login.
Of course, most of the time, these keys are used only when they are trying to fix your Mac problems….
Startup or boot manager USB: Option key
The Mac Startup Manager or Mac Startup Manager does not boot your default memory.
Instead, you will receive a list of all connected memory devices, including external and USB memory.
This feature is used to test Linux distributions or install Windows from a USB memory device.
Safe Mode: Shift
If you're having trouble with your Mac or for some reason not booting, Safe Mode (or Safe Boot) forces your computer to load only the required operating system and execute it.
In this case, your startup disk is used to fix the system problems and only the core plugins required will be used.
This will also prevent the implementation of software that is configured for the startup of the operating system; custom fonts will be disabled and many system caches will be erased.
Apple Hardware Test / Apple Troubleshooting: D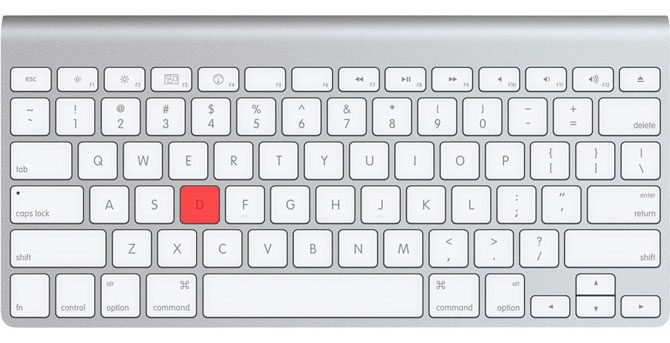 Based on your Mac's life, the name of this feature is either Apple Hardware Test or Apple Diagnostics.
These are tools that can identify your hardware issues so you can decide how to repair or replace your device.
While these tools are looking for hardware problems, but they do not provide much information about them, it's hard to fix them.
If you are looking for more information, you can use the Apple Service Diagnostics tool.
Alternatively, using the "Option + D" keys, you can enable this experiment via the Internet.
This method works if there is a problem with your hard drive or partition recovery system.
Resetting PRAM or NVRAM: Command + Option + P + R
A non-volatile RAM memory or a non-volatile RAM holds information about the current configuration of your computer.
This information includes date and time, memory space, desktop settings, and more.
Sometimes you may have problems with the sound, mouse scroll, or keyboard that require resetting of the Paramount RAM (RAM) or NVRAM (non-volatile RAM).
Turn off your Mac and hold down the keys above as soon as you turn it on again. Wait until your Mac reboots, then release the keys.
Reset SMC or System Administrator Controller: Shift + Control + Option
The System Manager Controller is a Mac-based chip that runs on the Mac and manages things like fan speed, power management, and more.
Most Macs use the top key for this, but some require battery or power cord.
Recovery Mode: Command + R
Recovery mode is the key to solving many Mac problems through a user-friendly environment. The recovery partition is a separate partition of the Mac OS, through which you can access Disk Utility and fix your disk problems.
You will also be able to use the Terminal and reinstall the Mac OS.
Alternatively, you can also enable the recovery mode by holding down the "Command + Option + R" keys.
In this case, the necessary tools are first downloaded from the Internet. If your recovery partition is damaged, this method can fix your problem.
Disc Mode Objective: T
If you intend to move information from one Mac to another, the target disk mode or "Target Disk" makes it easy for you.
By setting up the Mac in the target disk mode, you can connect it to another Mac and move your files between them.
In other words, this mode turns your Mac into a hard drive interface. To do this, use the appropriate cable. According to Apple, the following cables are appropriate:
Thunderbolt 3 (USB-C): For iMac Pro or iMac 2017, MacBook Pro 2016 and newer.
USB-C: Applies to MacBook 2015 and newer.
Thunderbolt 2
Firewire
Uses USB-A cables to USB-A, Apple-USB-C charging cables or Mini DisplayPort common cables.
Single-player mode: Command + S
Single-User Mode Your Mac enters a text environment with no graphical interface and no partition of your memory by default.
You will only have access to the Unix command line in which you must also use text commands.
This mode allows you to fix problems that prevent your Mac from running. By doing this, you can try to fix your disk problems, transfer information from partition to other partitions or force your disk to open.
For these things, you must master the commands for each one.
Verbose: Command + V mode
The "Verbose" mode (which is literally "bootstrap") replaces your default Mac interface at startup with a detailed report to know exactly what is happening when you start your system.
This mode does not interfere with things like running Safe Mode, nor does it allow you to enter a single environment such as single-user mode.
The "Verbose" mode is used when your Mac hangs and stops at boot time.
With this feature you can see exactly what's going on and what prevents the boot process so you can go along the path.
For example, many boot problems are related to third-party third-party plug-ins. The "Verbose" mode can detect the problematic plugin, then you can remove it from Safe Mode and fix your boot problem.
Boot Optical Drive: C
If you're using an old-fashioned drive that comes with optical drives, you can use a CD or DVD to install a Mac or any other operating system.
Hold down the "C" key when you boot the computer, your Mac will ignore the original startup partition and boot the optical media.
Bringing a Optical Disk: Eject, F12 or Mouse
If a CD or DVD is stuck on your Mac or you want to insert another disk, you can turn on the Mac and immediately hold one of the F12, Eject or Mouse buttons to remove the computer.
Boot the NetBoot service: N
NetBoot allows system administrators to boot the computer through an image on the network.
It's natural that most home users never need this kind of thing. This feature allows companies to customize the Mac OS based on their needs and create a special image for each user.
Then they can implement these images over the network on the systems so that they do not need to handle each system individually.
Alternatively, you can also use the "Option + N" keys to select the default image so that you do not need to use custom images for any user or hardware.
Login shortcuts in Mac OS
The following combines the behavior of the Mac when logging in.
Disable automatic login: Left Shift
If you set your Mac to automatically login, you can tell it to ignore these settings by holding down the "Left Shift" key after the boot screen (when the white Apple icon appears and a progress bar). To take
By doing this, go to the normal login screen and choose your account. You can also sign in as a guest user.
Avoid running Login or opening windows: Shift
If you want to prevent the logon from running, or do not want to open the previous windows, sign in the "Shift" key after entering the password and selecting the "Log In" option when logging in.
You can use this method if you do not want to open a window from the previous series or intend to prevent the system resources from being occupied during startup.