How to hide files and folders in Windows 10 – Hidden files
If you want to hide your files and folders in Windows 10, so that it is not even visible by checking the Hidden item, do not miss this tutorial in Facebook.
In many cases, you do not have a personal computer at home or even at work, and you have to share a system. In this case, you may need to hide some of your files. And In addition, if you have important private data and for any reason you want to make it more secure, you can use the method described below. Be with Ficit by learning this trick .
Hiding files and folders in Windows 10 is very simple. You only need one command line command to do this. For example, suppose you want to hide a file named sample.mp4 in the ToHide folder. To do this, just follow the steps below:
1. Run the CMD program (to do this, you can press the Windows + R keys simultaneously and enter the phrase cmd.exe and click on the CMD program).
2. Now enter the following command in CMD and enter. (Enter the items you want instead of the file name and folder name.)
attrib C: \ Users \ Lori \ Documents \ ToHide \ sample.mp4 + s + h


So far, the file you are looking for is hidden in Windows 10. S + means that it is a file system and is used by the operating system. These files are not normally displayed in the directory list. h + but refers to hidden files and specifies that files should not be listed in directories by default. It should also be noted that the letters in the CMD environment are not case sensitive, and you can type h and s in uppercase.
The important point is that when you enter the Explorer file, which contains hidden files and folders, none of these files will be displayed, even if you go to View> Show / hide and check the Hidden items option, open it. These files are also not displayed.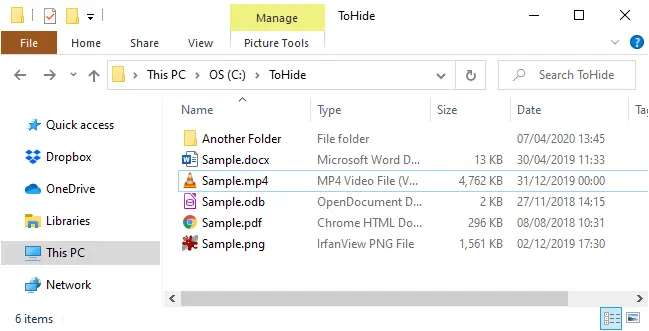 Re-hide hidden files
If you have hidden a file or folder, you can now unhide it with the same command, just use – instead of + in the command. In other words, to re-display the file we hid above, you must now use the following command:
attrib C: \ Users \ Lori \ Documents \ ToHide \ Sample.mp4 -s -h



If you have personal files and folders that you don't want to be visible to all users of your PC or you want to hide them so that they do not get deleted accidentally then here is the step by step guide for you.
Hiding Files and Folders Using File Explorer

Once you are done with these steps, the file or folder will not be visible anymore. Windows 10 doesn't show the hidden files and folders in Explorer or file menus by default. If you need Windows 10 to show your hidden files, open the file explorer, go to view and check the "Hidden items" box.