5 Best Reseller Web Hosting – 2018 Comparison
E
ver dreamed of a job where you can kick back and relax while that sweet passive income rolls right in?
Well, rather than simply purchasing a web hosting service, why not become one yourself?
Web host reselling allows you to offload extra resources to other would-be webpage admins for a bit of extra cash each month. And if you do your marketing right, that extra cash could eventually evolve into a solid income stream.
But which reseller plan should you choose to see your earnings soar?
Ultimately, it depends on the market you wish to target.
Here are the 5 best reseller hosting providers in 2018, including an in-depth look of what they offer and to whom they're most suited.
5 Best Reseller Web Hosting – 2018 Comparison
GoDaddy
Ever watched the Super Bowl? Then you're probably familiar with GoDaddy and their rather outrageous advertising campaigns.
Such raw retailing power and strong market penetration make GoDaddy an exceptional option for the newbie web host reseller.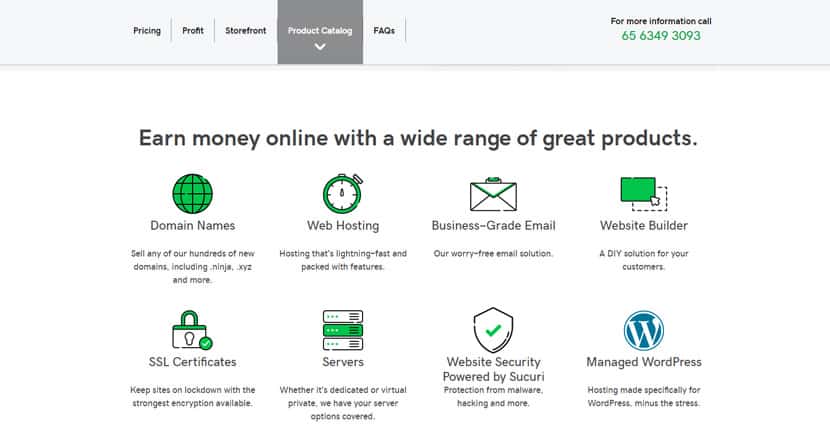 What Do They Offer?
GoDaddy offers two different reseller plans.
The Basic Reseller plan allows users to resell the full range of GoDaddy products – web hosting, SSL certificates, domain names, managed WordPress plans, website builders, servers, and business-grade email hosting – which is offered to the reseller at 20% below their standard retail price. Under this plan, you can host up to 25 customers.
The Pro Reseller plan includes all of the above at 40% below the retail rate. Furthermore, it comes with free tools to help manage your clients' websites. You can host an unlimited number of customers on this plan.
Where Do They Shine?
The best thing about the GoDaddy reseller program is that it has been designed with the beginner in mind. The company helps out with marketing and even provides 24/7 customer support directly to the end-user and under your brand, which means you'll rarely have to get involved.
You'll get a snazzy pre-built website packed full of features such as credit card payment processing. What's more, it'll be uniquely yours, as the GoDaddy brand won't appear anywhere on your website.
The company also doesn't impose any fixed commissions or margin rates, meaning you're free to charge whatever you please.
What They're Lacking?
In a word, freedom. GoDaddy doesn't allow you to divvy up resources as you please. Consequently, they're a little more rigid than most.
Who Are They Best For?
First-time resellers looking for a user-friendly service with minimal fuss.
A2 Hosting
With a focus on performance and reliability, A2 Hosting is a premium powerhouse web hosting reseller.
What Do They Offer?
A2 Hosting sells four levels of reseller plans, each with a choice of either the Linux or Windows operating system.
Regardless of which plan you choose, A2 Hosting includes free SSL certificates and SSD storage, the WHM Control Panel, an eNom reseller account, and a generous anytime money back guarantee. The Silver plans and above include the WHMCS platform for free to help you manage and bill your customers' accounts.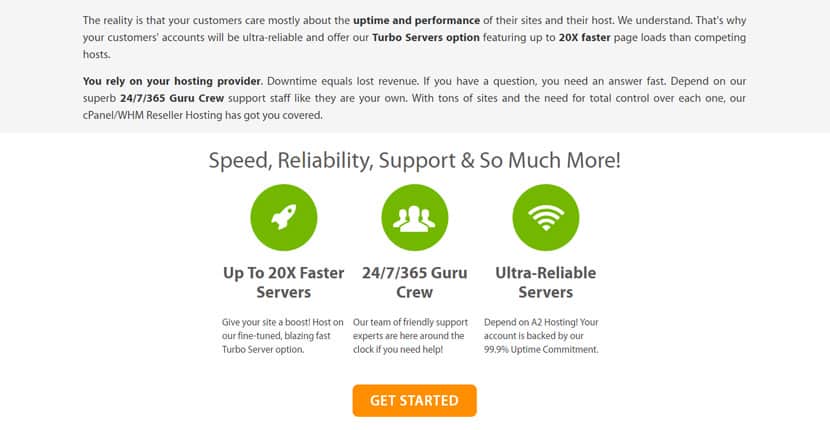 Where Do They Shine?
A2 Hosting is synonymous with performance. Unlike most resellers, the company uses SSDs for both the file server and the MySQL server. Furthermore, their coveted Turbo option uses optimized caching and software to amplify speeds by up to 20 times.
What They're Lacking?
A2 Hosting's introductory plan doesn't provide much power and their higher tiers cost more than newbie resellers may wish to invest.
Who Are They Best For?
Premium resellers targeting clients with high-performance requirements would benefit most from A2 Hosting.
HostGator
For an affordable and beginner-friendly reseller service, Houston-based HostGator ticks all the boxes.
What Do They Offer?
HostGator offers three different reseller plans, each with an increasing amount of disk space and bandwidth.
Where Do They Shine?
The company is famous for their user-friendliness due to their WHMCS management and billing software, the easy-to-use cPanel, and helpful 24/7 customer service. You get complete control of every aspect of your hosting service, so you can customize packages for your customers however you wish.
In-depth video tutorials and FAQs are great at helping the newbie reseller launch their business.
What They're Lacking?
Their email security and speed aren't as high as other providers. Also, customers must pay extra for automatic backups or organize them through a third-party platform.
Who Are They Best For?
HostGator appeals to novice webmasters who want a simple, customizable, and user-friendly reseller experience that involves minimal fuss.
InMotion Hosting
Boasting superb customer support and very few restrictions, InMotion Hosting is an awesome option for the reseller who likes to be in control.
What Do They Offer?
InMotion Hosting sells six different Linux-based reseller plans: three for shared hosting and three for VPS.
Each tier jumps up in price and performance. For example, the shared reseller plans jump from 80 to 120 to 160 GB disk space and 800 to 1200 to 1600 GB bandwidth, respectively.
Huge discounts are available for the initial purchase period, which can be up to two years. After that, the monthly price increases substantially.
Where Do They Shine?
A great thing about InMotion Hosting are all the extras bundled in for free.
For example, the industry-standard WHMCS billing platform comes as part of the package, as do anonymous nameservers, dedicated IP addresses, and an eNom account for reselling domains and SSL certificates. Unlimited cPanel accounts, SSD storage, and a stack of email features add to the appeal.
The company is also highly regarded for their superb customer support, while all packages are backed by a 90-day back guarantee.
What They're Lacking?
InMotion Hosting's reseller plans are more expensive than other options on the market, which is understandable when you factor in all the inclusions.
Who Are They Best For?
Resellers after a comprehensive package with unlimited cPanel accounts will love InMotion Hosting. On the other hand, those who don't need all the added extras might be better off finding a cheaper option elsewhere.
SiteGround
SiteGround focuses their reseller plans on affordability and flexibility. They may not be the cheapest reseller, but their customization options represent excellent value for money.
What Do They Offer?
As a standard, SiteGround offers 10 GB of web space, free daily backups, and cPanel as well as unlimited bandwidth, email, MySQL databases, and FTP accounts.
A white-label add-on and private DNS allow clients to use their own branding throughout.
Where Do They Shine?
For many, the main drawcard is their unique and flexible price structure. Rather than forcing resellers to purchase a huge amount of resources upfront, SiteGround sells individual credits which equate to one year of web hosting.
They've also got an above-average uptime guarantee of 99.99%, so that's a definite perk you can use to market to your potential customers.
What They're Lacking?
Getting started requires the purchase of at least five credits, the cost of which is more than some first-time resellers would want to invest.
Who Are They Best For?
SiteGround's price structure makes it ideal for resellers who want a more flexible, pay-as-you-go kind of scheme.
The company is also excellent for WordPress resellers, as they include a command line management option, automatic updates, and a staging environment.
Whether you value performance, affordability, customization, or flexibility, one of these highly-regarded web hosting resellers will offer the perfect package for you. Take the time to peruse the details in more depth before committing to a plan.