Everything we need to know about the UFS memory standard
The UFS flash memory standard is one of the newest storage standards for smart gadgets that offer faster data transfer rates.
UFS memory Universal Flash Storage Standard, called Universal Flash Storage and stands for UFS, is a standard for flash memory that is used in a variety of consumer electronics devices from smartphones to digital cameras and more. The main purpose of the development of the standard was to provide higher transfer speeds in the storage memory, which is achieved with greater stability in the flash memory.
Other goals of developing the UFS standard include eliminating current market challenges
and the need for different adapters for different cards.
The rapid growth of mobile devices in the hands of consumers in recent years has led manufacturers
to face serious challenges in developing and manufacturing storage products that best meet consumer needs. Higher bandwidth, greater capacity, lower power consumption, and lower cost are four major priorities for manufacturers in the development of mobile memory.
In the light of these developments, Flash storage technology and its standards have undergone many changes in recent years.
The UFS standard was developed for mobile devices and computer systems that required high performance, speed and low power consumption. These systems are generally equipped with flash memory that complies with the JEDEC standard called eMMC.
In fact,
the UFS standard was develop by JEDEC or
the Joint Electron Device Engineering Council to replace eMMC by providing much more bandwidth. The current standard was developed based on various existing standards such as SCSI, M-PHY and UniProm and incorporated the concepts of eMMC.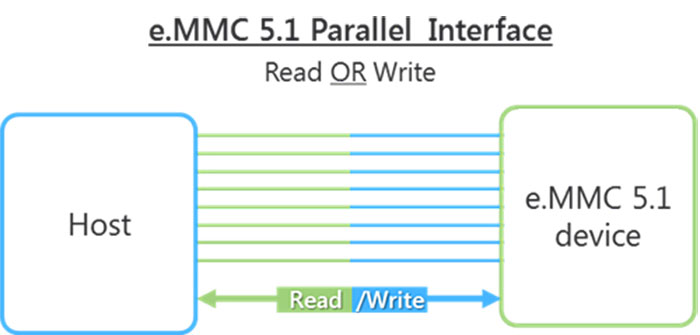 In simple language, UFS has been developed to eliminate the speed limitations of microSD cards in mobile gadgets.
Conventional microSD cards have write and read speeds of less than 2 MB / s. Even the most professional cards, also known as the UHS-II, are not capable of delivering speeds of more than 1 MB / s. While UFS-standard equipment is capable of delivering speeds of up to 2 MB / s and somehow equals SSD speeds.
One of the important features that UFS adds to storage equipment
is the increased speed of data processing in storage equipment. IOPS or Inputs and Outputs Per Second per storage device means its ability to deliver high processing speed, a factor of up to three thousand on microSD cards and up to 5,000 on UFS cards. This factor is reported in the SSD drives of about 7,000.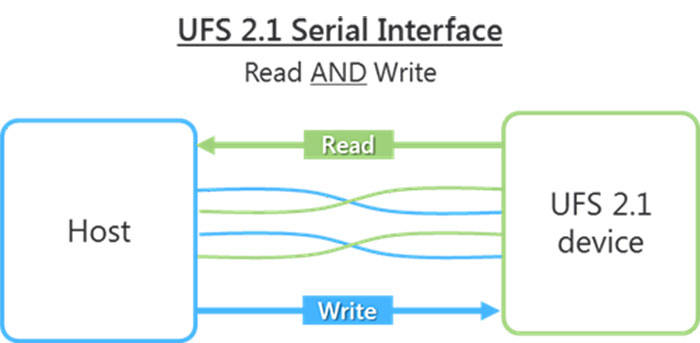 History
The need for more bandwidth is generally due to increased traffic and the reception and sending of media content. Multi-threaded processing activities also increase the need for bandwidth. Storage needs to maintain its performance in heavy tasks so that large movie and music files can be easily moved, as well as various applications running on the mobile platform.
In addition to developing their storage technologies, industry activists also needed a governor to increase engagement.
As a result, standards have developed alongside technologies.
Developing and adhering to the principles of each standard in many areas of the technology industry is generally done by one organization. The first standard organizations are the SD Association, which only supports large-capacity memory cards for storing user content.
The eMMC standard developed by JEDEC, unlike SD,
supports high-power onboard memory in support of software and application performance (besides storage).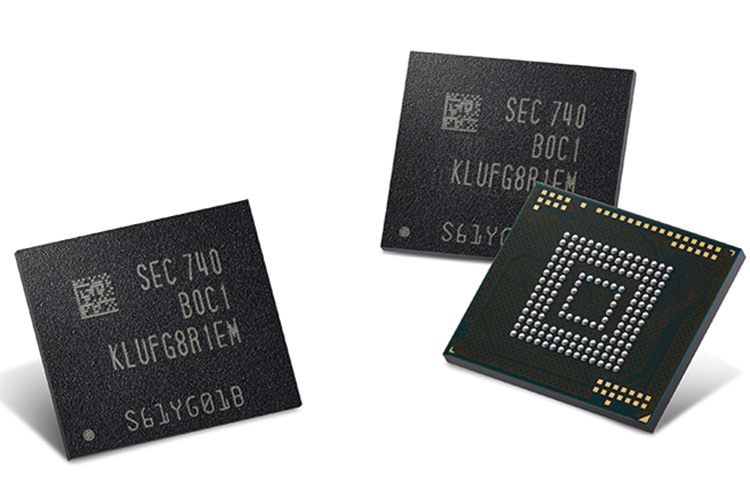 The main difference and the need for eMMC replacement came from the fact that the standard used the bus interface, while almost all of the data storage interface standards used differential signaling to meet the increasing demands on high bandwidth. In 2007, JEDEC decided to develop a replacement for eMMC.
JEDEC is responsible for standard development and USFA management and licensing
In addition to JEDEC, another industry consortium called the Mobile Industry Processor Interface (MIPI) was also interested in developing a serial standard for professional data entry / output applications that could be used as a single connection for data transfer between multiple processors as well as peripherals on a single platform. Used a cellphone.
The purpose of the series was, in fact, to develop a standard that would apply to data transmission even
in areas such as the camera sensor and display panels. The most important peripherals in mobile devices are the data storage segment. MIPI was looking for a storage compartment that could use a unified serial differential interface.
Both JEDEC and MIPI developed the standard separately,
but eventually it became clear that a single standard should be use for storing and transferring data to mobile devices. Finally, in year 2, the two organizations came to an agreement and selected UFS as a shared data transfer protocol. Other organizations involved are the UFSA Alliance, which is responsible for developing standard technology and licensing it.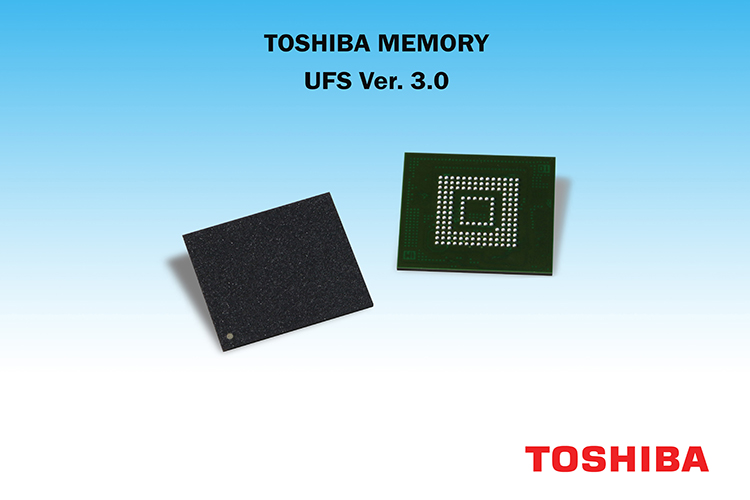 UFS Definition and Structure
The UFS standard uses a multilayer architecture as described in JEDEC 220A. The upper layers of the standard are described by JEDEC, while the lower layers use existing MIPI UniPro and M-PHY standards. All in all, UFS, designed to work in cases of high memory capacity, offers a simple, high-performance serial interface that transmits data with acceptable efficiency between the processor and the stunning segment.
The UFS standard uses the famous SCSI architecture model. Commands protocols that support multiple commands with a multithreaded programming pattern are also included in the standard. This structure is different from the standard memory cards that work on standard flash. In addition, the structure of the UFS differs from the embedded flash slots that process only one command at a time.
In those structures, the productivity
and availability of writing and reading are limit.
And In the new standard storage definitions,
an interface is define as the UFS Host Controller Interface,
or HCI, which simplifies the structure of the host by simplifying the host CPU's involvement in storage processes.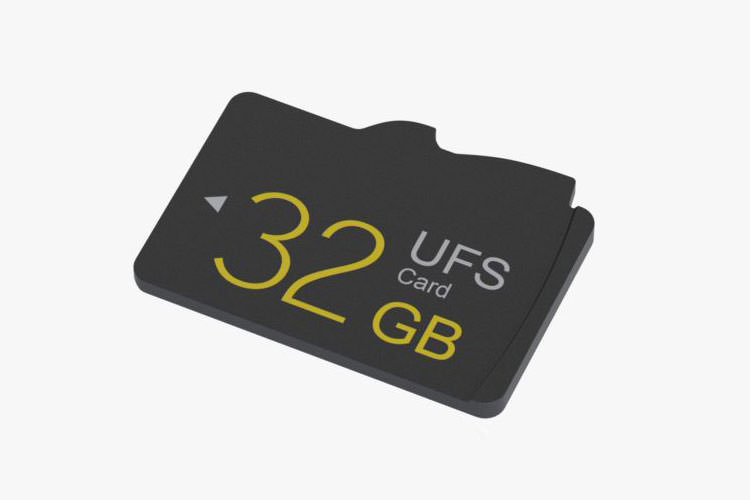 Applying SCSI creates a good software model and makes standard implementation easier. Using this architecture, a standard programming interface for UFS is created that enables the use of standard Host / OS drivers.
The UFS specifications make it possible to switch between power consumption status and stopping the device with good efficiency. The power consumption level decreases when operating the storage unit using this standard, and when inactive, power consumption drops to almost zero.
Overall, it can be claim that the use of UFS results in a significant reduction in device usage. Finally, the UFS also offers a similar standard for both external and lateral storage, which will make controller design easier.
UFS employs a multilayer protocol to communicate between memory and host
There are three main layers to the UFS architecture: UCS, UTP, and Interconnect. The UCS layer layer plays the interface with the software and uses the SCSI standard as the main protocol. The transmission layer, or UTP, is responsible for interpreting the protocol into a structure that is understandable to the interconnect layer. The Interface Layer (UIC) is also a combination of analog and digital IP.
In the Interconnect layer, there are two standards, UniPro and M-PHY. UniPro stands for Universal Protocol developed by MIPI. This protocol has four layers named L1.5 or PHY adapter, data link or L2 layer, network layer or L3 and transmission layer or L4. L1.5 and L2 layers examine the stability and integrity of the data. L3 and L4 layers also have the task of ensuring that data is transmitted correctly to the UFS host.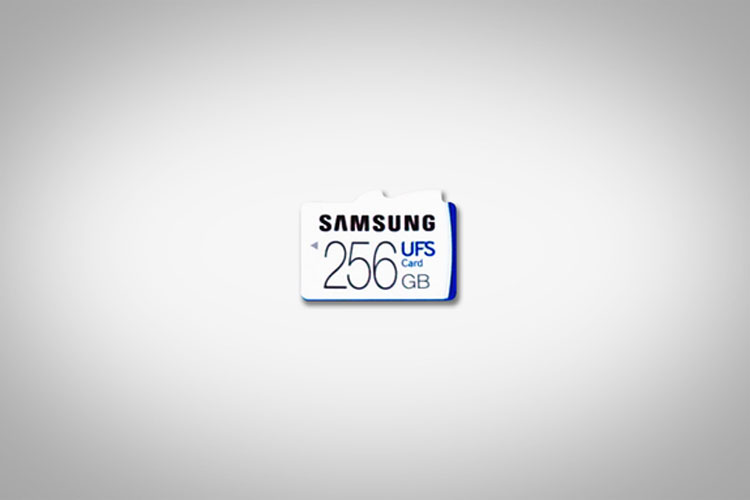 The MIPI community defines two types of M-PHY protocols. Type 1 is used in UFS. Specifications of the first type show that this protocol uses NRZ signaling for HS and PWM for LS. It is best to know about the structure of the UFS, which also uses two types of high and low speed modes, each with its own position and time.
Despite the advantages of UFS, many smartphones still use eMMC. In recent years, however, and with the advent of fast flagship smartphones, the name UFS has come to the fore more than ever. UFS 3.0 is now recognized as the latest version of the standard, which is much faster than the previous version, 2.1.
Definition and Benefits of UFS 3.0
As mention, the latest version of the UFS standard is know as UFS 3.0,
which runs almost twice as fast as version 2.1. In addition, the new version has lower power consumption and, overall, shows significant improvements on both the UFS specialty front, namely high speed and low power consumption.
Experts consider the current version to be SSD-friendly in terms of performance and power, but with lower power consumption.
The UFS 3.0 standard is capable of transmitting data at a speed of up to 1.5 Gbps. Data transmission in the standard is performed by two transmission lines, each with a speed of 1.5 Gbps. Of course, reaching the maximum transfer speed depends on the ability of the smartphone or other gadget to process, read and write data.
The ability to utilize UFS maximum speeds ultimately affects a variety of functions from playing
and opening applications to transferring or viewing media content.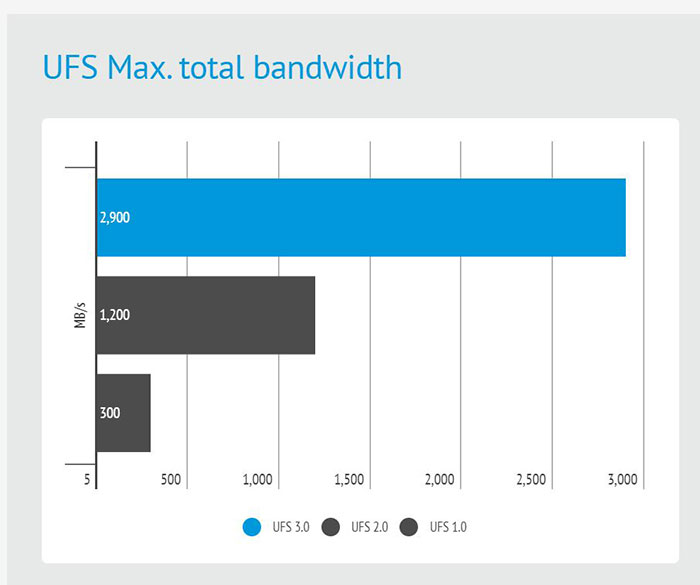 The JEDEC spokesman says about the features and capabilities of UFS 3.0:
The UFS utilizes two complete differential signaling channels with a number of benefits. This standard makes it easier to design devices, make writing and reading operations easier, lower power consumption, and minimize power extraction when the device is idle.

Devices that use UFS 3.0 provide a better user experience with optimum power consumption. UFS 3.0 was developed over two years in collaboration with multiple device and chip manufacturers. The collaboration of various companies in the ongoing development of standards, along with regulatory-focused meetings, makes it possible to harmonize JEDEC standards with the latest industry-centric technologies.
JEDEC worked with 3,000 volunteers from four different companies. Representatives from Apple, Google, IBM and Microsoft are in the organization.
Application in 5G and future developments
Although the latest version of the UFS is young,
industry activists and organizations involved have a serious plan for future development.
They strive to improve speed and power consumption
to standard again so as to be optimize for use on 5G devices.
Despite the many benefits of speed improvements to the UFS standard, the latest version still doesn't work well on smartphones.
Of course improving performance and reducing power consumption will always be useful for smartphones, but even current marketers use the previous version, 2.1, and perform many of their tasks at high speeds.