Content production training from 0 to 100 and sustainable income- Part 2
It is not enough if you have been producing content for a while or pursuing a strategy in general for no apparent reason at all.
Every marketing department needs a thorough content review. Of course, if you haven't started with a well-defined strategy, it doesn't mean you don't have consistent content, but your content still has a lot of work to do.
Content review simply gathers a list of what you've done before, then organizes it to have a new content plan.
This process may involve rewriting content or showing gaps that require writing and filling in content.
Here's how to do the content review:
• Collect all your content into a spreadsheet.
• Create columns for target keywords, buyer persona, buyer need steps, template, and main theme, then fill in the items for each piece of content.
• Complete the columns with key metrics like page views, shares, and more.
• Classify each post using the highlights in its columns. Some columns may need to be overwritten or it may be better to merge with another post.
Content review may seem tedious and tedious, but all of this manual work is worth the increased traffic and number of targeted users. You also create great verified content.
Choose the right format or format:
At this point, you need to create a template for the persona you are making; that is, you have to create content that is appealing to the user and responds to each need.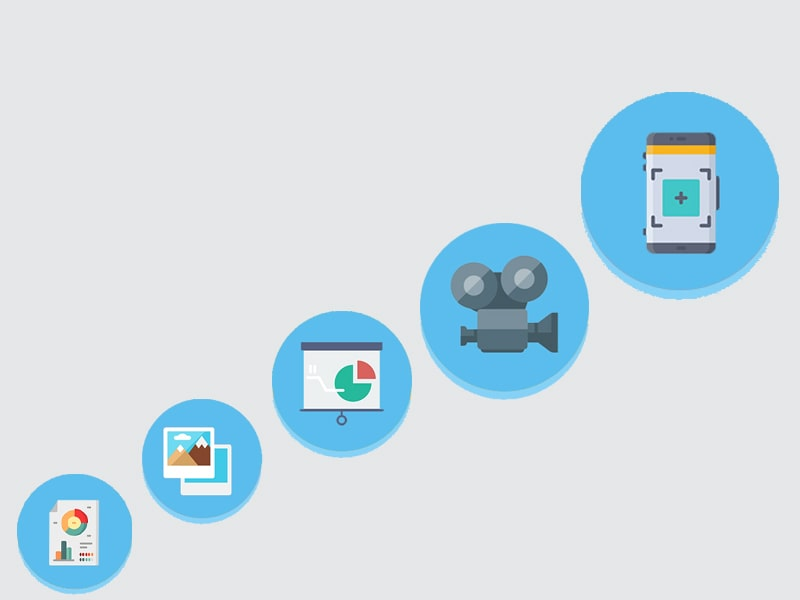 The format you choose may be a post from a blog, video, slide, infographic, e-book, article, podcast or other.
It depends on your creative mind which format to use according to the user's needs.
It is better to write content that is not in a format or style, but to write within a specific framework. Using podcasts is also a great marketing option. But if you don't have enough resources to use podcasts, blogging and content use is the better choice. Use these questions as a guide when choosing your content format:
• At what stage of the customer is the need met?
• How easy is it for your audience to use this content?
• In which spaces does your persona often spend time online?
• What kind of format can you create on a continuous basis?
• Can you produce this content at a competitive and quality level?
Content Advertising
If no one visits after loaded with quality content, then what is the point of producing content?
So we need to encourage people to read our content and even make them permanent users by using different ways and proper advertising.
So it is important to know that content promotion is as important as generating content for your strategy.
Your advertising program should be driven by your staff. To make a good advertising campaign, you must first find the answer to each of the following questions:
How often do you spend your time online?
What time of day do you use a particular bedding?
How many times do you want to visit your content?
How would you like to consume your content?
What kind of links do you want to click on?
Content promotion is a different matter and there are specific rules for each.
social media, Content production
While social media is a tool for building relationships, you can also use them to promote content.
This requires a good balance between self-promotion and sharing useful information and entertainment.
Facebook, Twitter, Instagram, YouTube and Snapchat are all good media for creating and sharing relevant content.
The main point in promoting content is to make changes and adapt it to the right platform.
Email Marketing
Email is one of the best ways to reach targeted users.
Because everyone on your email list has decided to have a definite relationship with you, and you can guarantee that it receives your messages.
However, it is best to improve your rate of return by posting relevant content to these people, meaning that people are often eager to read them.
Click Advertising, Content production
Pay Per Click (PPC): Helps you get your content to your target audience through targeted and paid advertising.
These ads can run on social media, search engines, or other websites.
When defining your buyer persona, you can determine the spend and advertising spend so you don't waste time and money communicating with your target customers.
When you limit your audience to a specific group of people, increasing the cost of advertising can help raise returns and raise ROI.
The unions, Content production
Promoting your content through reputable third-party channels is a great way to reach an audience. Syndication exposes your brand to new people.
When you reuse content, you reuse something you've spent a lot of time creating and converting to different formats.
The purpose of this is to make the most of your content. Think of this as content recycling. How does this work now?
For example, a blog post you wrote about marketing statistics can copy and paste content into an infographic or even a video in the same post.
If you've created a story in one format, try to use it again in all other ways.