What is compatibility mode in windows 8.1
If a program or driver for an earlier version of Windows doesn't run properly in Windows 8 or 8.1, then you could try using compatibility mode on the program to hopefully allow it to run properly.
Compatibility mode settings are not available for the programs that came included as part of Windows 8.
If changing the compatibility settings does not fix the problem,
then you could go to the program manufacturer's website to see if there is an update for the program that may allow it to run properly afterwards.
To see if your software is compatible with Windows 8 and 8.1, check it here: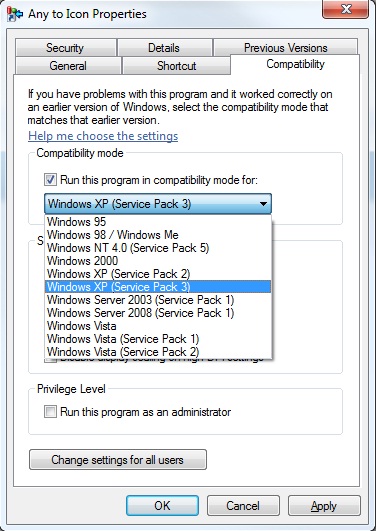 Warning
Do not use compatibility mode on antivirus programs, firewall programs, backup software, or disk utilities because it could cause data loss or create a security risk.
You only want to use these type of programs for the Windows listed in their system requirements.
To Run the Program Compatibility Troubleshooter
​
1. Do step 2 or 3 below for how you would like to run the Program Compatibility Troubleshooter.​
​
2. From the Context Menu of a Program​
​
A) Right click or swipe down on a program's shortcut (LNK), EXE, or MSI file on your desktop or in File Explorer, and click/tap on Troubleshoot compatibility.
B) The wizard will now start to detect any issues and give you a list of choices to choose from. Select the option you would like to try,
then follow the rest of the onscreen instructions in the wizard so you are through troubleshooting the compatibility issue with the program
How to install or run a program in Compatibility Mode in Windows 7?
Compatibility mode allows a program written for an earlier versions of Windows to possibly run in Windows 7. You can also use Compatibility mode for a program to Run as an administrator.
Right click on the program's shortcut, .exe file, or installation file.
Click on Properties.
Click on the Compatibility tab. 
Check the Run this program in compatibility mode for box.
Click on the drop down menu arrow and select Windows XP.
NOTE: Always pick the latest Windows version the program was written for to have a better chance of it running properly in Windows 7.

To Change the Privilege Level of the program –

 Check the Run this program as an administrator box to enable or disable this option.
Click on OK to apply the changes.
Now, double click on the program's shortcut, .exe file, or installation file to start the installation.

Follow the onscreen instructions to complete the installation.