7 Ways to Stop Windows 10 Upgrade
In the past, Windows Update was only used to resolve security issues and weaknesses, but Microsoft has changed Windows Update's use of Windows 10.
In this version of the OS, each month there are minor updates available to upgrade some of the features, and each year there are two major upgrades that add features to Windows.
Given that in Iran most people use volumetric Internet services, these high-volume updates can be problematic for some.
Also, due to the fact that updates are applied automatically, the system may become inaccurate at the time.
By learning how to manage Windows, you can control the timing and method of these updates. In this article, we've highlighted the ways and options that you can control the interactions and tasks of Windows Update.
Install the Pro version or better of Windows 10
Some of the methods below are not available to users of this version due to limitations in the Windows 10's "Home" version.
If it's possible, upgrade your windows to the Pro version, as this version provides more options for managing Windows updates.
To upgrade to Pro, you can also purchase this update, and you can also use your product key in the Pro version of Windows 7 or 8 to upgrade Windows 10 home. Unfortunately, upgrading to Windows 10 Pro is not possible.
1. Maintain bandwidth in volumetric Internet services
Windows will refuse to download updates that are related to new features in bulk services and only receive essential updates.
The metered connection option is the easiest way to get rid of many updates. This option is available in all versions of Windows 10.
If you used Ethernet Cable (the same Lan cable) in the early versions of Windows 10, you could not use this option, but it was upgraded to Windows 10 Creators Update (known as version 1703). , The ability to use this feature for wired communication is also provided.
Note that you can only enable this option when connected to the intended network.
To introduce your Internet as a bulk service to Windows, go to Settings> Network & Internet> Wi-Fi and select the network you are connected to.
Then, in the "Metered connection" section, set "Set as metered connection" to "On".
You can always start upgrading from the Windows Update menu.
You can also get all updates, even on bulk services, by selecting the option "(automatically download updates, even charges over apply.").
2. Stop updating for up to 7 days
Microsoft has provided an option to temporarily stop Windows upgrades.
This feature is useful at times if you want to keep up-to-date with Internet updates or do not want Windows to install downloaded updates.
This option is not available for users of the "Home" version of Windows 10.
To stop the Windows update, go to the Advanced options page at Settings> Update & Security> Windows Update and put "Pause Updates" in the "On" mode.
With this up to 7 days or until you disable this option, no updates will be installed.
If Windows is waiting for your update to update, after having stopped the update by this option, on the Windows Update page you will have a "Resume updates" option, which will update the updates again.
Note that after the end of 7 days, you will not be able to reuse this option until all remaining updates are installed.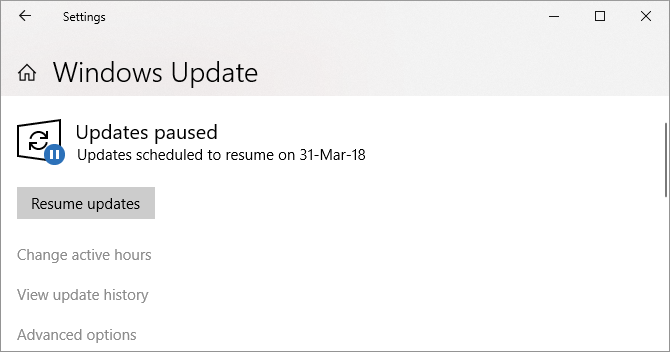 3. Information before downloading updates
Another Windows feature to manage updates is to announce the release of a new update so you can manually download the download.
This feature will help users with low bandwidth or limited volume. Unfortunately, this way can only be done by the Group Policy Editor, which is not available in the "Home" version.
In Windows Start Menu, search for "Edit Group Policy" and run it.
Go to Computer Configuration> Administrative Templates> Windows Components> Windows Update and open Configure Automatic Updates.
Activate the corresponding settings by using the "Enable" option and set "Configure automatic updating" to "2 – Notify for download and notify for install."
The next time a new update is available, in the Windows Action Center section, you will see a message notifying you of the new update. By clicking on this message, you will go to the Windows Update page so that you can start the update process by clicking the download button.
Note that using this method will disable some features of Windows Update, including the "Notify to download" option, which will be described below.
4. Not downloading updates to ensure their security
The following will help you temporarily delay updates to Windows.
Delaying upgrades will prevent your bugs and problems from running on them. After a certain period, postponed updates will be automatically installed.
After that time, it's natural that Microsoft detects and resolves issues when it comes to its release. This option is not available to users of the Windows home page.
The point to be noted is that the option "defer upgrades" to postpone updates was already available in Windows settings, but with the latest major update to Windows, Microsoft moved it entirely to the "Group Policy Editor." Is.
Snooze upgrades up to 365 days
In Group Policy Editor, enter the address below and open the "Select when Preview Builds and Feature Updates are received" section.
Computer Configuration > Administrative Templates > Windows Components > Windows Update > Windows Update for Business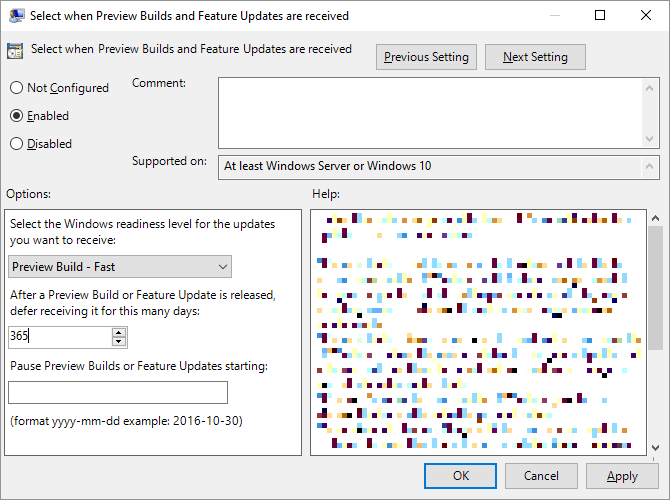 Use the "Enabled" option to activate the settings for this page. In the "Options" section, specify the Windows readiness level to receive updates (the image above is for the "Insider Preview" version of Windows and may differ from your options).
In the bottom section, you can also select the number of days you want to snooze large updates or previews (the maximum amount to be selected is 365 days).
You can also specify the start date of this snooze at the bottom and bottom.
Snooze partial updates for up to 30 days
Go to Group Policy Editor again and go to the "Select when Quality Updates are recieved" section.
Computer Configuration > Administrative Templates > Windows Components > Windows Update > Windows Update for Business
By activating these settings, you can stop minor Windows updates for up to 30 days. You can also specify the start date of this restriction, with updates up to 5 days longer, 35 days.
5. Hang up updates at work times
Users who use the latest version of Windows 10 can specify their work hours so Windows does not re-rotate the system during these hours.
This option is available in the "Change active hours" section of the Windows Update page.
Note, however, that this option only allows you to set an interval of 18 hours or less.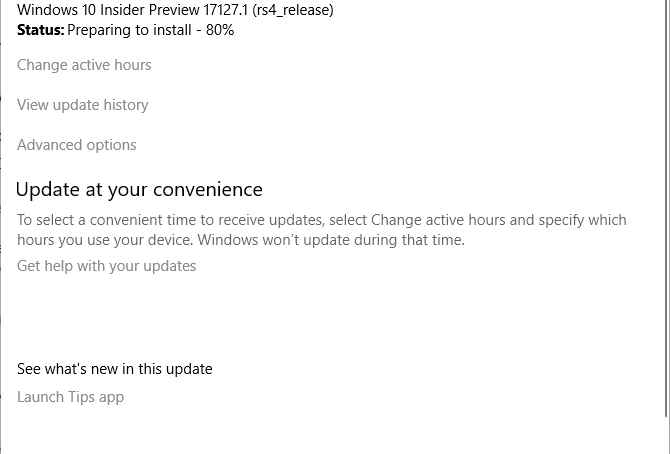 6. Set the specified clock to install downloaded updates
When Windows finishes downloading new content, sooner or later,
you must re-install the system and allow it to complete its update. What you can do at this time is to specify a time for the system administrator.
To do this, go to the "Windows Update" section and click "Schedule the restart" next to the "restart now" option. On the next page, enable this option so that you can set it up to 6 days.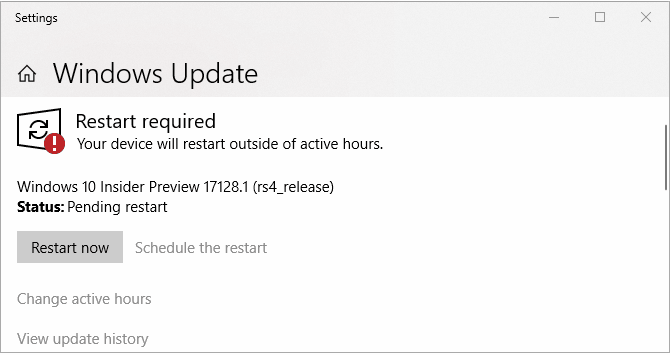 To prevent Windows from automatically detecting your time,
in the Advanced Options section of the Windows Update page,
enable the option "We'll show you a reminder when we're going to restart" (this option is in versions The previous one was called "Notify to schedule restart".
Otherwise, Windows may enter a very long loop from installing updates.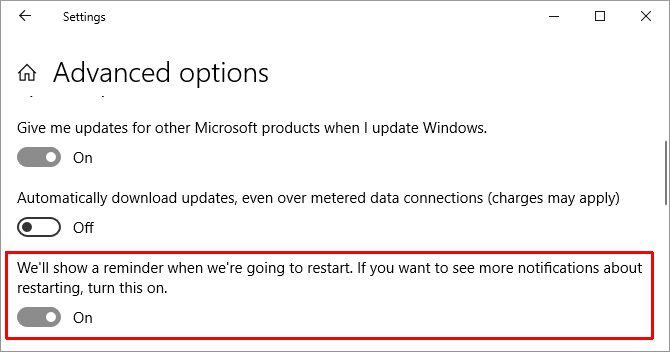 7. Permanently disconnect Windows Update
If none of the above is enough for you, we will disable its updates completely and permanently, or until the next version of Windows. This feature is available in all versions of Windows 10.
In Windows Start menu, type "Administrative Tools" and open it. Go to the Services section and find and open Windows Update.
Under the "Service Status" section, click on the "Stop" option to turn off the Windows update to the next one.
In the "Startup type" section, you can use the "Disabled" option to permanently disconnect this feature.
Do not forget to turn on and continue on Windows Update as soon as possible or manually install security updates with existing methods.
Stop updating drivers
In Windows 10, the Windows Update service is also responsible for upgrading drivers. Given that Microsoft only provides standard and basic drivers, this may be problematic.
These drivers can cause problems in some settings, while the version provided by the company does not have any of these problems.
Using the Microsoft's Show or Hide Updates Troubleshooter software, you can find or upgrade driver problems.
You can also turn off the troublesome updates, install new drivers, and stop future updates.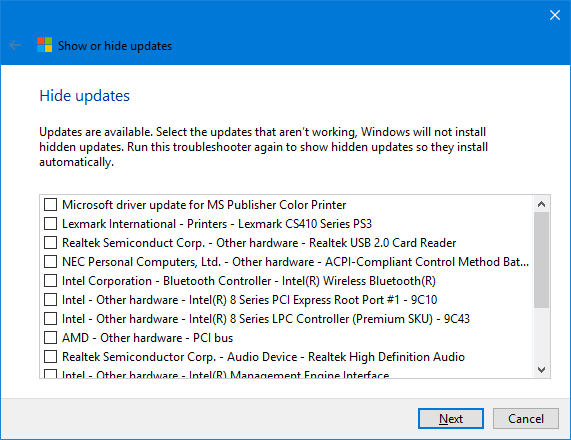 Stop automatic updating of Windows Store apps
In the past, it was hard to stop the auto-update of apps received from the Windows store, so that there were long articles for the same issue on different sites.
Microsoft has made the Windows 10 Pro version much easier for users.
To disable these updates, go to the Microsoft Store and click the three dot icon (known as the "More View" icon) next to your profile picture.
Then enter "Settings" and put "Update apps automatically" in the "Off" mode.
To manually update updates, select "Download and updates" from the More View menu and click "Get updates"
(this option was known as "Check for updates" in previous versions).
After the search for updates has finished, click on the "Update All" option to complete all the updates,
or to download the download flash next to it to update a particular application.
Updating Windows Store apps will not cause you any security problems because
these software programs run in a "sandbox" that limits software communication with other operating system components. But the lack of upgrades will make it difficult to resolve your previous issues or new features.
Windows Update is on the way
Windows's frequent updates, along with the troubles that they are creating, are also a great affection. On the one hand, these updates improve Windows and add new features,
on the other hand, they may create a series of issues or take the features you like.