10 Best Wix Templates for Photography
You've decided to take the next step in your career as a photographer by launching a website dedicated to your craft. There are many website builders for photography websites available in the market,
and lucky for you, Wix is one of the best.
With over 400+ templates in total, and 40 specifically for photography,
Wix provides more than enough options to choose from.
To help you decide on the best template for you, check out my top ten. You can compare and contrast their design, ease of use,
effectiveness, and built-in tools useful to photographers like you.
Aerial Photography
Drone photography has made it possible for normal people on a modest budget to capture breathtaking scenes with a unique top-down view,
sometimes even of impassable terrain. Although this is supposed to be the focus of this template,
you can use it equally well for any type of photography.
It has a very modern color palette of white, graphite, and dark gold,
and it utilizes plenty of interesting visual elements such as vertical separators and a unique placement of headings.
This template works equally well for video and images.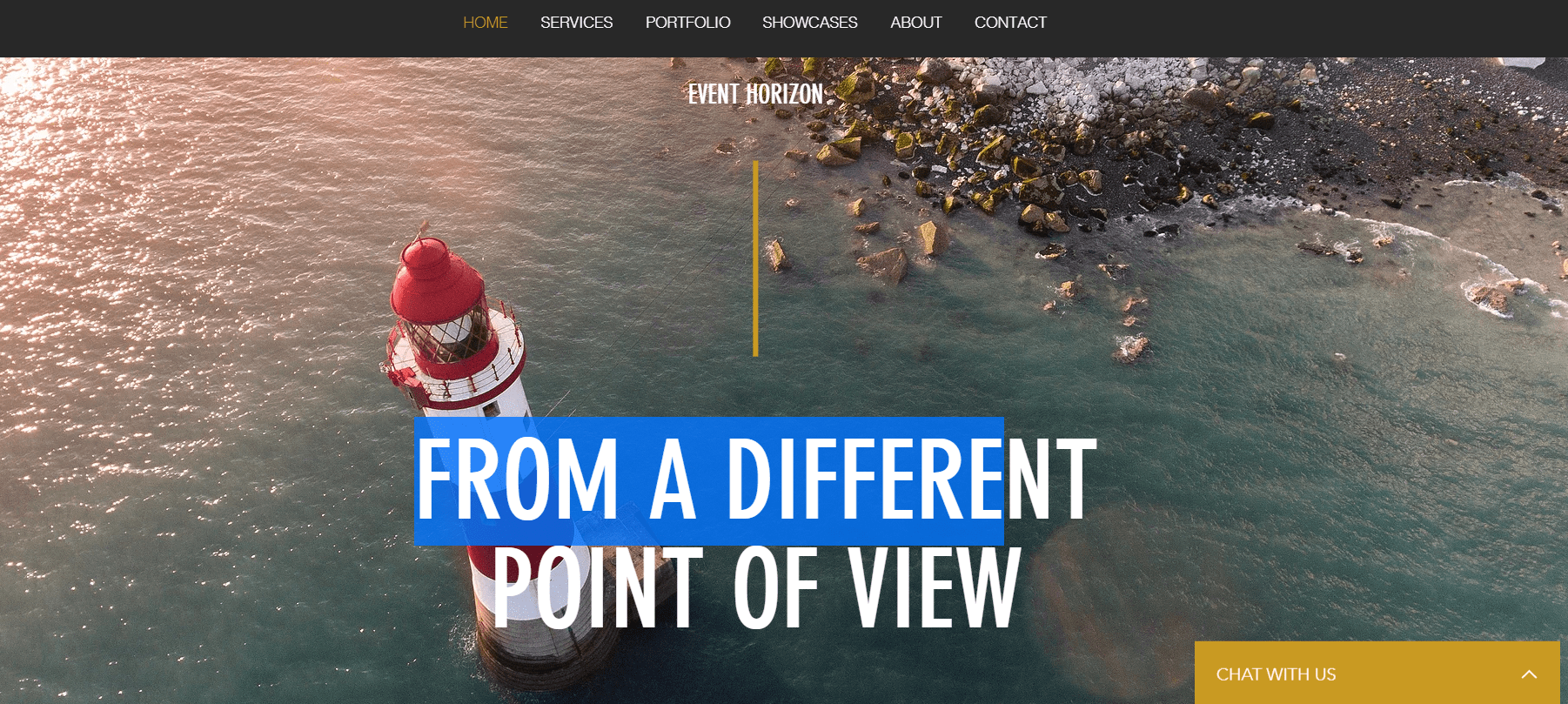 Urban Photography
There's no mistaking this template for anything other than a photography theme.
It starts off with a splash webpage with a fullscreen image.
The first webpage you're taken to when entering the website is the portfolio which showcases the bulk of the photographer's work.
The design of this template is extremely minimalist,
and it has that urban-chic feel which would make it perfect for a fashion or lifestyle photographer. It also comes with the "Showcases" feature out of the box,
as well as the "Book Online" feature which is great for photographers looking to sell their services.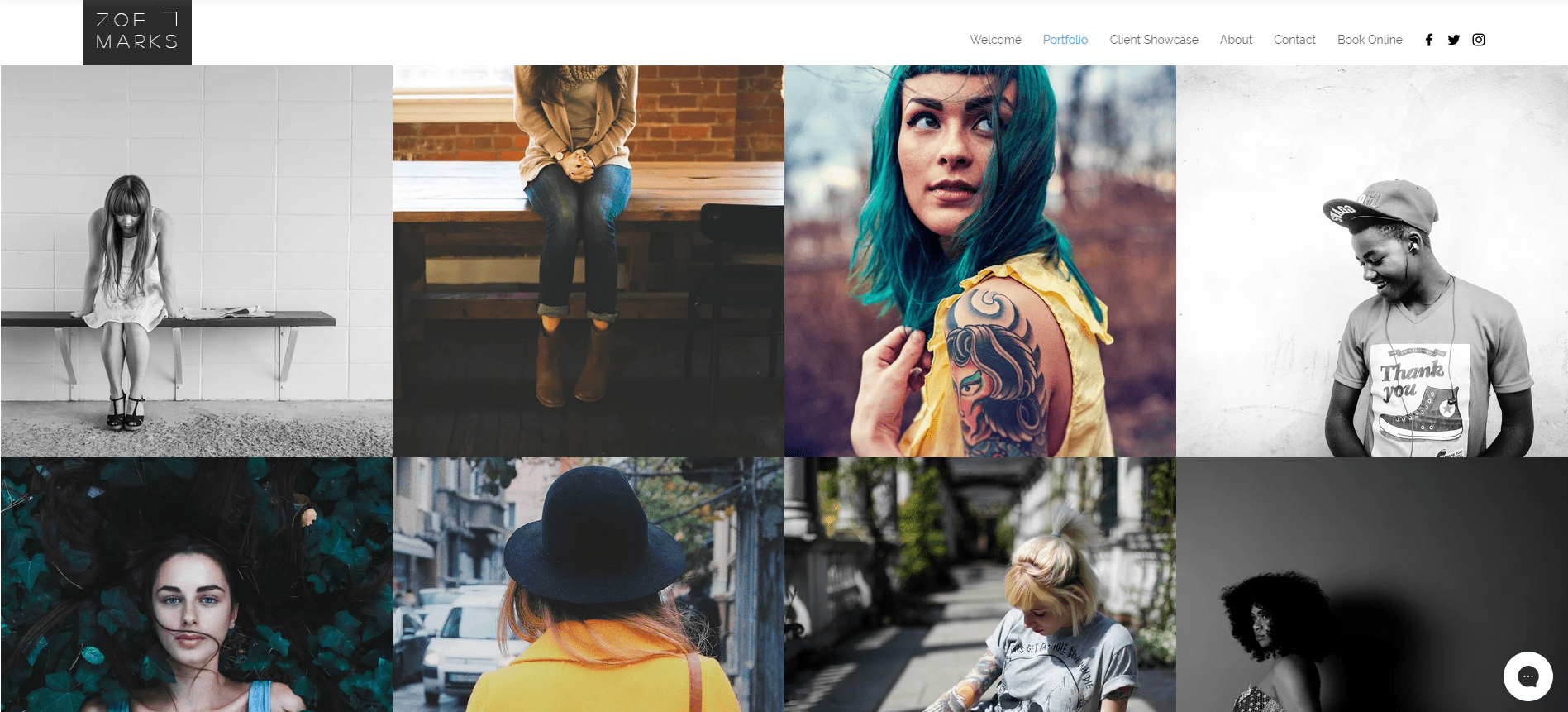 Photography Portfolio
This template is another fine example of a minimalist photography website.
However, this one has a much more relaxed and understated feel to it,
which lends itself well to grayscale, black and white, or purposefully faded/grainy photography.
As the name suggests,
it's the perfect website for an artist's portfolio and comes with the Blog app installed so you can talk about your work as well as galleries and showcases.
Another unique feature is the slide-out hamburger menu that works well with the minimalist style of the template.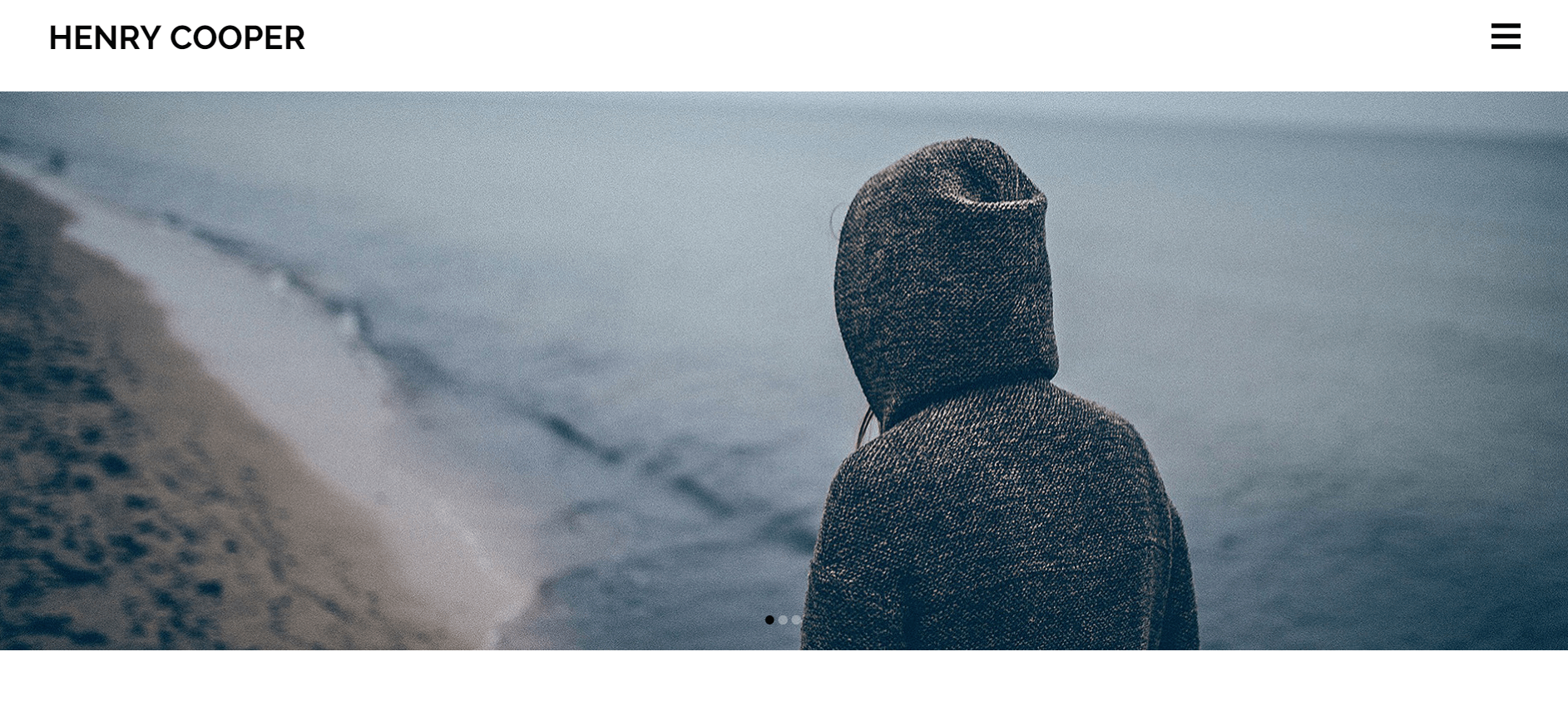 Photographer & Art Director
This is one of the most eclectic of all the Wix photography themes. It might not be for everyone,
but I found it too fun and quirky to leave out of this list.
It's got plenty of eye-catching visuals, such as sharp colors used as hover states,
the central placement of the logo or website name, and bold fonts.
It's a website that would work best as it is in its demo form —
with plenty of animations or hover styles to keep things exciting.
This template comes with the Wix Store app and is obviously a theme made to sell with no blog or other exceptional features except for a "Clients" webpage.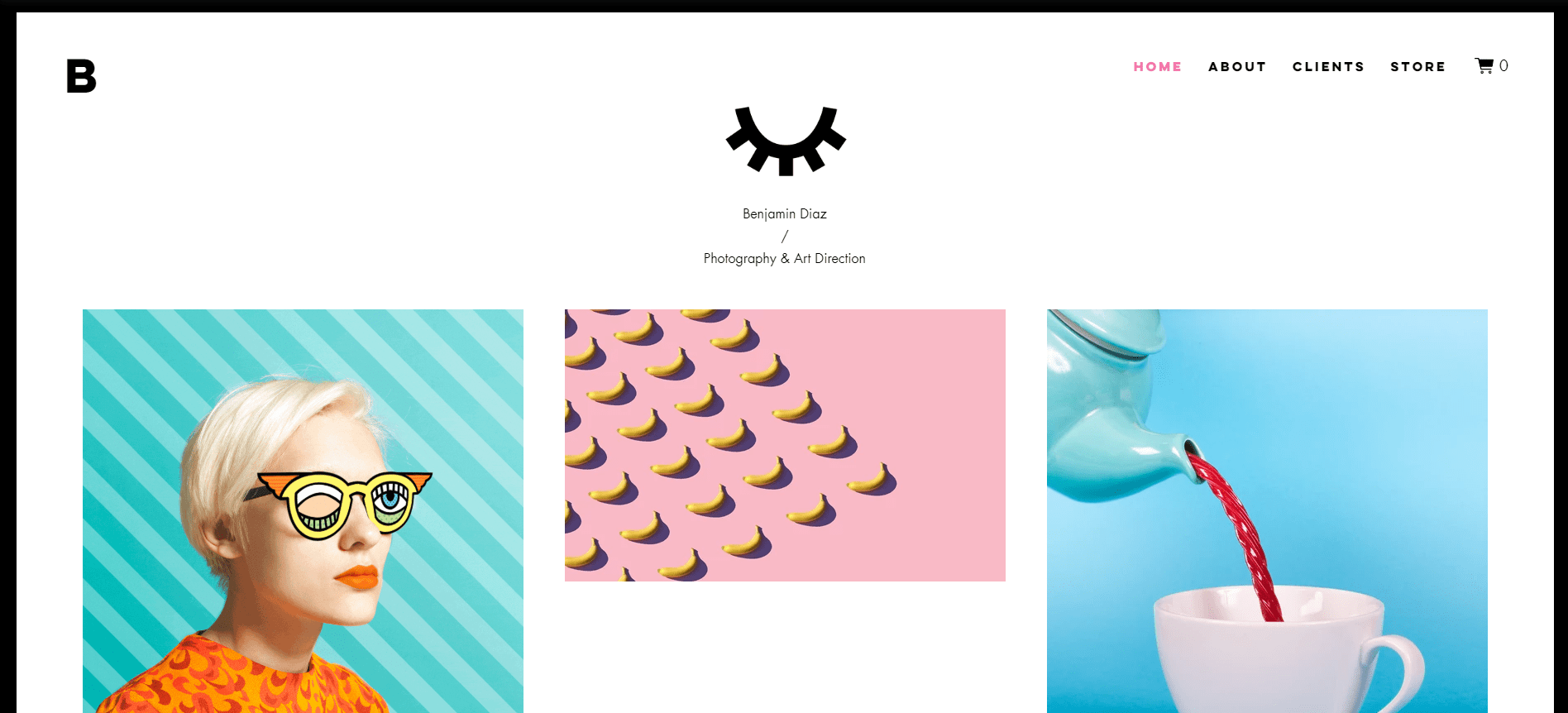 Digital Photography Forum
Interestingly,
this template is for a website that's meant to act as a forum where photography-enthusiasts can create threads and form a community around this hobby/profession.
It comes with all the bells and whistles a forum should have, such as contact forms,
newsletter subscription boxes, and a working forum.
Although it might be one of the plainer ones on this list in terms of design, this template is effective considering its purpose.
It comes with a "night-mode" look which is the norm for forums,
and mostly uses photographs as a backdrop instead of the main content.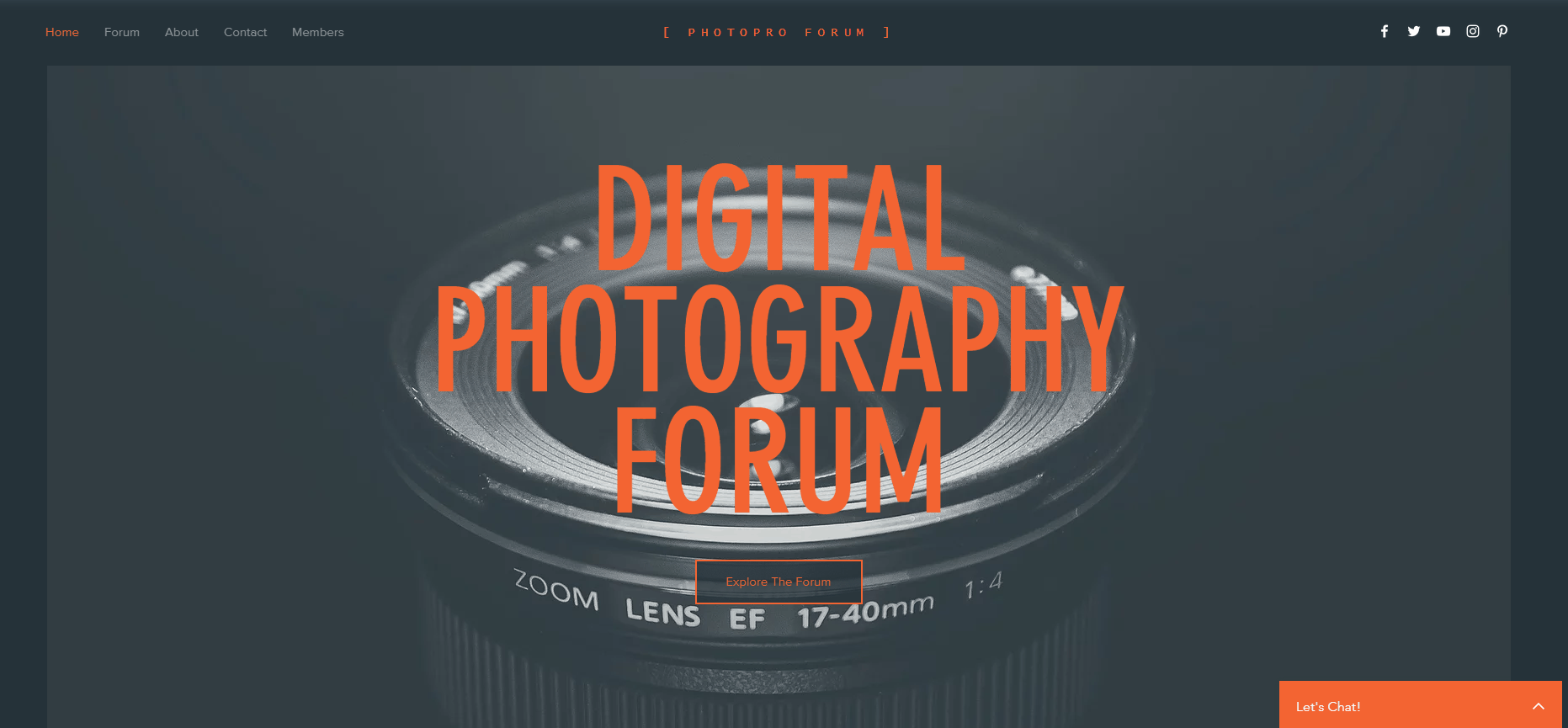 Online Photos
Online photos is another superb option for a professional photographer,
especially one who runs a photography business that does photoshoots for clients.
Although the design is pretty basic,
it effectively fulfills its purpose of being a place where customers can find out about you, see your work, contact you, or make a booking online.
It also comes with a very cool gallery, with unique sliding animations when the visitor views the next batch of images.
The design of the website is also unassuming enough so as to lend itself well to any form of photography.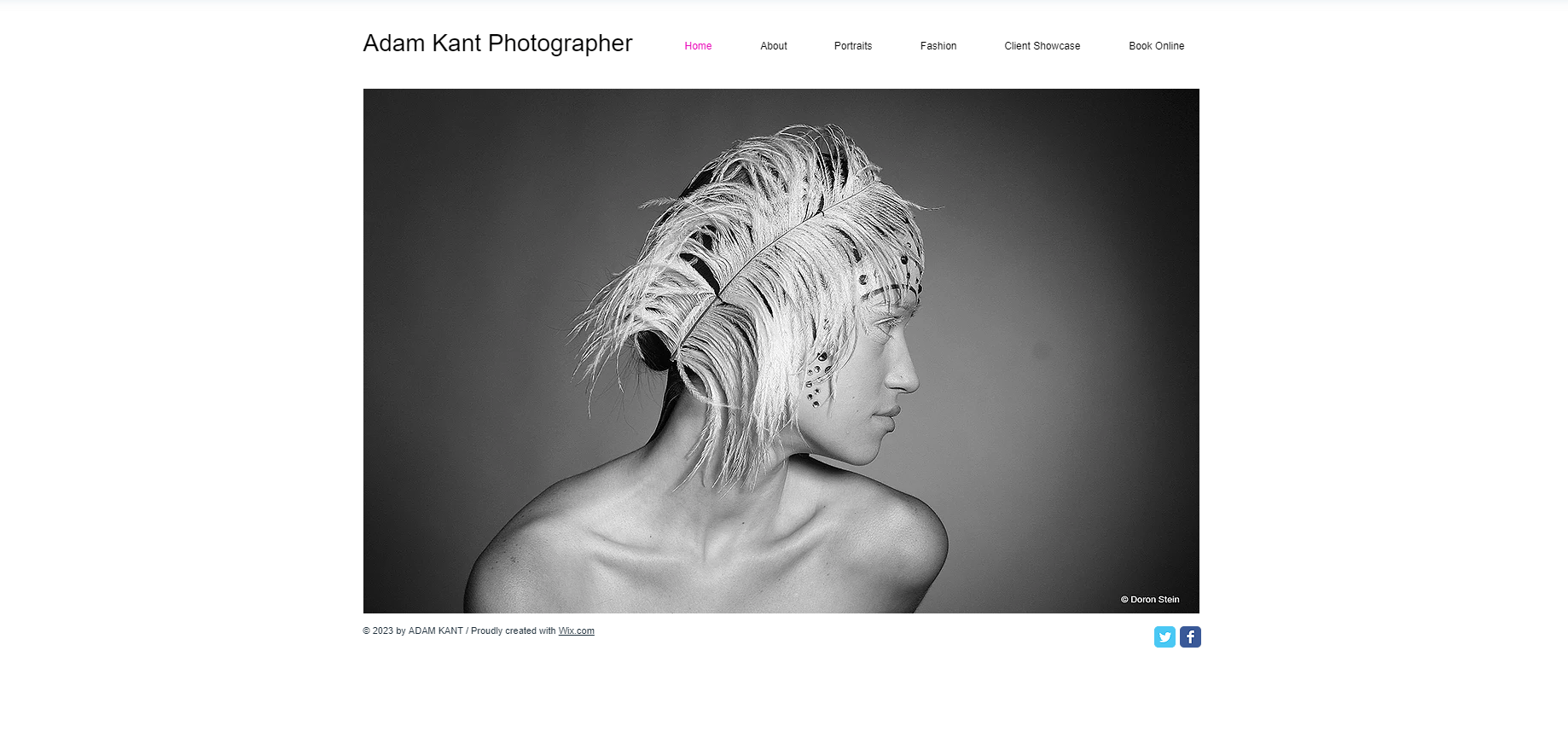 Wedding Photography
This theme is elegant and professional,
making it perfect for anyone who wants to position themselves as a wedding photographer. The design is simple and classy while filling the space with as many photographs as possible so anyone can browse your work and be impressed by it.
The theme makes good use of parallax effects and a user-friendly gallery to make it interesting to browse.
The homepage works with one-page website navigation to simplify the website even further.
Photo albums and a booking feature are included out of the box,
which rounds it off as a great template for any professional.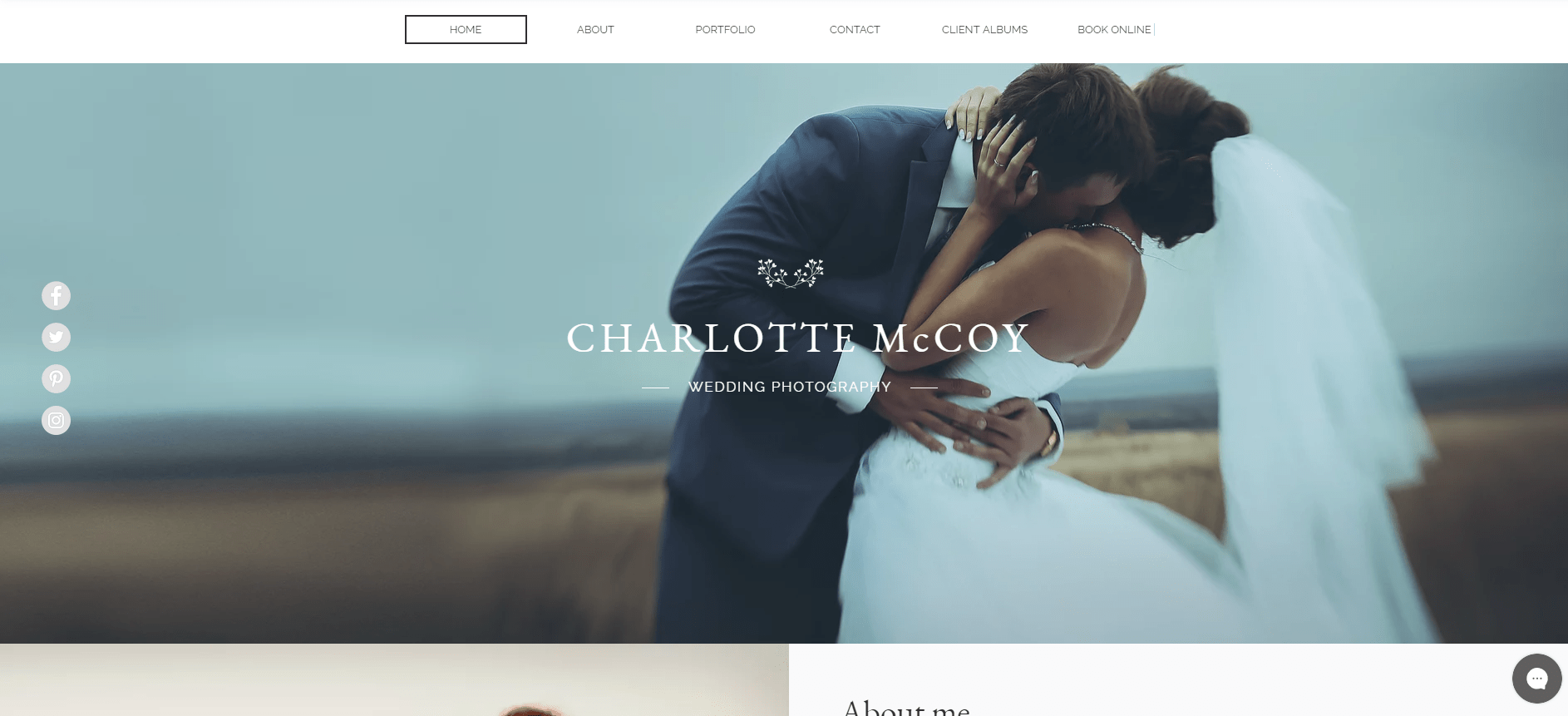 Food Photographer
Food Photographer is a gorgeous template,
with an extremely polished and professional feel to it that makes it a good option for any type of photographer. However,
it does seem to fit the niche of a bistro/fine dining food photographer particularly well.
I especially like the design of the portfolios webpage,
with portfolios neatly organized under vertical images.
By using mostly white, grey, and black, the theme comes across as even more professional.
It's a very versatile theme that would work well as a blog,
store, or portfolio/CV, which is why blog, store, portfolio, and contact webpages are included out of the box.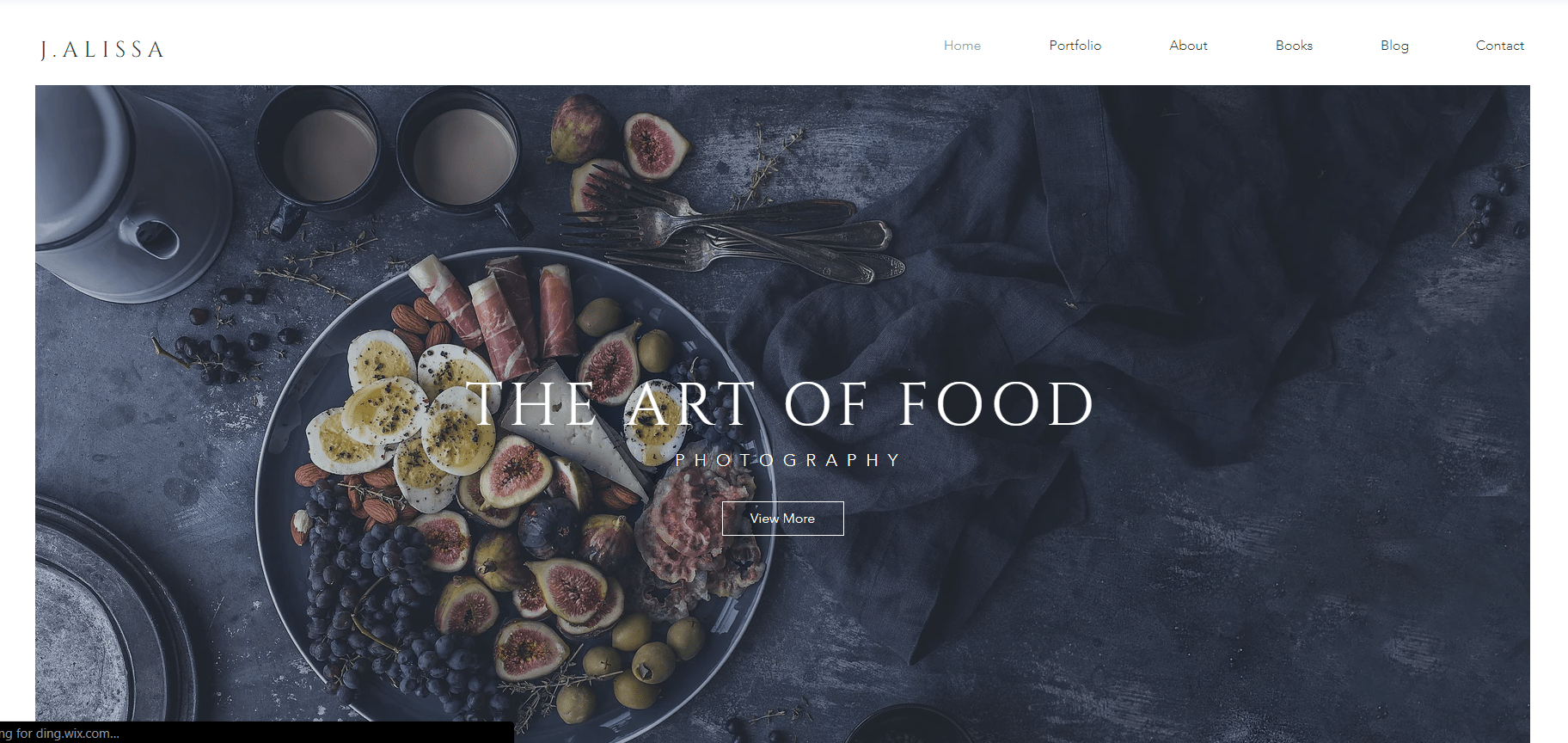 Photography Showcase
If you want a template purely for its beauty and ability to show off your spectacular wildlife/nature photography,
then this might just be the best template on Wix for you.
The design is elegant and simple,
and I like the logo box on top of the homepage image that's perfect to show your name or logo.
It's a very simple theme that just comes with a few webpages with fullscreen revolving galleries.
However, this is part of its appeal and why it's so good at its intended purpose.
It also works great if you want to include a video gallery on its own webpage. The only downside is that it doesn't come with more features.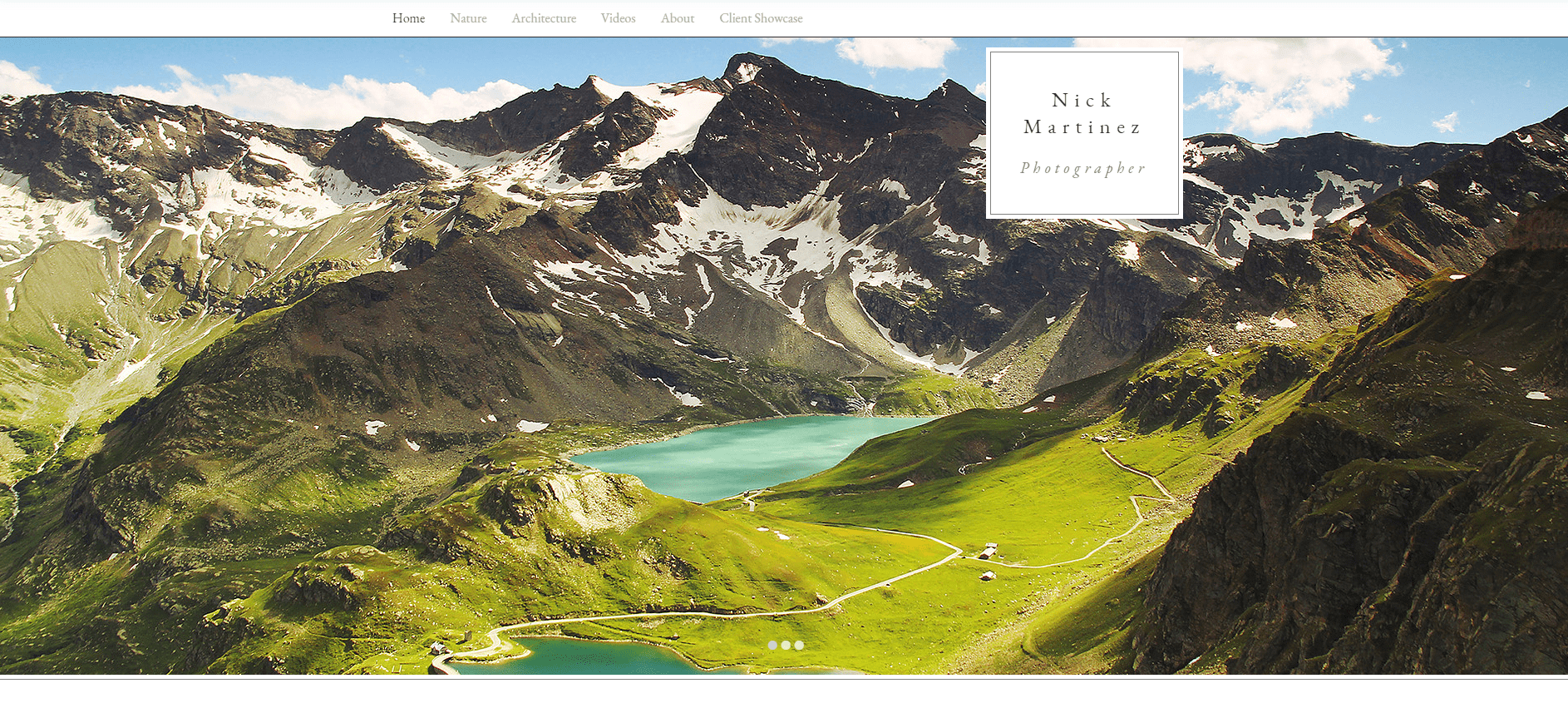 Architecture Photography
Modern. Minimalist. Professional. These are all the characteristics you'd want in a theme meant to showcase contemporary architecture photography.
There are very few extra design elements,
and the theme does a good job of not getting in the way of what its meant to portray: the photographs themselves.
This also means that the template incorporates a lot of white space into the design. That's not for everyone, but it fits the vibe the template is going for perfectly. It makes use of a full-screen hamburger menu, which is something unique and suits the rest of the theme.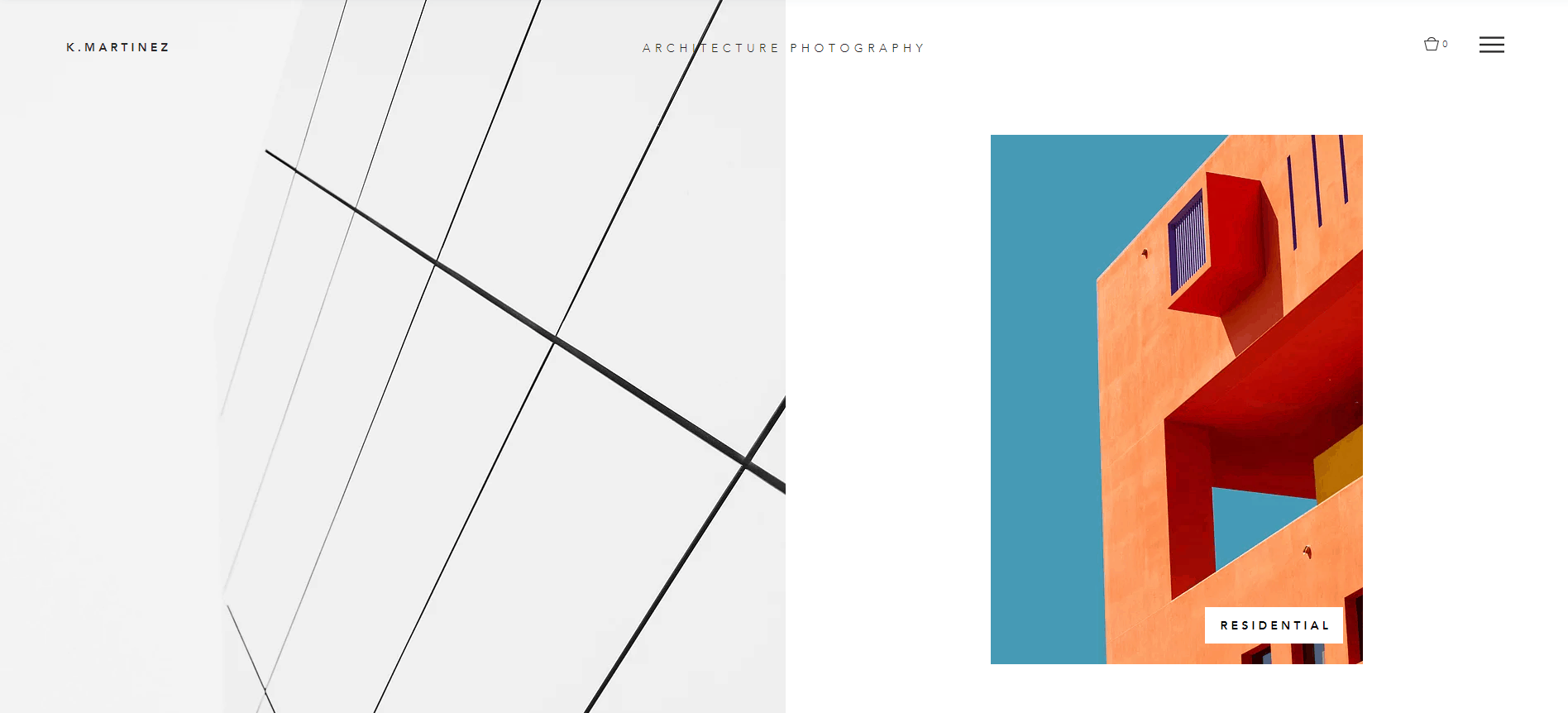 Do Your Photography Justice by Picking the Right Template
Here's a quick table to make comparing the templates much easier. Use it to see which templates meet your needs in terms of what they're good for, their appearance, how easy they are to customize or use, and what distinguishes them from the rest:
Template
Looks
Ease of Use
Good for Blogging?
Good for Selling?
Good for Services/Clients?
Standout Features
Aerial Photography
9/10
7/10
No
No
Yes
-Cool design elements
-Great for video and images
Urban Photography
7/10
9/10
No
No
Yes
-Splash webpage
-Book Online app
Photography Portfolio
8/10
10/10
Yes
No
No
-Suitable for grayscale photography
-Hamburger menu
Photographer & Art Director
8/10
10/10
No
Yes
Yes
-Quirky and fun theme
-Comes with a store
Digital Photography Forum
7/10
9/10
No
No
No
-Meant for photography forums
-Dark "night-mode" design
Online Photos
6/10
10/10
No
No
Yes
-Unique gallery with animations
-A simple website for driving bookings
Wedding Photography
10/10
9/10
No
No
Yes
-Perfect theme for wedding photography
-One-page website navigation
Food Photographer
10/10
9/10
Yes
Yes
Yes
-Versatile theme perfect for any photography
-Gorgeous design
Photography Showcase
10/10
10/10
No
No
No
-A beautiful theme to showcase work
-Full-page galleries
Architecture Photography
8/10
8/10
No
Yes
No
-Modern, sleek and minimalist
-Fullscreen hamburger menu
It doesn't matter whether your motivation is to inspire people, provide insight into a particular situation, tell a story, or make money as a professional photographer. You can't achieve any of these goals without building an audience.
What better place to do that than the internet? 350+ billion people — or almost half of the human population — regularly access the internet. That's the audience you have the potential to reach by creating a website to showcase your work or make new clients.
Websites are also not just static webpages to display images; they can be functional too,
with interactive galleries, booking managers, services pages, and even online stores to sell your work.
Website builders like Wix also make it easy by providing a no-code way to create, manage, and host your website with templates such as these dedicated to your craft. It's the ultimate tool to present yourself and your work to the world.