What is the Real Price of Free Web Hosting Plans
I really like buy-one-get-one-free deals. Even better, I love getting free services that offer a tangible benefit to my life.
Giving away free services or products has become a potent technique to acquire customers and it's become increasingly common nowadays.
You can get free samples in supermarkets, free book excerpts in bookstores, free webinars,
and a lot of free online support for your business or various ventures. You can even get many free web hosting plans.
But is a free hosting plan actually worth your time? It may not cost you in dollars — but could it cost you in other ways?
What Does a Free Hosting Plan Provide?
A free web hosting plan is a service for hosting a website without any monetary cost to the user. It means that the web host will provide a free subdomain, sometimes free website building tools, and most importantly, the shared or cloud server necessary to get your website online.
A great number of web hosts, such as Hostinger, provide free subdomains to anyone wanting to create a website. Certain hosts like FreeHosting.com will even host your website for free, provided you already have a registered domain.
Let's suppose you have just founded an online company selling home-based products. First, you should decide what kind of website you need to launch. Then, you should decide on the kind of web hosting you'll need.
If you decide to use a free web hosting service for your website, then you can usually choose your own subdomain under the web host's top-level domain, such as myhomeshop.hostname.com or myhomeblog.hostname.com. If you want to choose your own domain name without having the web host's name tacked on, then you have to buy a domain such as myhomeshop.com and pay for a hosting package.
A free web hosting plan will also give you a small amount of storage space on the server and limited bandwidth. You'll rarely get decent support or any uptime guarantees with free plans.
The only advantage of free web hosting is that you don't pay for it and you're not tied down with any contracts. Initially, you'll probably save money when creating your website, but afterwards, you may realize that there are a lot of compromises you have to make in return for the free web hosting service.
The Actual Cost of Free Hosting Plans
So what sort of compromises are we talking about? Below you can find a description of seven possible issues you may face:
1. Subdomain, Not Domain
Having a free web hosting plan means that the website is running on a subdomain instead of a custom domainunique to you or your company. It'll be clearly visible to your visitors that you don't own a domain, which is one of the basic things people look for when they're thinking about purchasing from a business.
Considering the fact that you can buy a domain for only a few dollars, your visitors may suspect that your business can't be trusted. In short, not having a domain will negatively affect your company's credibility, integrity, and reputation.
2. Server Limitations
You have to use the system and design of your web host. This may prove less than ideal, particularly if you're a beginner and your website requires certain scripts to make it more user-friendly — if your web host doesn't support those scripts or provide any databases, you're out of luck.
Further, the web host strictly controls your website and places limits on bandwidth, storage, the number of visitors, and so on. Free websites can be shut down at any time, which means you may end up losing all of your hard work and website data.
3. Irrelevant, Annoying Advertisements
When you use free hosting services, the web host will place various advertisements on your website as a trade-off. In rare cases, website owners get a portion of the earnings, but it's more likely that they won't. They may not know anything about the profits obtained from the website and the type of adverts being placed on their website — which means your visitors may well be flashed annoying advertisements that are totally unrelated to the topic of your website.
4. Your Search Engine Rankings Will Drop
Search engines give preference to top-level domains, so with a free web hosting plan, your company will probably not rank well on Google. This means less marketing exposure and a more limited reach.
4. Hidden Costs
Some vendors provide basic hosting services for free, but they charge for the rest of their services. Need more speed? You'll have to pay a top-up fee. Want extra databases? This will cost you. Need a custom-domain email address? After a while, all the extra fees can add up to quite a bit.
5. Little to No Customer Support
Free hosting plans typically don't include good customer support (if at all), guidance, or tutorials. If anything goes wrong with the website, you'll be completely on your own. This is especially important if you are new to hosting and don't have the expertise or time to fix the issues.
6. Poor Server Security
Most free hosting plans don't come with a lot of security. Even if the web host does have a good security system, they'll likely put you on their lowest-tier servers with lackluster protection. These servers can be easily hacked, which means you'll lose valuable data — and sometimes even compromise your visitors' data.
Plus, most free web hosting plans don't include SSL certificates — which means your website will be automatically red-flagged as not secure. You won't be able to process online transactions via this website, and certain browsers (like Google Chrome) will even block visitors from visiting your website.
7. A Short-Term Investment with Zero Long-Term Gains
If by chance your website does get popular on a free hosting plan, you won't have any room to grow or even let go of it. You can't sell your free hosted website because simply, it's not your property. It's controlled by the web host, which won't allow you to sell or transfer it to others.
Even a Small Cost is Better Than No Cost
It turns out that free web hosting isn't the best option for your business. If you have a small budget and you're not anticipating much traffic at the very beginning, shared hosting would be a good and inexpensive solution to get you started.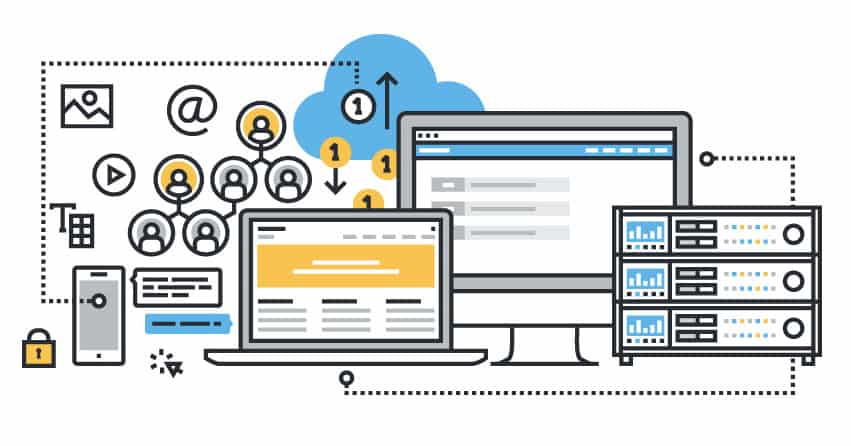 Entry-level shared hosting plans can vary quite a bit in their pricing and feature set. Typically, they include one hosted domain per account, a free domain registration, a small but adequate amount of storage and bandwidth, a number of email accounts, a minimum 99.9% uptime guarantee, and decent customer support.
You'll also want to look out for hosts that provide free website building tools and easy-to-use control panels (such as the industry-standard cPanel or Plesk). These will make your foray into website creation much easier.
It's not always the case that the cheaper it is, the better the host — you have to check out reviews of the web host to be sure. WebsitePlanet hosts thousands of reviews on hosts from around the world, so you'll definitely be able to find the best website hosting plan for your needs.
As your company expands, your website may start getting more and more traffic as well. You may find that there'll come a time when your website loads far slower than usual. This is when you should start thinking about VPS, cloud hosting, or dedicated server packages to meet the extra demand. But as always, when that time comes, we'll be here with resources to help you on that journey.