Tutorial on Backing Up Information on Android Phones
When we replace our Android phone or want to get our current phone back to factory settings, keeping data and files on the phone becomes one of our main concerns. 
Android Phones Fortunately, today, with the help of cloud storage and various backup tools, one can easily backup data. Here are some of the different ways to back up data to Android phones.
As almost all Android phones use Google's mobile platform, your device automatically saves most vital information such as audience numbers, etc. on its cloud servers. But it's best to make sure that the information on your phone and the information stored by Google is consistent with Google Account Sync status.
Google Account Sync
To do so, go to the Accounts section of the phone's Settings section and select Google . Selecting this option will show a list of backed up items, including contacts, email, calendars, etc., and will show below each item the time and date of the last sync.
If some items have not been synced recently, you can sync them by selecting Sync Now. Note that based on the Android version and shell of your phone, the Sync Now option may be in different menus.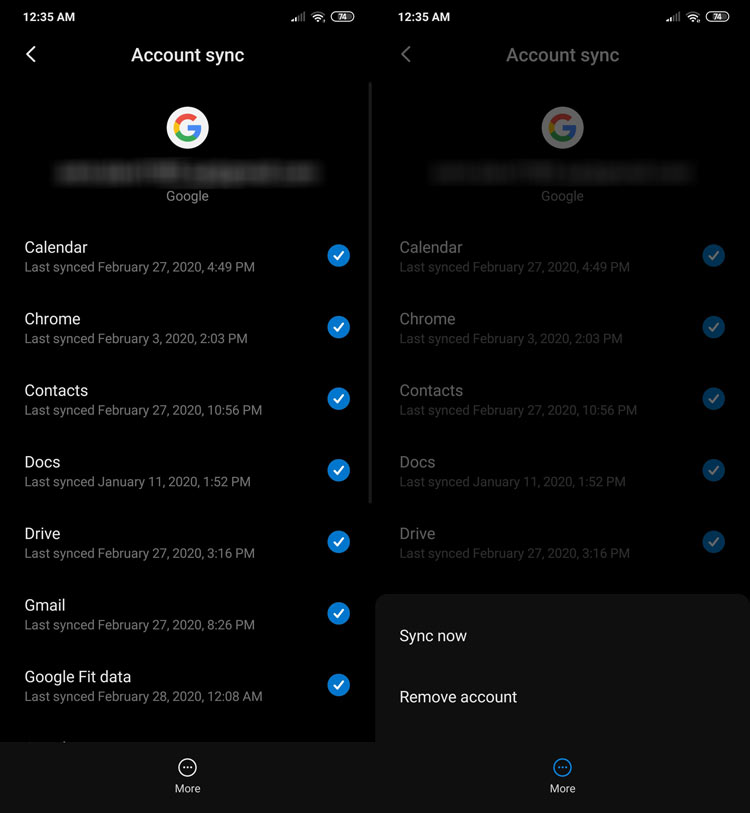 Backup your files with the Backup and Reset feature
In addition to backing up contacts, calendars, and more, Google also backs up files on your phone as Backup and Reset features for Android users. This feature stores information on the phone, including files and some settings and app data, on Google's cloud servers for later retrieval. Also, in the Pixel family phones, in addition to the files and settings, you can also back up your SMS.
One of the benefits of this method is the automatic backup which makes it very easy. Of course, Google only provides one backup per device, and the amount of data stored cannot exceed 5 GB.
To use this feature, look for the Backup and Reset option in the Settings section. On the page for this feature, you will find two options: Backup my data and Automatic Restore. This option requires both options to be enabled; if not, enable them.
Also check the Backup Account option and make sure you select the Google account you want.
Save images using Google Photos
The Photos service provides users with cloud storage of images in the form of an Android app as well as over the web. If this app is not installed by default on your phone, you can install it on your device from this link . The app automatically saves images to Google's cloud servers.
Of course, to make sure all images are stored on Google's servers, you can run the Photos app on your Android phone and check if a cloud image appears. If you have previously turned off cloud backup in Photos app, from the side menu select Settings. Then go to the "Backup and sync" section and make sure the Back up and sync option is enabled.

Manually back up
If you do not want to use cloud backup, you can manually back up information such as your files and audience information.
Backup images and other files
To back up files, you can attach a flash memory to your phone and save the desired files to it. Instead of connecting flash memory to your phone, you can connect your Android device to a computer via USB cable and save files to your computer. Which folders to back up depends on your needs, but here are some common ones:
Images recorded by the camera are stored in the DCIM folder.

WhatsApp local backups are stored in the Backups folder under the WhatsApp folder.

Images saved from Telegram , Twitter and Reddit apps are typically stored in folders named after those Pictures under the Pictures folder.

Screenshots of a phone screen are usually stored in a folder called Screenshots.

 

This folder may be inside the DCIM folder.

Files downloaded by the Android Download Manager application and browsers like Firefox are stored in the Downloads folder.

Most informal Android markets, such as ApkPure, store APK files in folders that you can back up.

Other apps may also have folders in your phone's memory that you might want to check.
Backup contact information
Most contacts management applications provide a way to export your contacts from the list and re-import them. Simply find the Export option in the Contacts app, in the main menu, or in the Settings section, and then extract an output from the contacts list.
You need to save this file to the flash drive or to your computer. Then with the Import option you can return the information stored in this file to the contact list. Below is a screenshot of the Import and Export options in MIUI, EMUI, OxygenOS and Android One.
Sample Output Copy and Importing Audience Pages (top EMUI right; top left MIUI; bottom right OxygenOS; bottom left Android One)
Backup with other apps
Backup with dr.fone app
The dr.fone app offers a variety of features including data transfer and retrieval, data cleanup, etc., but we focus on the backup feature. An advantage of backing up with this app is the ability to preview saved files. This feature allows you to retrieve only a specific piece of backed up information. The Windows version of this app is available from this link . Use this link to get a copy of Macs.
After installing the program, connect your Android device to your computer and run the dr.fone application on your computer. When done, click Backup & Restore. At this time you need to enable Debugging feature on your Android device.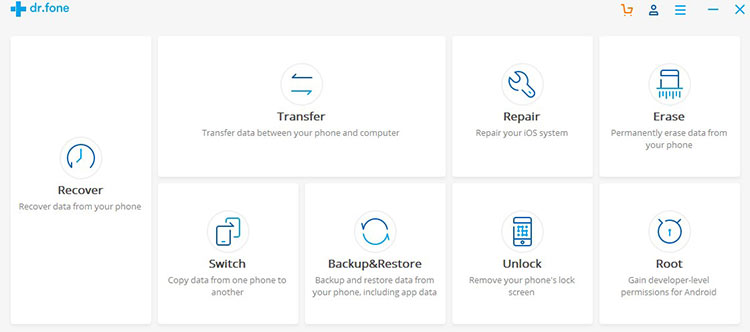 Dr.fone app homepage
To do so in the Settings section, select About Phone. In this section, find the Build Number option and tap it seven times to activate the Developer Options section on your phone. Now in the Phone Settings section, search for and select Developer Options. In the next section, find the USB Debugging option and select the check box.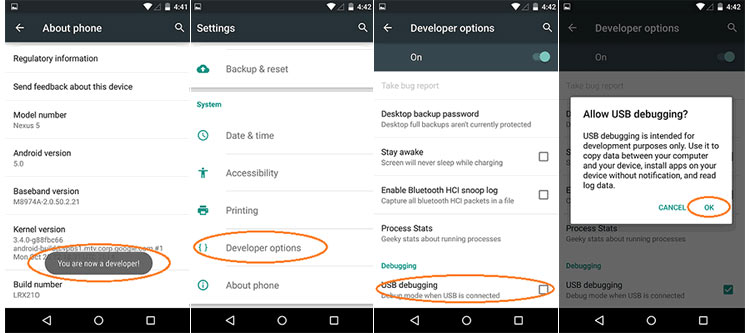 Enable USB Debuggging feature
On the Backup and Restore feature page in the dr.fone app, we come across two options: Backup and Restore. Choose Backup from these two options. On the next page, you can back up different items such as messages, call history, gallery, apps, and more. You can also choose to save files in the Backup Path section. Finally, click the Backup key to start the backup.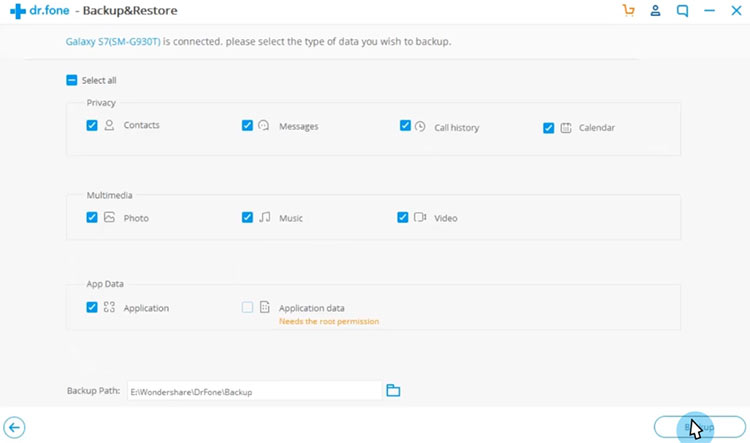 To retrieve the data, simply connect the phone to your computer and select the Backup and Restore feature in the dr.fone app. Then, by selecting the Restore option, you can retrieve the desired data.
Backup with G Cloud Backup app
The G Cloud Backup app allows you to back up data on your phone to Google servers. Get the app from the Google Apps Store first and then create a new account.
Next, select the data you want to back up. Here you can select options such as contact list, SMS, images, and more. By selecting the Backup option, the backup process begins.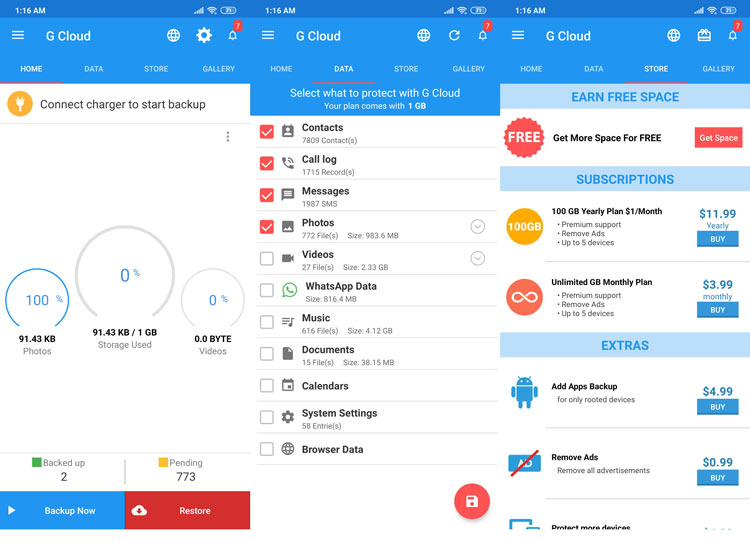 To restore the data, just select Restore in the same application and retrieve the desired data. Keep in mind, however, that this app only allows you to back up data up to 1 GB, and you'll have to pay for more data storage.