The easiest way to open a zip file on your computer
Many of the files that are uploaded to the internet are first compressed, which is called zip files. 

Users must download the compressed files after downloading them so they can use them,
otherwise the zip file cannot be used.Below is the easiest way to open a zip file on your computer.
Introduction:
The Zip format was developed before the RAR format of Year 2 by a person named Phillip Walter Katz and his company PKWARE . This software is a free tool with some great features for working with archive files. Its low volume and the software installation process are also simple and hassle-free. Zip files are used for a variety of purposes, including compression and shrinkage, encoding and security enhancement, better archiving and segmentation, and more.
Windows Zip Opening Video:
What is a ZIP File?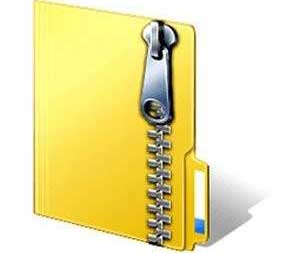 If you are also familiar with the zip file! So you know that the ZIP file is a standard file compression format that holds data (files, folders, etc.) without any damage after compression by special algorithms. ZIP format is supported by most existing operating systems. A newer version of this format is called a ZIPX file. The Windows operating system, some Linux distributions, as well as the Mac OS, by default have programs that can open the Zip format.
Also read: 1 of the best and newest ways to reduce photo size
Method One – Open Zip File in Windows:
You do not need any software to open the zip file. Just right click on the zip file and click Extract all to unzip the file.
On another page that opens If you click Extract, the file will be unzipped on the same page, and you can view the uncompressed folder, or you can browse the path you like Specify to decompress. (Another point is that if the file has a password, click Extract will ask for a password so you can enter the password)
The second method – tutorial on how to open rar zip on computer:
This method is used in addition to opening rar files to open zip files, bulk files are compressed by the rar method and you need to install winrar on your computer to open these files.
After you download and unzip winrar , you can use the following to open rar or even zip files.
Click on the rar or zip file then click on extract here or you can click on extract to . The difference between these two is that if you click extract here if the file is directly inserted into the rar folder you will no longer have a folder The file is directly underneath the zip, but if you click extract to a folder with the same name will be formed next to the zip. Clicking on any one if the file has a password will prompt for the password and you can access the content of the file you want by entering the password. simply …
We welcome any criticism, suggestions and answers to your related questions.
How to zip and unzip files in Windows 10
Windows 10 comes with native support for files compression and uncompression using which you can easily compress(zip) and uncompress (unzip) files or folders on your Windows computer.
Zip (compress) files or folders in Windows 10
Open File Explorer. Select and right click file(s) or folder(s) that you want to zip. In context menu, select "Send to -> Compressed (zipped folder)". This will compress your selected file(s) or folder(s) to new .zip file in current folder.
Unzip files in Windows 10
Right click on .zip file that you want to unzip (uncompress), and click on "Extract All" in context menu.
In "Extract Compressed (Zipped) Folders" dialog, enter or browse folder path where you want files to be extracted. Check "Show extracted files when complete" checkbox to open extracted folder after zip extraction is complete.
Click on "Extract" button to start the extraction.