The easiest way to delete duplicate items in Excel
In this article, we will learn how to delete duplicate items in Excel. If our project has a lot of duplicate data, manually deleting it will be a very time consuming and big task.
Excel has the option to delete duplicate inputs. The Remove Duplicate option in the Data tab in the Data Tools group in the 2010 and 2013 versions of Excel will make our job easier.
To better understand how the Remove Duplicate option works, let's take an example:
We have data in the range A2: E12 . Column A contains month , column B contains the name Agent , column C contains Country , column D contains sales , and column E contains Quantity .
As you can see, the data has duplicate inputs. To remove duplicate inputs, follow these steps:
Go to the 

Data

 tab, in the 

Data Tools

 group , click on 

Remove Duplicates

 .
The 

Remove Duplicates

 dialog box appears.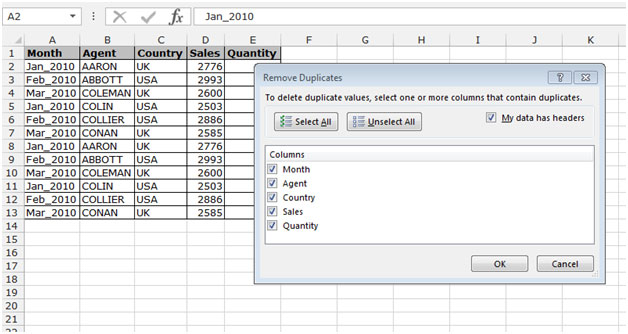 In the Columns box, select the 

columns

 in which you do not want duplicate data.

In this example we just want to delete duplicate data in the 

Agent

 column .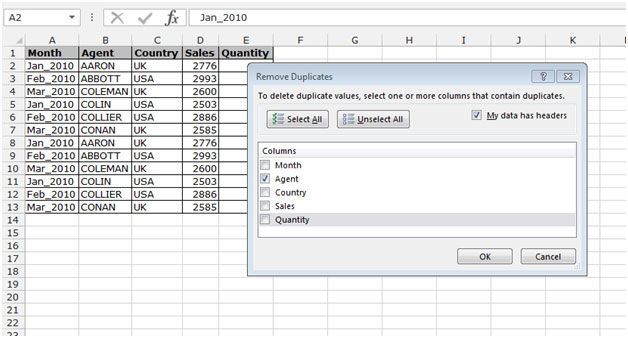 After selecting the desired columns, click 

ok

 .

You will receive a window containing information that tells you how much duplicate data has been found and how much unique data is currently left.
This is a method that you can use to easily remove duplicate data from large projects in a very short time. You can also get a unique amount of data.