Nokia 106 Dual SIM unveiled, plus two new colors for the Nokia 230
HMD has refreshed two classic Nokia feature phones – the Nokia 106 and Nokia 230. Simplicity is key here, but the 106 features several improvements.
The 230 just gets new colors.
The Nokia 106 is a revision of the old model. The major addition here is the addition of a second SIM slot. The phone has еьтра memory too, bumping up the contact storage to 2,000 (up from 500) and 500 text messages. The RAM is up to 4MB (note the "M").
There's no camera as you can imagine, there's not enough storage for photos and the 1.8" 120 x 160px screen wouldn't make for a great viewfinder. It's perfect for some Snake Xenzia gaming, though.
Anyway, perhaps the best feature of the Nokia 106 is the polycarbonate body. The material is mixed with paint, so it's the same color throughout, which makes scratches less noticeable. You can have the phone in any color you want, as long as it's Dark Gray.
The other cool thing about the 106 is the 800mAh battery promises 15 hours of talk time – a forgotten joy of feature phones.
The Nokia 230 isn't new exactly, the company is just launching two new colors – Light Gray and Dark Blue. Both the aluminum back and the plastic front are painted.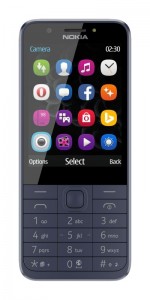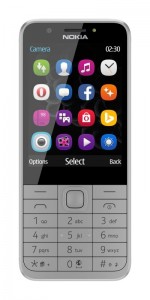 Nokia 230 in Dark Blue and Light Gray
Be warned, though, both phones are 2G-only (and then only dual band).