Google Released The Public Domain ".new"
As of today, anyone can register a new domain. 

It will be for making internet shortcuts.

Google top level domain new.

 

Enables companies and organizations that want to create a shortcut with a simple URL.

 Currently Google is new domain.
Uses for Google Docs and its applications. By typing "docs.new" into the browser's address bar, a new Google Docs page will open immediately. Now Google intends to extend this scope to other organizations to create similar capabilities for them.
Presumably, this will prompt users to attack simple new URLs. It will be for different domains, and Google has already abandoned some key options.
From today, December 2nd, anyone can register for a new domain. Google's Slow Action and Registry assigns applicants the first batch of domain names in January of this year. Google's policies say that the new domain should lead the user directly to the relevant shortcut or function. Failure to do so may result in the suspension or removal of the domain by the Google Registry.
If you own a trademark and want a new domain. Apply for it, you can apply for enrollment from now until January 6th. According to Google, every year, every person can register new domains without having to submit a request. will be.
For example,
typing in the Playlist.new address opens a new Spatfire playlist, and Story.new creates a new post on the Medium website. Interestingly, Google has not used this domain for its Google Music service.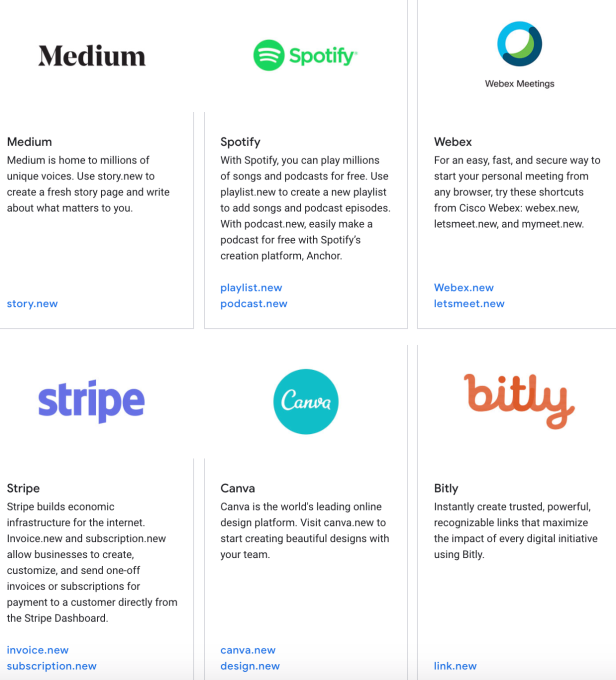 At present, the price of these domains is unclear, but according to Google, the price of new domains will vary depending on the registrant partner you purchase.
The following is a complete list of G Suite shortcuts:
docs.new (Google Docs)

doc.new (Google Docs)

sheets.new (Google Sheets)

sheet.new (Google Sheets)

slides.new (Google Slides)

slide.new (Google Slides)

keep.new (Google Keep)

forms.new (Google Forms)

form.new (Google Forms)

cal.new (Google Calendar )

meeting.new (Google Calendar)

sites.new (Google Sites)

site.new (Google Sites)