G-Sync Activation A Comprehensive Training for Nvidia
G-Sync is the name that Nvidia has put on its variable refresh technology.

G-Sync is the name of Nvidia's proprietary technology that eliminates the effect of tearing the screen by synchronizing the display's refresh rate and frame output.

 
G-Sync is proprietary technology, and device manufacturers have to pay Nvidia for the privilege of using it in addition to using a specific hardware module on their display.
How to enable G-Sync on PC?
Right-click on the desktop screen, then select NVIDIA Control Panel. Now go to the Display option on the left panel and finally Enable G-Sync. Under the Enable G-Sync option, you can choose to enable G-Sync in Full Screen mode or in Full Screen and Windowed Modes.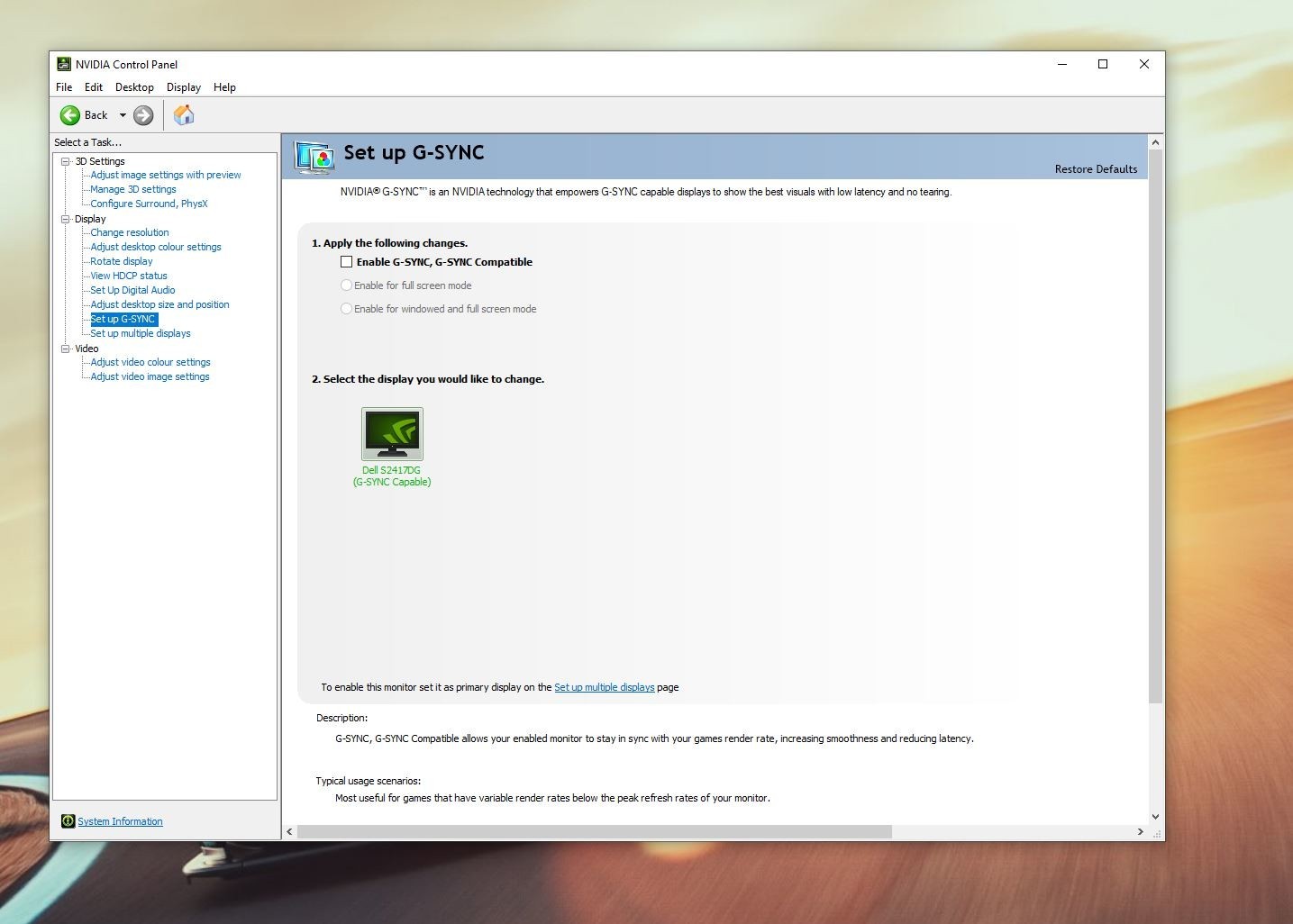 Click to view original dimensions
Enable G-Sync on PC with multiple monitors
Right-click on the desktop and then select NVIDIA Control Panel. Now from the left panel, go to Display and at the end, go to Set up Multiple Displays. Now make sure you set up the monitors as needed and select one of the monitors as the Primary Display.
Select Primary Display with Windows 7
If you were not able to enable Primary Display through these methods, do so: Enter Windows 8 settings and select Display from the System tab, and then select Make This My Primary Display from the bottom of this page.
Introduction to G-Sync and FreeSync technologies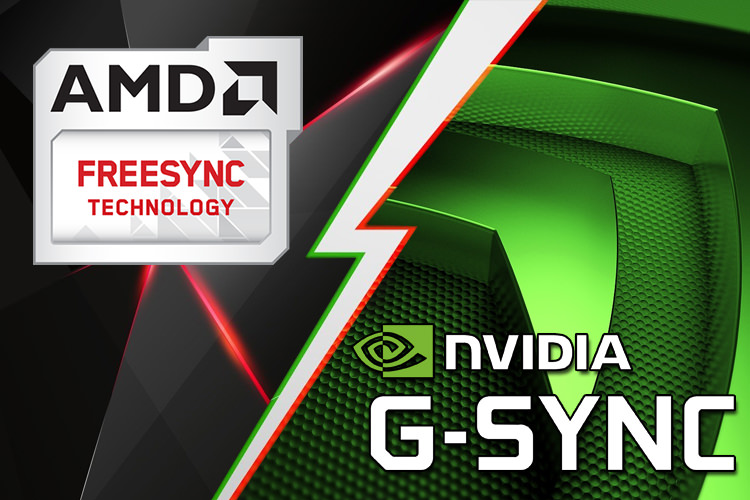 G-Sync and FreeSync are the names that Nvidia and AMD have put on their variable refresh technologies.
Even if you aren't the least familiar with G-Sync and FreeSync technologies, you probably already have these two names in the eye for tech news (especially display technology related news).
G-Sync and FreeSync are the names that put Nvidia and AMD respectively on their Dynamic or Variable Refresh-Rate technologies.
Simply put, when the output frame rate of a device is not in line with the screen update rate, undesirable side effects such as the popular Screen Tearing effect occur when displaying content.
G -Sync and FreeSync technologies combine framing and refreshing to eliminate such effects and provide a much better experience (especially when playing video games).
We will go deeper into these two technologies and the advantages and disadvantages of each, but first let's first briefly explain the two terms RefreshRight and FramRight.
Framerate
Frame-Rate can have different meanings depending on the application. For example, when referring to video files, frame rate means the number of frames or images that a video file has in one second.
Most modern-day movies are between 1 and 2 frames per second (fps), while 1 and 2 frames are usually dedicated to live sports broadcasting and are less used in the cinema world.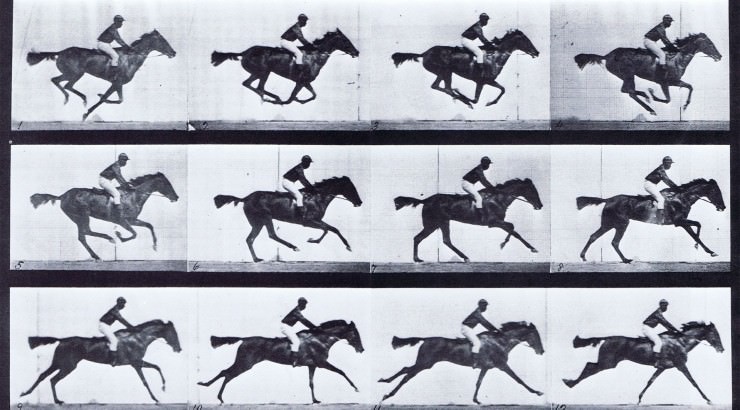 The animated image above consists of 2 separate still images and is 2.5 seconds long. So its frame rate is 3fps.
The term "frame" when referring to video games has a similar meaning to the format of video files. One of the differences between video and video frame rates is the variability of computer game frame rates.
Although both in the video world you can find files with variable frame rate and in the computer game world you can keep the frame rate constant (usually 1 or 2);
however, in most cases the frame rate of video files is constant and the frame rate of video games is variable.
It is also used as a benchmark for hardware benchmarks since video games' frame rate depends on the processing power of the system.
Video file frames are usually fixed and computer games frames are usually variable
But when it comes to camcorders and cameras, frame rate means the number of images recorded per second is not necessarily related to the speed of content playback.
For example, if the video speed of a camera is 4 frames per second, it can produce a slow-motion video at a quarter-speed by recording video at the usual rate (1 frames per second).
Framing is also a very important criterion when buying professional sports photography cameras. A DSLR or mirrorless sports camera with 3fps (which is a great frame rate for a sports camera!) Is capable of capturing up to 6 quality images and full resolution of the sports scene at critical moments every second.
RefreshRight
Refresh-Rate is expressed in units of " times per second " or Hz (Hz), which means the number of times the screen is updated per second and should not be confused with frame rate.
Consider, for example, a television whose refresh rate is 2 Hz. Such a TV is able to update the image displayed on its screen 2 times per second.
Now if you playback content at 4fps on such a TV, the display shows each frame 2 times to get the next frame ready for display.
Similarly, if the game or video being played is 4 frames per second, the 4 Hz display is only capable of displaying half of the received frames.
Screen Tearing
With a bit of precision in the two scenarios above (FrameRate and RefreshReite 2, 1 and 2) you will find that the numbers listed are integers multiple of one another.
Now the question is what would happen if the RefreshRight monitor was not the correct multiple of the Framerate or the content Framerate was variable at all.

If the broadcast content is related to the video file, many displays will be able to produce new frames alongside the original content frames, which is the mean of their previous and next frames, using a technique called Motion interpolation.
The display companies each have their own names on the technique. For example, Samsung uses Clear Motion, Sony uses MotionFlow, and LG uses TruMotion .
Even when plasma TVs were still popular in the market, Panasonic increased the frame rate of the received video by up to 4fps with IFC technology, to equal the extraordinary 6Hz refresh rate of its plasma TVs.
It goes without saying that one cannot expect magical results when converting a movie 2 frames per second to 3 frames per second,
and the output of such a technique is certainly not comparable to content that is truly 2 frames per second.
But since frame-mediated processing requires a bit of processing power and is naturally time-consuming, this technique cannot be used for video games. To better understand why, consider the following (slightly exaggerated) mode:
In video games, there is no opportunity to manipulate the image, and the screen must display immediately after each frame is received.
Suppose you are watching a movie on your TV, and your TV's Post Processing on the content takes as long as about a minute.
In such a situation, as long as the sound and picture of the film are consistent, this delay will not affect the user experience and in fact the user will not notice the delay at all.
But if the user is playing a video game, they can't wait a minute after each button is pressed to show the TV or monitor the result of that button.
In fact,
delaying the display of content while playing video games, even if it is about one second, will make playing virtually impossible.
For this reason, when playing video games, the monitor sometimes does not wait for the frame to fully receive the source, displaying the same half and half frame as the next frame. This creates a screenshot known as Screen Tearing.
Although enabling VSync (Vertical Synchronization) functionality can synchronize source output as much as possible with display refresh, but this is not an ideal solution for eliminating screenshot for two reasons. First , VSync will often limit your storage to a specific value.
For example,
suppose your computer is not capable of consistently achieving 1 fps frame rate in a particular game, but in most moments of play it can generate between 8 and 8 frame rates.
In such a situation, VSync limits the framing to a fixed number (usually 1) to eliminate screen tweaking, making it impossible for you to use your system's maximum processing power.
Although VSync can fix the page crop issue, it does bring new issues
Another problem is that if the frame is not ready to be display by the hardware in due time, VSync will completely skip that frame and display the same old frame again (or repeatedly) on the display until the next frame is ready.
This creates a famous work by Judder or Stutter that, while not as bad as the page, can still be called the ideal experience. VSync also brings with it a bit of a "log".
So although VSync is able to fix the page crop issue, it does bring new problems. This is why VSync is not enabled by default on most games, and video game developers are left with the choice between bad and worse (page cropping or Stutter and log).
G-Sync
G-Sync is the name of Nvidia's proprietary technology, which coordinates screen refresh and output throughput, eliminating screen tearing, while not having the disadvantages of VSync, such as Stutter and Legg.
G-Sync is a (non-free) commercial technology, and device manufacturers have to pay Nvidia for technology advantage in addition to using a specific hardware module on their display.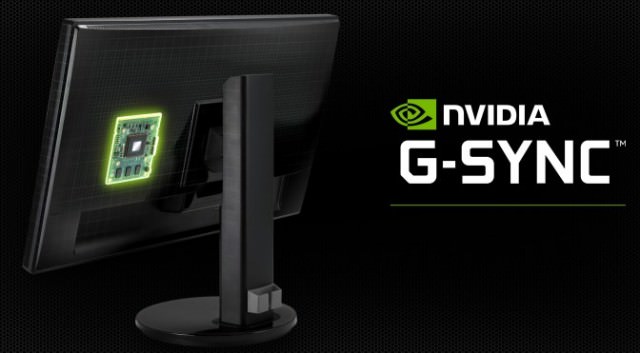 Unlike VSync, which forces the device's hardware to produce a frame rate appropriate to the display's refresh rate, G-Sync forces the display to synchronize its refresh rate with the device's output frame rate.
In fact, the function of G-Sync is a little more complicated than the brief, simple explanation above.
For example, the G-Sync chip used in displays is equipped with 2 MB of DDR3 RAM to store legacy frames, and can also predict future changes by analyzing incoming frame rates and preparing the monitor for frame-rate refresh.
To use G-Sync, in addition to using a technology-compatible display, the user must also have the following:
GeForce GTX 650 Ti Graphics Card Up

Driver R340.52 and up

Linux operating system , FreeBSD, Solaris or Windows 8 or higher

DisplayPort Port 3.1
Here's a list of monitors and graphics cards that support G-Sync.
FreeSync
FreeSync is the name of AMD's Variable Refresh Technology, which was introduce in 2007 as a response to NVIDIA's G-Sync technology.
Unlike G-Sync, Freesync (as its name implies) is completely free, and only the hardware used in the DisplayPort port is sufficient to use it.
In making FreeSync displays, there is no need to use proprietary hardware modules, and no need to pay royalty on AMD.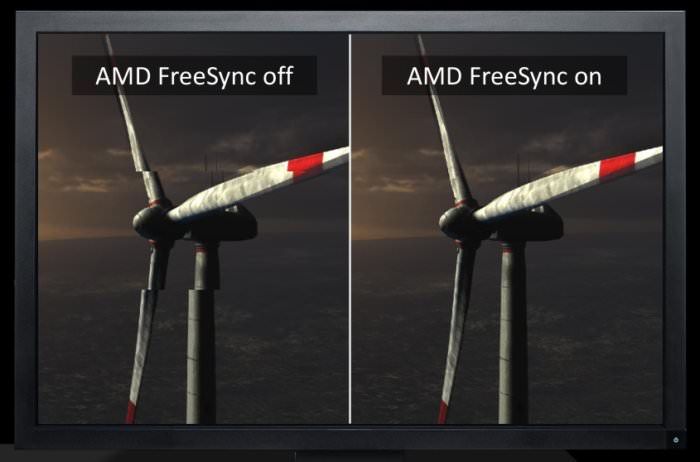 Since only graphics cards and monitors usually use the display port,
and G-Sync and FreeSync are both dependent on this port,
the use of variable refresh technologies has previously been limited to PCs and monitors and home TV users,
The game consoles and monitors lacking the display port lacked the benefits of this technology.
But recently with the announcement of the HDMI forum supporting FreeSync in designing a new version of this port called HDMI 2 .1,
one can expect to see the first FreeSync-powered televisions and consoles in the near future.
AMD also announced earlier this year that it will support a wider range of color and HDR content by introducing the second version of its variable refresh technology, FreeSync 2 .