Facebook's PR attack dog also targeted Apple and Qatar
The PR firm hired by Facebook to discredit its critics with online articles also carried out campaigns against Qatar,
Apple, and American environmentalists.
Last week,
Facebook found itself at the centre of yet another throbbing mess.
A New York Times investigation into the company's response to the spread of Russian propaganda and disinformation on its platform detailed a pattern of obfuscation,
denial, and ruthlessness that further spoiled Facebook's tarnished reputation.
Definers – which Facebook fired shortly after the Times' article was publish – operated using what looked like a genuine, right-wing,
news website NTK Network, whose affiliation with the firm was disclose.
In an interview to NBC, a former employee of Definers called NTK "[Definers'] in-house fake news shop" – which was wielded to tailor positive stories about paying clients,
and negative content about their rivals.
But NTK is not the only opaque website that may be chalk up to Definers.
The company's Google Analytics ID is linked to 17 other websites,
strongly suggesting that the PR firm is behind those operations, too.
Some of the connected websites are openly under Definers' umbrella. That includes, for instance, the UK Policy Group, a London-based company Definers' founders – Joseph Pounder and Matthew Rhoades – launched in January 2017. Similarly, the links between Definers and America Rising – an American PAC pushing an anti-Democrat agenda, which also shares Definers' Google Analytics ID – are well-known.
Other links are less obvious, and more intriguing. Chief among them is a website call Where Are the Apple Jobs?. This is literally a counter, tallying how many days have gone by since the Cupertino giant promised – in July 2017 – to build three new factories in the US. According to the website, as of November 20, 483 days have rolled by and "0 new jobs created".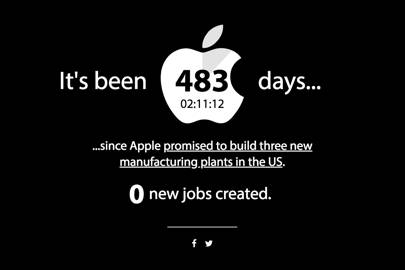 Two other sites in Definers' orbit – qatarcrisisnews.com and partnershipforpeace.org are equally noteworthy.
Qatar Crisis News was somewhat in NTK's mould: ostensibly a news website, but practically promoting a very narrow agenda, specifically one critical of Qatar.
Articles featured on the webpage excoriated the Gulf state's link to terror groups or to Iran,
and described the state of the Qatari economy in somber terms. The website's stories do not seem to have attracted a lot of traction on social media,
even if one was retweeted by the Emirati Chairman of the Abu Dhabi Special Olympics.
but the two sites' messages dovetail neatly. Where Qatar Crisis News was particularly in your face,
Partnership For Peace struck a subdued note,
limiting itself to celebrating the friendship between five countries united against extremism. The countries in question were the US, Saudi Arabia, UAE, Egypt, and Bahrain;
notably, Qatar was not a member of the partnership for peace.
The other websites linked to Definers' Google Analytics ID belong more in the basket of American's run-of-the-mill political dialectic. They include One Year of Hillary, a website critical of Hillary Clinton, commissioned by Arizona-based opposition research firm The Saguaro Group; The Governance Project, an organisation promoting public-private initiatives, founded by venture capitalist Mike Hirshland; and a dark constellation of websites – Power the Future, Steyerville, They Cap you Pay – fulminating against the perceived excess of environmentalism.
Definers did not respond to a request for comment by the time of publication