The relative control of Android devices with desktop computers is easy to install with multiple applications, and these applications can eliminate many of the communication constraints between the two platforms.
Nowadays, the use of PC remote control with Android phones is increasing among users who want to enjoy desktop power in their phones, but do you know it is possible to control Android and Android phones through desktop computers? If you own Android devices, you can easily control it with your computer. You should also like to experience Android games on a larger screen . This feature can make the experience of working with Android more enjoyable and make people more likely to watch videos , listen to music and play fun games.
In this article, we are going to introduce you to seven applications and methods for controlling Android devices from desktop computers that include applications such as sending SMS to PC, synchronizing computer and phone messenger applications , displaying a phone screen on a computer, border Slightly eliminate the interfaces between mobile devices and desktops.
Join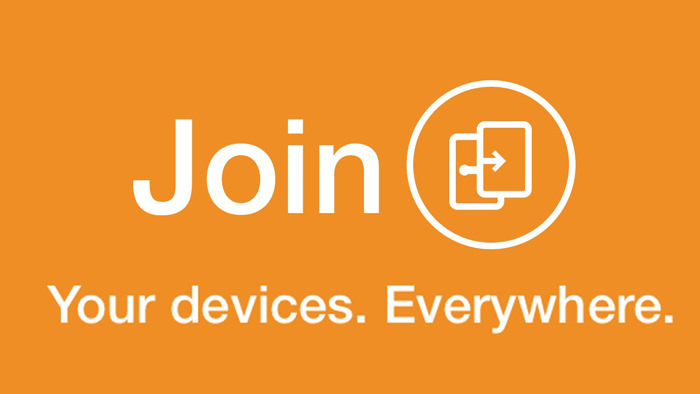 The Join app, actually a communication app, allows users to connect different devices through the Google Chrome browser . Users can use the Google browser as a multilateral communication tool between devices with different operating systems.
Features of this Chrome app, which can be used on all Chrome browser devices including Android, iOS and Windows PCs, can include sending SMS , syncing notifications to various devices, sharing the clipboard manually and automatically. Different, writing text in Android applications (using this feature when you type text into a computer browser, the text is automatically transferred to the desired application) Open links on a device and view them on the device Other (for example, links can be viewed on your computer and on your phone), installing an Android application directly from a computer browser or another device on Android devices, selecting an image in the browser of any device as an Android phone background image , running Android games on a computer using Google Assistant noted. You can get better acquainted with this app by watching the video below.
The information you share through the app across different devices is only stored on Google Drive . If you are concerned about your privacy violations, you can specify a password for the app on different devices.
Although this app can't completely control your Android phone with a computer, it is lighter than other similar apps and does not slow down or slow down the computer.
Download the app control software
Pushbullet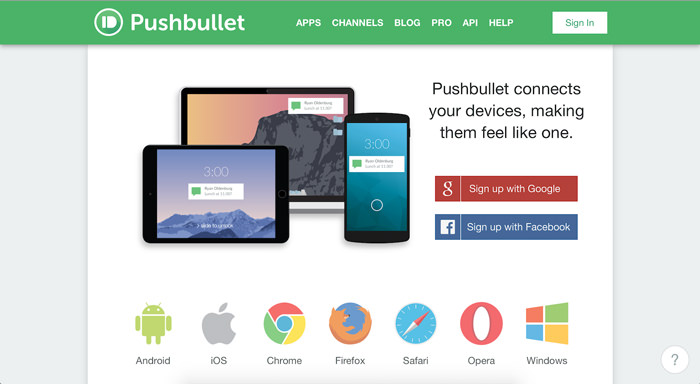 The pushbuttle app is an application to synchronize different devices to share files and messages between them. PushBullet also supports WhatsApp . Although this app allows you to view new WhatsApp messages as pop-up messages in the corner of the computer screen, the free version does not display previous messages and chat history, and you can view only 4 WhatsApp messages per month. You'll only have to pay $ 4.9 a month to use the Pro or Pro version.
Pocket Bolt has great features and is a great tool for controlling different devices
and even users of different devices can easily chat with this app. Although Bushball is good for office use, there are better and cheaper options on our list.
Download the app control software
Scrcpy app
If you want to take full control of your phone with a computer and the two apps
that have just been introduced may not meet your needs, Scrcpy may be able to meet your expectations; this app is perfect for Samsung phones and tablets.
Scrcpy allows you to browse the phone's screen (displaying the phone display on your PC or other device completely) and complete control of the phone via USB and WiFi (this feature has just been added to the app). This free and open source application has a variety of features and features, but its interface is not as simple as its popularity and its developer wants users to make their own changes (for example, Linux users need to make some changes to their application). ) There are, of course, simplified versions of this app that you can easily download and use.
Download the app control software
Vysor app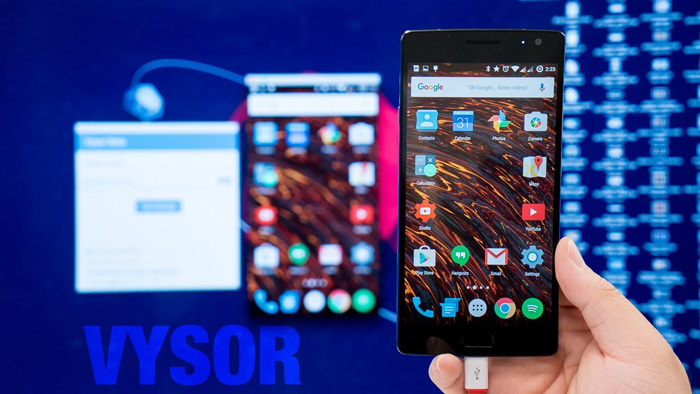 If the intricacies of Scrcpy also make you a little discouraged,
the Vysor app with browser-scrolling capability can make you happy. This app has good speed and performance, and you can connect the phone wirelessly (only available in paid version) and wired to the phone. Weisser has some good features that can make this app a good option for office use, including the ability to share information on an Android device with multiple users.
We recommend that you use the paid version to get the most out of the features of this app,
as it has both wireless connectivity and performance over the free version and renders the display better in quality. Many similar applications have been released, including Apowermirror.
Download the app control software
DeskDock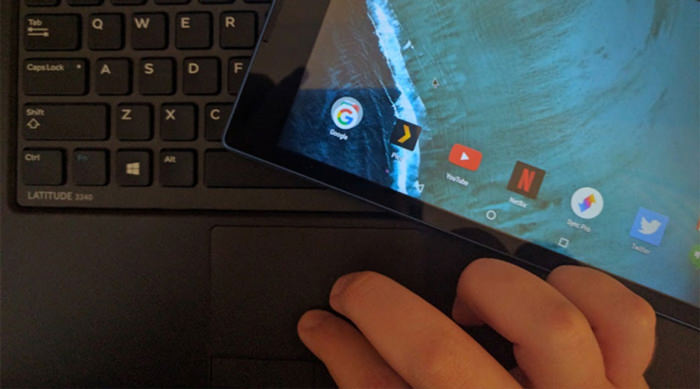 With the desktop application, you can turn a computer mouse into a mouse
A desktop app like Weiser and Scrcpy does not browse the phone screen,
but also turns the computer mouse into a phone mouse. If your phone is near a computer, you can just turn it into a mouse by moving it to the other! Using the mouse on the phone can help speed up the opening and closing of apps and web browsing. Developers can also use their desktop applications to test the performance of their applications when using hardware .
The paid version of the app also comes with features such as sharing the keyboard with the phone and sharing the clipboard. Among the similar desktop applications are Share Mouse and Keyboard and Synergy; however, the Synergy app seems to be not as good as expected.
Download the app control software
AirDroid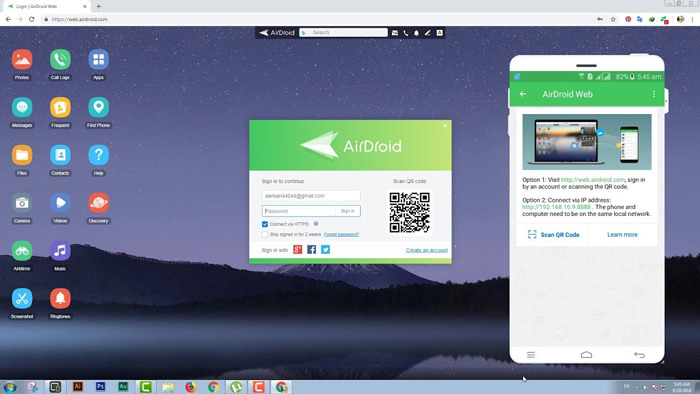 Android is one of the most powerful tools for controlling Android ears with a computer
It is undoubtedly one of the most powerful tools for controlling Android phones with a PC. Airdroid is the most complete app compared to our list of apps and it has a lot of features. The most prominent features of Airdroid include messaging, clip sharing, uploading files via the control panel, display browsing, and mouse and keyboard sharing; Writing a message on WhatsApp can be sufficient and practical.
Most Airdroid features are free, but to remove ads and the 2Mb limit on file transfers,
you'll have to pay $ 4.00 a month, which is less than the baseband price.
Download Airdroid control software
Tasker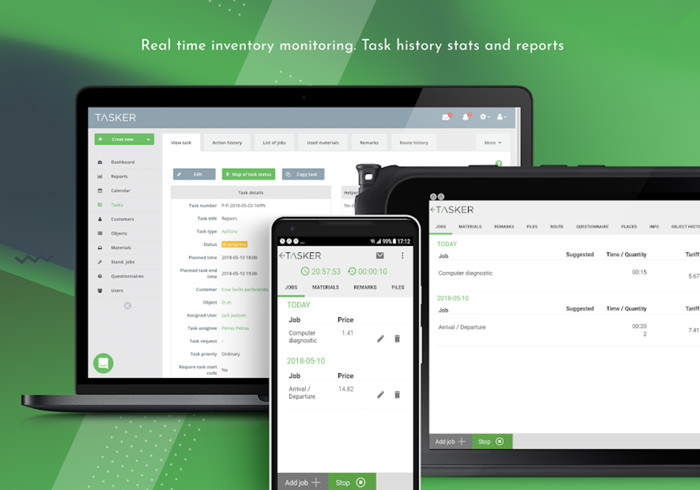 Tasker has enabled some tasks to be automated at certain times (such as connecting to a new network,
displaying specific notifications or changing location);
however, both the Java and Pulp Bolt apps have this capability and can handle many of the phone's capabilities only with the help of SMS or do with web page.
There are many apps similar to Tasker that you can choose from depending on your purpose.
In the end we should say that each of these apps has its advantages
and disadvantages and depending on what you want to do or how you use your phone, choose the right app.