6 Best Green Web Hosting Services
We've all seen the state of the planet on the news lately.
Hurricanes are getting bigger, wildfires more intense, and droughts more prolonged and severe. Climate change is already here, and it's only going to get worse.
But what can you, the average Joe, do about the issue?
Well, for one thing, you can opt for a web host provider with the right eco-credentials.
Let's take a look at why choosing an eco-friendly option matters as well as the best green web hosting services on the market today.
Will Using an Eco-Friendly Web Host Really Make a Difference?
I know what you're thinking: With all those cars, factories, and airplanes spewing unfathomable amounts of carbon into the atmosphere each minute, how could my humble little webpage possibly make a difference?
Surely its carbon footprint would be minuscule compared to all that, right?
Wrong, actually.
According to Web Neutral Project, the internet accounts for around 10% of the electricity consumption worldwide. If it were a country, it'd be the sixth biggest consumer in the world. In terms of CO2 emissions, it's on par with the entire global aviation industry.
That's a heck of a lot of planet-wrecking carbon produced by sending data packets around the world.
For the web host with a strong environmental conscience, going green is a no-brainer.
6 Best Green Web Hosting Services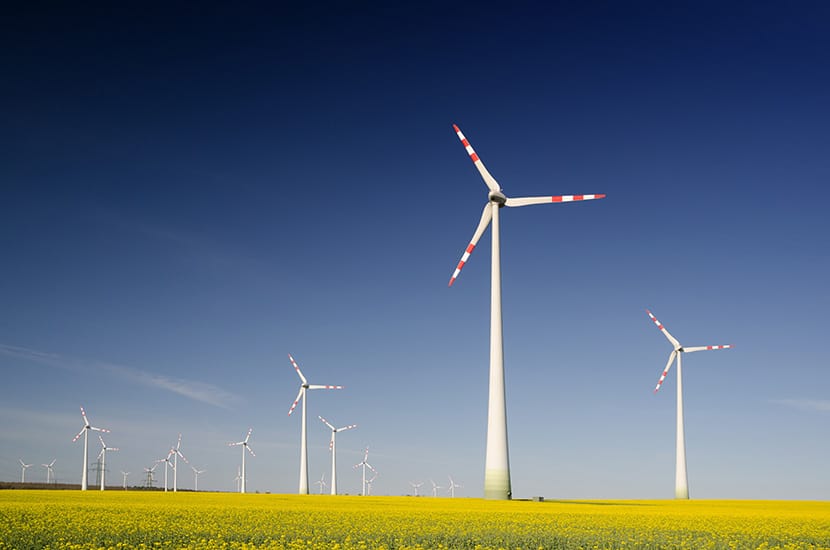 1. A2 Hosting
A2 Hosting has been championing the environment since well before it was cool. In 2007, they became carbon-neutral through a partnership with Carbonfund.org.
Other eco-initiatives include reforestation projects, promoting telecommuting, recycling hardware, and insisting on energy-efficient SSDs.
What Makes Them Shine
A2 Hosting is famous for their near-instant webpage load times. SSD storage setups for both the file servers and databases as well as a blazing-fast Turbo Server option make them the quickest in the business.
Where They Could Improve
As a premium web host provider, A2 Hosting charges a considerably higher amount than average.
Who They're Suitable For
Highly profitable businesses who consider fast webpage loading times to be crucial to their successshould sign up with A2 Hosting. Also check out our detailed review on this provider here.
2. HostGator
Despite being among the largest web hosting providers in the United States, HostGator boasts some impressive eco-credentials. The company has been purchasing Renewable Energy Credits since 2008 and currently buys enough Texas wind power to offset 130% of their carbon footprint.
What Makes Them Shine
A user-friendly experience, great uptime, and reliable customer support are all good reasons to go with HostGator.
Where They Could Improve
Rather average webpage load times and additional fees for extra features are notable downsides.
Who They're Suitable For
A solid well-rounded option, HostGator is ideal for novice webmasters who just want something that works with minimal fuss. Check out our detailed expert review on HostGator here .
3. InMotion Hosting
Unlike other providers, InMotion Hosting's environmental ethos is on reducing power usage rather than offsetting carbon through Renewable Energy Credits.
By using Outside Air Cooling technology in their California-based green data center, they've managed to reduce cooling costs by 70%. This equates to 2,000 fewer tons of carbon in the atmosphere each year.
Furthermore, InMotion Hosting has teamed up with Trees For The Future to plant 5,000 trees in developing nations.
What Makes Them Shine
InMotion Hosting offers amazing customer service: in fact, all of their support agents go through a rigorous 160-hour training regime. Also, their 90-day money back guarantee is much longer than most.
Where They Could Improve
The signup process is rather cumbersome for non-U.S. applicants.
Who They're Suitable For
With excellent in-house customer support and premium managed services, InMotion Hosting is a great option for clients after a user-friendly web hosting solution. Have a look at our detailed expert review on InMotion Hosting here .
4. HostPapa
HostPapa is one of the original web host eco-warriors, declaring their support for renewable energy way before the rest.
The company buys Renewable Energy Credits from various solar and wind plants throughout North America. By pumping 100% of their energy use back into the power grid through renewables, they've become a certified carbon-neutral company.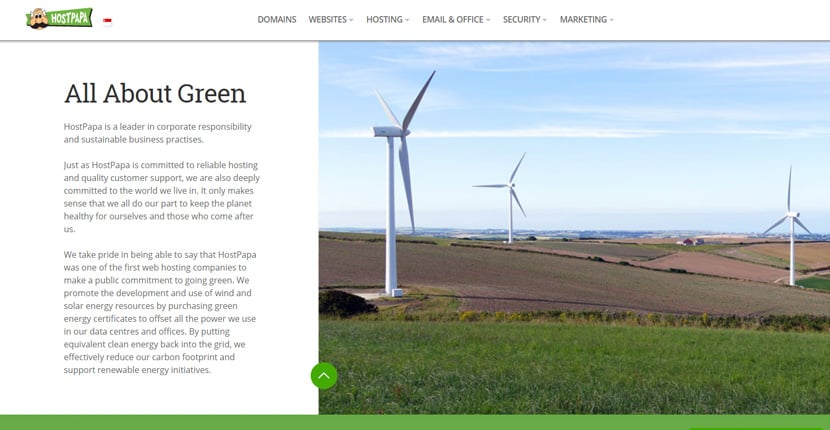 What Makes Them Shine
Although slightly more expensive than the competition, HostPapa's shared hosting plans offer a huge amount of resources, including unlimited bandwidth. Such a lack of limitations makes their carbon offset all the more impressive.
Their VPS plans also include a respectable amount of juice, though they're still a pricier option in that arena.
Where They Could Improve
HostPapa doesn't offer a dedicated server plan and their webpage load times are fairly underwhelming. There have also been a number of complaints concerning customer support, though generally, my experience with them has been positive.
Who They're Suitable For
The eco-friendly Canadian provider HostPapa' is ideal for low-budget users who desire decent resources and don't mind slower website loading times. Check out our expert review on HostPapa here .
5. DreamHost
DreamHost partners with clean wind programs and insists on being powered by renewable energy. However, they haven't explicitly stated their carbon offsets or footprint.
Nevertheless, green initiatives such as telecommuting, public transport incentives, a ban on disposables, e-waste recycling, and energy reduction suggest that they are indeed an eco-minded organization.
What Makes Them Shine
DreamHost's user-friendly WooCommerce plan makes them a viable e-commerce host, while a WordPress.org endorsement guarantees they're a good option for fans of the CMS.
Where They Could Improve
The company's environmental credentials are difficult to verify and quantify.
Who They're Suitable For
E-commerce entrepreneurs and WordPress aficionados would get the most out of DreamHost. The fact that they offer shared, VPS, cloud, and dedicated plans make the host suitable for businesses of all shapes and sizes. Check out our expert review on DreamHost here.
6. GreenGeeks Web Hosting
GreenGeeks Web Hosting is about as environmentally-friendly as a web host can get. After all, they've even got the word "green" in their name.
But their name is far more than just a marketing gimmick. As an officially-recognized United States EPA Green Power Partner, the company purchases 300% of their electricity consumption through Renewable Energy Credits that are fed back into the grid. As a result, they're by far the most eco-friendly web host out there.
What Makes Them Shine
Aside from their unrivaled eco-credentials, GreenGeeks Web Hosting also boasts a high level of uptime, fast website loading times, and loads of nice extras such as a free CDN, nightly backups, and a free domain and migration service.
Where They Could Improve
GreenGeeks Web Hosting's shared, WordPress, VPS, and dedicated server plans are a tiny bit more expensive than the competition, which is a small price to pay for going green.
Note that the cheap frontpage offers for their shared plans are only available when signing up for a whopping three years.
Who They're Suitable For
GreenGeeks Web Hosting provides a solid all-around service with hosting plans to suit most business needs. Therefore, almost all individuals or enterprises with a passion for conservation could benefit from their service.
Don't Be Mean, Go Green
As you can see, it doesn't have to cost a whole lot to go green. In fact, the above providers offer some of the most competitive rates on the market. So give our fragile ecosystem a fighting chance and go with a web host that cares about future generations.