4 Updated Logos That Work (+ 3 That Failed)
Without an official logo and a visual identity, a brand doesn't really exist.
Whether you're only just constructing your brand for the first time or you're rebranding,
it's important to remember that logos are instrumental in the design process.
Why? Well, human beings are highly visual. According to Intechnic, the brain processes visuals 60,000x faster than text. Visuals go straight to long-term memory and improve recognition.
A logo is often made up of different design elements. It's meant to represent your company, set you apart from your competitors, and build you a loyal following. However, sometimes, a logo no longer does its job properly.
There are instances where you might have to change or adapt your logo according to the most current needs of your business and/or customers.
Why Redesign Your Logo?
First thing's first, there are a multitude of reasons why you might choose to redesign your logo. For instance:
You're redesigning your website. Your new website can't perform well if your logo is underperforming or doesn't tie in with the rest of your visual identity.
You rushed your original logo's design. If you created a logo as one of the first steps of building your business just to get it "out-there," you might want to redesign now that you have more experience and knowledge of your field.
Your current logo doesn't enhance your company's strengths. Perhaps you've changed the direction of your business and your logo needs to reflect your new product or values.
You want to revolutionize your business. Everything changes over time; therefore, you might want to update your logo and renovate your brand every now and then to move with the times.
Your competitors are refreshing their logos. If your main competitors are updating their logos but you aren't, then consumers might wonder why. You might also appear out of touch with the modern world, which isn't a good look.
You need to adapt your logo for different platforms. Online usage across social media outlets can alter overtime. You might need to create simplified variations of your logo to stay relevant on these platforms.
Regardless of the reason, you should always consider your consumer before you undergo a big visual change. Working out the demographics of your target audience will help you determine the style of your new logo according to their preferences. For instance, 18-24-year-old women will respond differently than 34-50-year-old men.
Click here to read about other do's and don'ts when it comes to your logo redesign.
Stellar Logo Redesign Successes
There are several market leaders that have successfully rebranded their logo on multiple occasions throughout the years.
Google
Internet giant Google has been updating their logo regularly since they were first established in 1998.
Google's refreshing of their logo in September 2015 was notable, as it changed to a sans-serif typeface, which made it look more contemporary and playful.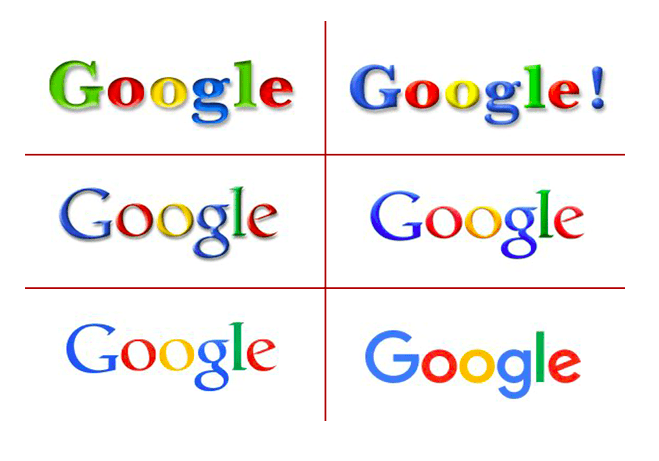 The colors were softer and more pastel-like — and the general aesthetic was that of Google's new parent company, Alphabet, which made their visual identities align better.

What else sparked the change? Well, the company was restructuring. They hired a brand new CEO, Sundar Pichai, and they wanted to give themselves a cool new image to boot.
Because Google is a digital innovator with thousands of users, there was a lot of buzz surrounding the logo update, which inevitably attracted attention and only boosted consumer appeal.
Starbucks
Flashback to January 2011 when coffee company Starbucks took out the words encircling its famous sea Siren. Do you remember the abundance of media attention that this logo update attracted?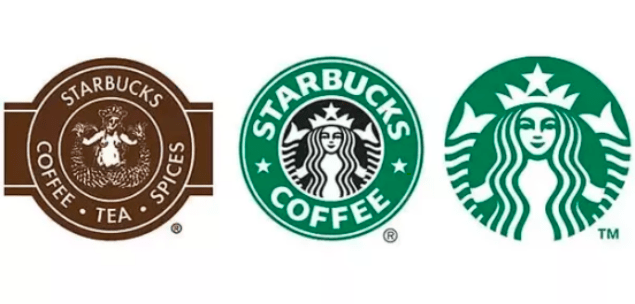 It was such a simple change — and yet so significant in the world of Starbucks and its consumers.
According to The Telegraph, Howard Schultz (the Chief Executive of Starbucks at the time) said in a webcast that they purposefully wanted the Siren to come out of the circle. This was for a number of reasons:
The company was preparing to celebrate their 40th anniversary
The company was set to expand their product offering beyond coffee
The logo change was a part of a larger rebranding process that affected the look and feel of their stores
The company wanted to be seen as flexible and adaptive to new markets
The basic idea was to mark change with the new logo, and to serve as a mirror image of the new Starbucks strategy.
Clever, huh?
McDonald's
In 2006, fast food chain McDonald's found themselves in the center of the obesity epidemic. Consequently, their sales began to drop.
Instead of continuing down a dark path, they changed their product offering to include salads and fresh food, and they renovated their restaurants. To reflect their rebranding, they also adapted their visual identity with a more simplistic, contemporary logo.
The simpler design aims to reflect the inclusion of simpler, more wholesome ingredients without added preservatives. And you know what this results in? A fresher, healthier McDonald's, which everybody wants to get on board with. It gave the brand a modern edge, thus causing a major boost in sales.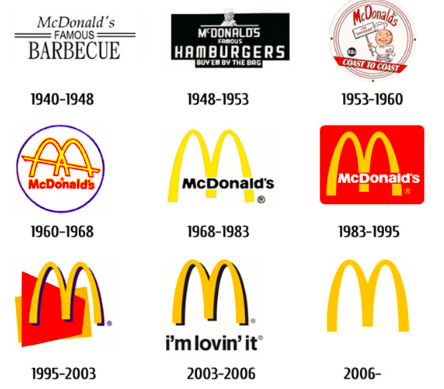 Apple
Logo Geek regards technology company Apple as one of the most successful rebranding stories thus far.
Apple was a brand that was almost dead in the early 1990s; sales were low and consumers weren't particularly interested in what they offered. Then Steve Jobs came back on board in 1997 and changed everything.
Steve Jobs rejuvenated Apple to focus on minimalism and modernity in all aspects of their brand, including the logo design.
The logo adapted from a multi-toned blue apple to a simplistic black apple. As black is a logo color renowned for its classic, slick, and luxury connotations, it immediately took the brand to a whole new level. It also attracted a new and diversified customer base and changed the way that consumers perceived Apple forever.

Terrible Logo Redesign Fails
Rebranding has its risks, and not everyone always gets it right. Just because you think your logo needs an update doesn't necessarily mean your customers will, too.
Gap
In October 2010, U.S. clothing retailer Gap had to scrap their new logo just one week after its launch due to public outcry.
The logo update undeniably had a fresher aesthetic with the brand name being presented in the simple Helvetica font. It then had the original blue square-shaped background as an accent above the "p". This change was meant to coordinate with Gap's transition from classic American design to modern, sexy, and cool.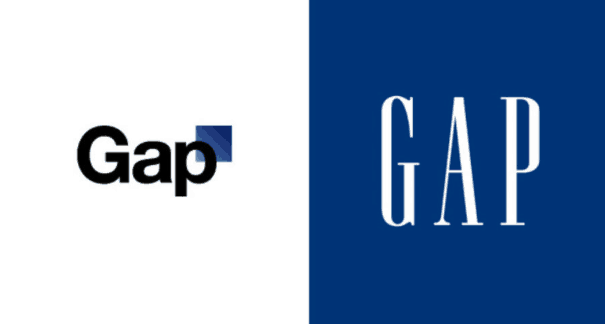 However, the brand has a strong heritage built on the principles of basic and traditional yet stylish clothing. Gap's core product offering has (and will always be) classic American staples like denim jeans and jackets, which was reflected in the original logo through the dark blue background.
The problem with the rebranded visual identity was that it didn't align with the company's core product offering, and consumers noticed. According to the BBC, more than 2,000 comments were left on the company's Facebook page demanding the return of the original logo. And you know what? Gap did the right thing by listening and reinstating the original logo.
Airbnb
Accommodation platform Airbnb decided to drop their script-based logo for the "Belo" symbol in 2014. Do you know what followed? A public frenzy over its resemblance to lady parts or, from certain angles, a bottom.

According to Ad Age, the logo was designed this way to convey the four concepts of people, places, love, and the Airbnb brand. The head of the symbol is supposed to represent people, the location icon represents places, the heart is for love, and the "A" shape denotes the brand name.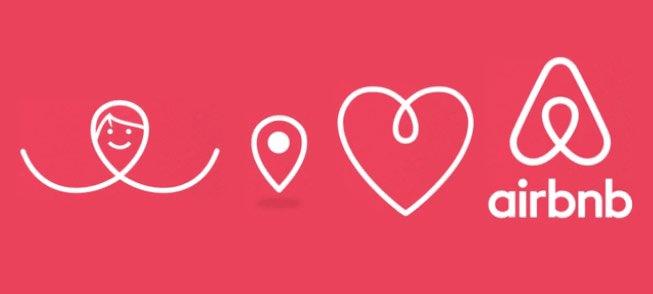 This new visual identity was supposed to be something that anyone could draw, but what they failed to recognize was the provocative nature of the symbol.
Even though there was an uproar when it was first launched, Airbnb decided to stick with their rebranded logo. It's speculated that they like the fact that people are still talking about it. However, there's no denying that people are still talking about it for all the wrong reasons.
Yahoo!
Web services provider Yahoo! take over by new CEO Marissa Mayer in 2012.
To celebrate this takeover, she decided to rebrand the company logo. She unveiled 30 different designs over the course of 30 days and then released the final design on the last day.

The idea was to create buzz around the brand. However, unfortunately, the design community wasn't impress by the final logo design. In fact, most prefer some of the earlier designs. (Cue the backlash.) This is because they find the final look bland and nondescript compar with some of the earlier designs, which had more character and tie in better with the brand's bold personality.
Mayer chose not to listen when consumers tried to tell her how unimpressive the new logo was, which didn't exactly start off her stint as CEO on the right foot.
Rebrand Your Way to Success
If you're thinking about rebranding your visual identity but are struggling to figure out when to do it, first and foremost, consider when your current logo was most recently update. Being an important marketing tool, logos need revitalizing every now and again, just like your marketing campaigns.
The best logo design services can help you freshen up your logo without forgetting your core company values, product offering, and target audience.
There's no shame in enlisting help if you need it. After all, if a logo redesign is badly, it can cost your company time, resources, and perhaps even your reputation.
However, when it's right, a logo update can successfully reinvigorate your brand to boost your visibility, your consumer appeal — and ultimately, your sales.